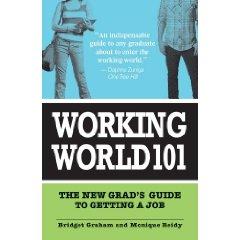 College graduates today are graduating into an uncertain time; finding a job is even trickier than in the past. Competition is tough. Positions are few. But they are out there, and having the right tools to land the job is crucial.
"Working World 101: The New Grad's Guide to Getting a Job" (Adams Media) is a book about getting your first job, but unlike other books for recent grads, this one focuses on the importance of communication during the job search and within the workplace.
Before you even snag an interview, your resume will help you sell yourself to a prospective boss. The way you dress, how you speak, your nonverbal cues — all of these communicate who you are.
This isn't an average "how-to" job search guide. "Working World 101: The New Grad's Guide to Getting a Job" is a doorway into evaluating your communication style, too!
Communication is key, and with this book you'll learn the art of verbal finesse — an art that will take you from the dorm room to the boardroom in record time.
With it, you will learn:
Resumes full of grammatical errors won't even get you an initial call. See how to properly format yours.
Miscellaneous speech blunders and qualifiers such as "like" and "do you know what I mean" and ending every sentence as a question diminish your credibility. (Think about this last one … you may not even realize you do this. When you say an affirmative statement, see if your voice inflection trails up. Does it sound as though you're asking a question, even though you're stating a fact?)
How to answer — and ask — interview questions.
How to communicate to others that you are strong, confident, capable, and ready to take this next step in your life's journey.
Gender-specific blunders.
You'll hear real-life, inspirational stories from twentysomethings; you'll read tips from HR Managers who are doing the hiring.
In order to be different, you have to first show the employer you have what it takes and get your foot in the door. From making contact to dressing the part to saying the right thing, here are the scripts and tips to help you on your way to career success! You've already earned the college degree, and now this guide helps you get on the right path with your communication toolbox properly packed.