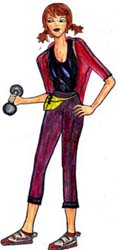 Health and fitness resolutions are often number one on people's priority list. Lose more weight, get toned, start working on a beach body for the summer, or just getting off the couch are some of the resolutions we make.
According to a local gym the 'resolution rush' starts a slow decline by the end of January, picks up momentum by the end of February and is approaching warp speed by March, by which time the 'regulars' are happy to have the use of their gym back.
Take the woman who marches into her gym on January 2nd determined to go three times a week, but has no clue what to do once she's there. She hasn't figured out whether her schedule will accommodate her goal and once there, she might half-heartedly do a few dumbbell curls, or might hop on a treadmill at a leisurely pace while flicking through Vogue.
She won't last the month because she will see no results. More beneficial to her would be a few training sessions with a fitness professional who can help assess her needs and establish a nutritional plan to set her on the right path and even provide motivation for her goals. People who work out with a trainer initially are more likely to stick to a gym program. You know what they say… "Give a 'gal' a fish, feed her for a day, teach her to fish, feed her for life."
Suggestions, not Resolutions
If you're among the 98 percent of people who have made resolutions, then chances are, you've broken them. If you haven't ever broken a resolution do share the secret to your success! As a regular The Savvy Gal reader, you are already on your way to considering a lifestyle change, it's why you're still reading this article, its why you're returning week after week for tips on good health; fiscal, mental and physical.
• You know that fitness is a lifestyle not a resolution and there's nothing quick about it.
• You know that if you're overweight, it took you months, possibly years, to get here, and that a month or two in the gym or on a diet that you will never be able to keep up forever will not get you there.