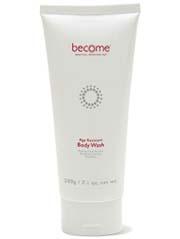 It smells clean, it feels good and doesn't irritate the skin. Winter-ize your skin and keep it soft and protected with Become skincare.
Out of Australia comes a professional grade, luxury skincare line at affordable prices. Become is the brainchild of Stephanie White who, after many successful years as a marketing executive in the beauty industry, wanted to give women the option of a luxurious, top-quality line, but at prices that wouldn't break the pocketbook.
Within the cosmetic industry, the term "cosmeceutical" was coined to define a new quality of skin care products or ingredients with proven pharmaceutical performance. Different than a cosmetic, the scientific promise of a cosmeceutical is prevention and repair at a cellular level.
Become products utilize only premium cosmeceutical ingredients in the formulations, which are designed to work at the cellular level and have been shown to repair existing damage, as well as to slow down the rate of the skin's aging: they work inside and out.
The line is designed for all skin types, as the products are gentle, without any harsh or irritating ingredients. The majority of them are derived from plants or minerals.
Check out these body formulas:
Body Scrub: This luxurious polish will scrub away your dead skin cells, refine your skin and lift your spirits. Made with orange oil (uplifting and refreshing), peppermint and green tea extract (antioxidant), it smells clean and fresh, too. 5.3 oz at $19
Body Toner Moisturizer: This invigorating lotion provides deep all-over moisture and toning benefits. Made with peppermine (refreshing and uplifting), witch hazel (stimulating and toning) and sodium hyaluronate (intensely hydrating), it provides deep moisture benefits. 7.1 oz at $39
Enter to win these 2 products together by sending an email to info@thesavvygal.com and put BECOME in the subject line. We'll pick one (1) winner; the 10 runner ups will win a weekend sampler kit!
Learn more about Become products: www.becomebeauty.com