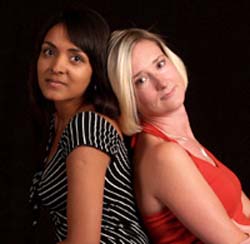 "Sometimes it feels like I'm building 'the Ark,'" the strong, striking voice said. "I never set out to run a non-profit specializing in abuse recovery and self-esteem, but it's been a long yet rewarding process."
Having gone through an abusive first marriage, Tracy Kemble, who holds a Ph.D. in psychology, realized that there is a distinct gap in the journey to emotional healing, so she established an organization to help women who find themselves in the same condition in which she was just ten years ago. Founded in 1996, WIN, Women in Need, is a safe haven for women seeking emotional care after having endured the torment of a damaged relational environment. The WIN motto: "Where healing is hip and Life Transformation & Empowerment are our specialities."
The year of 1996 was an eventful one for Kemble. She was crowned Mrs. World and took over that pageant company shortly thereafter. With her passion to help women on one hand, and her knowledge of running pageants on the other, she set out to marry the two objectives and successfully built an organization that has expanded to three satellite offices around the United States: Washington, Minnesota and Wisconsin. Based out of Newport Beach and soon expanding to Ventura, WIN is single-minded in purpose, and determined in its therapeutic ambition.
"Abuse and recovery is not a sexy subject," Kemble said. "So I had to find creative ways to secure funding. I didn't know anything about golf tournaments, but I knew pageants, so I used my skills to generate financing from those shows to help women." These annual pageants are the main source of financial support for this functional non-profit group. Kemble, who holds a Ph.D. in psychology, describes WIN as having a two-fold purpose: prevention and recovery. Through a 20-week program called Right Living, women are taught how to live correctly and they learn 'what is right with them.' "When women are in an abusive relationship, they are in 'wrong living,' and mistakenly learn everything that is wrong with them," she explained. This program equips women to think about themselves in positive terms and live in a manner that is consistent with those newly acquired beliefs.
There is a structured curriculum and the sessions are held in a classroom setting. "We run the program this way because emotional pain is not a disease, but a learned behavior," Kemble said. "Women have to unlearn the falsehoods that have been psychologically imprinted." Every class builds on the last; the first 10 sessions clarify what went wrong in the relationship, and why it was wrong. The second 10 classes seek to uncover the reasons why women would subject themselves to such mistreatment in the first place.
Kemble believes that 100 percent of physical abuse begins with emotional abuse, and that 98 percent of the scars from physical abuse come from emotional wounds. "The type of women that we service seem to slip through the cracks," she said. "They are professional, educated women who are able to enjoy thriving careers but at the same time, they suffer in destructive, hurtful relationships."
Monica Ulrich discovered WIN while she was going through a time of despair. "It was a total God thing," she said. "The depression was debilitating and nothing helped." Ulrich had lost her vitality and became completely emotionally drained. She was given a flyer about the program and began attending the classes. "Right from the beginning, it was a very safe feeling," Ulrich explained. "I came from a good family and had a healthy upbringing, so I could not understand how I ended up hurting that much." Having been a social person all her life, the depression took a toll, and she was transformed into a desperate and hopeless person." WIN was the first program that worked for me," she declared. Now the Vice President of Marketing and Operations for WIN, Ulrich credits the program for her "300 percent recovery."
Specializing in emotional abuse, WIN is not designed to be a shelter in the conventional sense of the word. It is not a program for severely battered women, but an educational service that assists capable women who simply lack the tools to deal with their unique abusive environments. "We do not service the stereotypic toothless, homeless woman," Kemble said. "We care for women like you and me."
Kemble explained that a woman in an abusive relationship often thinks that she must be crazy or that surely she will not be believed if she attempted to describe her mistreatment to others. This is because these women generally look "put together" and don't fit the external profile of an abused person. However, statistics show that when a woman lives with emotional, physical or financial abuse, she will initially reach out for help. But if her needs are not met at the outset, she will develop "learned helplessness," and soon, she stops seeking support and takes on the role of a victim.
Women can feel inadequate because they lack the right tools in their "life tool box" to make the emotional repairs that they need. "Every week we teach women a new life tool," Kemble said. "There are 20 different tools in the program." These tools are guides, or right living principles. "The basic principles are like instruction manuals about how to use the tools." An example is the statement: "I have the right to inquire about the things that affect my life." The basic premise of this philosophy says: "if someone makes a choice that will affect my life, I have the right to inquire as to the who, what, when, where, why and how."
"Our final journey is a journey to love," Kemble said. "That's the goal. We are not supposed to live on guard and be afraid of other people."
Most women stick around long after the initial 20 weeks. With a strong follow-up program, women feel a positive connection with WIN and continue to stay involved. "They go through the graduation, and then start over with class one. "We have some people who have been in the program five to seven years and those who pop in on occasion," says Kemble. "If women go on with their lives and eventually realize that their boundary skills are slipping, they'll come in and attend a boundary class." The average person, however, attends for a year. With an effective agenda, and such devoted leaders, it is easy to understand the draw.
With hundreds of women served since its inception, WIN can be credited for the education and edification of accomplished women who, now healthy and whole, can in turn reach out and help others in need. With an extensive plan for expansion in the months ahead, Kemble hopes that any woman who needs this service of empowerment will soon be able to access it close to home.
For more information about WIN, see www.womeninspiration.net.