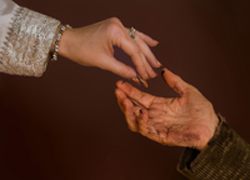 "We make a living by what we get; we make a life by what we give."_
–Winston Churchill
We all go through it — at the busy holiday time we are bombarded with requests for donations, contributions and demands on our time. Yet, it's because the holiday season is the ideal time to extend oneself to make life better for others, that it's the perfect time of year to remember why we do it.
Arthur Frantzreb, the well-known philanthropist, said, "The act of philanthropy is a spiritual act, an expression of caring for one's fellow human beings. It is a belief in the future and that the future can be good. It is investing in that future. It is helping to make the dream come true." Not only does philanthropic involvement unite us with others and helps us to change the world, philanthropy benefits us, the giver, personally and immediately. And, caring for others can be healing, invigorating, emotionally satisfying, educational and even fun. Poet John Gay said it clearly, "The luxury of doing good surpasses every other personal enjoyment."
In the busy, headlong rush to provide well for their families and create a life that includes gratifying work and adequate recreation, 65.4 million American adults made time to volunteer through or for philanthropic organizations at least once during a twelve-month period between 2004 and 2005.
According to the Bureau of Labor Statistics, one fourth of American men and one third of American women involved themselves in causes that ranged from visiting elderly citizens in homes, to tutoring high-need kids in after-school programs, to planting trees in urban wastelands. Interestingly, a higher percentage of women volunteered versus males across age, education and other major demographic categories.
Married persons and parents with children under the age of 18 volunteered at a high rate. Many families participate together to do volunteer work at the holidays as a family outing — perfect for passing the values down generations.
Getting started
To begin your exploration of where to serve or give, go directly to the Web site of an organization of interest, or visit www.volunteermatch.org. At this site you can enter your zip code and find a wide range of opportunities close to home, or search for the organization you already have in mind, (i.e. The American Red Cross, The Salvation Army, Habitat for Humanity) and find out where they are working.
Many of us don't volunteer because of "time." In fact, that was the number one reason cited last year as to why people didn't volunteer. However, organizations can be helped with maybe just one hour, once a week, with tasks such as stuffing envelopes. There are many little ways to be a part of the difference we want to see in the world.