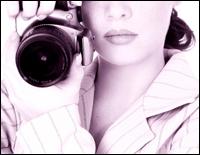 Ever felt like doing something different to bond with your girlfriends to celebrate the amazing women that you are?
Have a pin up party (www.pin-up-party.com)! It's a classy new take on getting glammed up and honoring your feminine wiles; and it is the perfect idea for a unique birthday or bachelorette party.
If you've ever pictured yourself lounging inside a champagne glass or jumping out of a birthday cake, but wanted to keep your clothes on, then a pin-up party is for you. Founder Gina Gattina, of Santa Monica, California created this innovative get-together as a way for women to play dress up, drink some bubbly, do some bonding and leave feeling confident, saucy and sexy. She designs a relaxed, supportive atmosphere for you and your friends to congregate and enjoy the support of stylists to get you looking beautiful and stylish in a gorgeous vintage way.
To start, you and your friends will receive a consultation to determine the look you are going for, decide on wardrobe, and to give you advice on how best to prepare for the shoot so that you look and feel your best. See The Savvy Gal's article on getting red carpet ready for ideas to prepare in advance. While Pin-Up-Party provides wardrobe, you are also encouraged to bring your own fun and flirty wardrobe that already inspires you.
On the day of the shoot, you will come to the studio and relax with some bubbly while you get ready. A female photographer will get you warmed up and in the mood to pose and gallivant with your friends to produce some stunning shots that you will want to keep forever. Pin-Up-Party photographers will take a vast number of photos to ensure that you have time to get comfortable in front of the camera (note: this company does no boudoir style or nude shots). Afterwards, they use their photoshop skills to retouch and make up for any little imperfections that you may have or that the camera may create (love that!).
Once you find your dream shots, Gina will help you create an array of fun souvenirs from this exciting event. You can turn your photos into key chains, notebook covers, playing cards, and magnets — and you can even become a calendar girl or be simulated on a Pulp Fiction cover if you truly want to unleash your inner vixen.
Pin-Up-Party packages include delicious French champagne, fruit and crudit's, and there are myriad choices for those on any budget. My friends and I were shocked at the extremely reasonable prices, and it's the perfect way to cheer up and forget about all the doom and gloom the news is focused on. You really feel empowered after one of these parties, and it's an incredibly fun way to commemorate your inner and outer beauty.
For more information, visit www.pin-up-party.com.
Chaton Anderson is a Writer and the Publicity Director for TheSavvyGal.com. A product and pop culture addict, she is always looking for the coolest, hippest things on the market, as well as the newest health and fitness trends to hit the scene. Email her at Chaton@TheSavvyGal.com with questions or leads on products and services on the cutting edge.