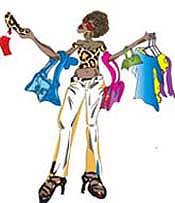 Don't you love a good bargain? Who doesn't? As women (and men sometimes) it's often been said we are born to shop. It might even be a basic instinct! Shopping is something we love.
And, there's no better place to put this instinct into practice than at the Unclaimed Baggage Center in Scottsborough, Alabama, just 40 miles from Huntsville.
"It's a treasure hunt. You never know what to expect," Brenda Cantrell, the marketing director explained. With more than 7,000 new items being added every single day (yes — every day), those words definitely ring true. If you have ever wondered where your lost baggage ends up, it's right there in Scottsboro … and you can even buy it back if you want to!
The store began back in 1970 when Doyle Owens, who originally sold insurance, was given a couple of unclaimed suitcases by one of the airlines. Expecting them to sell within a couple of weeks, he was surprised to find all the items were gone in just one day. He knew straight away he was on to something. This "something" is now the only unclaimed baggage store in the country, and gets 1 million visitors every year. It receives unclaimed baggage and freight from airlines and bus companies.
It's not that the airline companies don't try to match the luggage with its owners; they do. Ninety-nine percent does get reunited. But when it doesn't after 90 days, they give up. The passengers have usually already been compensated (up to $2,500 per passenger). The Unclaimed Baggage Center then purchases the bags, sight unseen, and brings them to the outlet in Scottsboro.
The items are then sorted out and laundered. Books, designer clothes, electronics, kitchen items and, of course, luggage are just some of them. "We get 40,000 items in a slow month!" Cantrell said, whose own wedding ring is a platinum "reclaimed" item from the store.
An antique at a great price — now this is not only romantic, it's practical, too. Items are then given to a team of pricers who will mark them down 20 to 80 percent off the original MRP. The 40,000 square foot store, which covers a city block, sells approximately a third of the items it receives, donates another third to charity and throws around a third away ("These items are unsuitable for our store. They could be things that are not appropriate for a family outlet," Cantrell explained).
One large donation the store makes is the 16,000 eye glasses, which are given to the Lions Club — equal to one percent of all the donations the club receives annually.
Since the items are at discounted prices every day, "sales" are not offered, but once a year on the first Saturday in November there is a snow and ski equipment sale – perfect timing for the upcoming ski season.
Despite all the sales made, some items just seem to want to spend more time at the Unclaimed Baggage Store.
It has happened more than once when a lost item that has been sold finds it's way right back again, having been lost a second time. "We recognize our own tags when the items get lost and come back to us again," Cantrell said. "We have no way of knowing who the second owner was and we just hope that with the next sale, the item stays with its new buyer!"
You don't want to miss these bargains. "One of the country's best kept shopping secrets," Oprah Winfrey has declared. And it is.
People traveling south often make it a regular stop on their visits to the southern sun. And it's no wonder. If you go, plan to spend about half a day here scooping up the bargains. There's everything for the family and the house available. The southern sun can wait. But you gotta satisfy our primitive instinct — there's shopping to be done.
Hours of the Unclaimed Baggage Center are Monday-Friday 9 a.m. to 6 p.m. and Saturday 8 a.m. to 6 p.m., closed Sundays, Thanksgiving and Xmas. Website: www.unclaimedbaggage.com.
Other things to visit in the area: Little River Canyon National Preserve (deepest canyon east of the Mississippi), DeSoto Falls, U.S. Space & Rocket Center, Cathedral Caverns State Park in Grant and the Old State Bank. For more information on the Huntsville area contact the CVB at www.huntsville.org