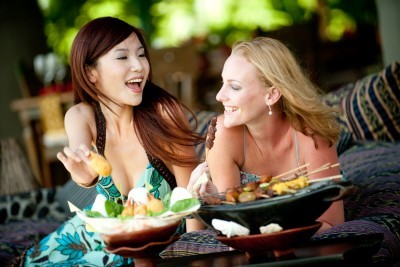 By: Linda Winkler Garvin, R.N., M.S.N. ~
Eating mindfully is one of the best ways to approach eating.  Slowing yourself down while you are eating helps you to relax and chew your food more slowly, resulting in improved digestion & felling of well being.  If you want to follow a healthy and delicious nutrition plan when you eat out, you may want to follow some simple tips:
Ask Questions: Don't be afraid to be assertive & polite.  Explain to the server what you need based on your health needs & diet plan.
Portion size: Consider ordering an appetizer for the main course or sharing a meal.
Food selections: Choose clear soups.  Stay away from high caloric dressings or dressings mixed with mayonnaise.  Consider ordering salad dressings& sauces on the side and only use a small amount.  Try to choose food items that have more vegetables or order an additional vegetable side dish with a smaller entree.
Low Fat: Look for foods that are broiled, grilled roasted, poached or steamed instead of fried.  Ask for substitutions for high-fat foods like fried potatoes & request leaner meats.
Dessert: Consider sharing dessert or order fresh fruit, angel food cake or nonfat yogurt.
Water: Drink plenty of water.  It can help to drink a glass of water before your meal.  Many individuals find water without ice helps with digestion & is easier to drink.  Adding some lemon or lime can enhance the taste as well.
Other hints: Ask for lunch portions at dinner.  Be careful of the sodium content in the foods you order.  It can be helpful to contact the restaurant ahead of time or to go online and read the menu to get some ideas of what you may order of time.
Linda Winkler Garvin, R.N., M.S.N., of Alameda, California, is a Health Advocate in the Bay Area & Director of Health Management Associates.  She assists individuals & families in making informed choices by providing explanations of your health options, advocating on your behalf with hospital & medical staff, organizes your medical information & assists in reviewing your health bills & insurance payments.  She is the author of several articles on Healthy Lifestyles, Nutrition Pain Management & Travel. Learn more at www.healthmanagerbayarea.com or e-mail at garvin_linda@yahoo.com.