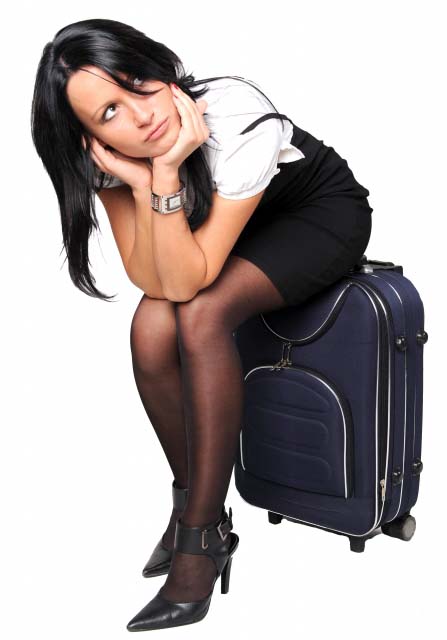 In her 20 years as a travel consultant, Ellen Paderson of Easton, Mass., estimates she has logged some half a million miles, researching destinations for clients, attending  conferences, and for personal vacations.  She can't estimate how many miles she has booked for clients, but "It's many millions to dozens of countries," she says. Along the way, Ellen, founder of Smiles & Miles Travel (www.smilesandmilestravel.com) has learned how to lessen the effects of jet lag.
As exciting as long-distance travel is, changing time zones can affect your sleep and alertness. Jet lag used to be considered a state of mind, but studies show the condition results from an imbalance in our body's natural "biological clock" when we disrupt our 24-hour cycle circadian rhythms. Jet lag occurs when you travel across times zones faster than your body can adjust. Your internal clock gets out-of-sync with your destination's clock. It can take your circadian rhythm one day to move one hour. It can take a week to adapt to a 7 time-zone flight!  Here are Ellen Paderson's tips and tricks to reduce the effects of jet lag:
Before the trip:
• Select a flight that allows early evening arrival. Stay up until 10 p.m. local time.
• A few days before your flight, move your mealtimes and bedtime closer to the schedule of your destination.
• Anticipate the time change by getting up and going to bed earlier several days prior to an eastward trip and later for a westward trip.
• Upon boarding the plane, change your watch to the destination time zone.
• Avoid alcohol or caffeine 3-4 hours before bedtime.
• Take vitamin C – an antioxidant that relieves stress – Ask your doctor first!
Upon arrival at your destination in a new time zone:
• As soon as possible: Eat meals, go to bed and wake up based on the new time zone.
• Avoid sleeping before bedtime.
• Spend time outdoors. The sun can help adjust your internal clock.
• Avoid heavy meals and excess caffeine / alcohol.
• Use earplugs and blindfolds to block out noise and light while sleeping.
• Request two wake-up calls in case you miss the first one.
• If your doctor agrees – Take vitamin C for at least 3 days once at your destination.
• Sleep medication can help manage short-term insomnia but can't fix jet lag. Talk to your doctor first.
(For more info, visit the National Sleep Foundation website: www.sleepfoundation.org )
An award-winning travel consultant, Paderson is a member of American Marketing Group's Network of Entrepreneurs Selling Travel (NEST), and of The Affluent Traveler Collection, an elite group of independent travel advisors. She serves on the Editorial Advisory Board of Travel Market Report, representing leading travel agencies from around the U.S. She has earned numerous travel certifications and designations.   For more information, contact Ellen Paderson — www.smilesandmilestravel.com /  508-238-4088 / ellenp1@comcast.net.