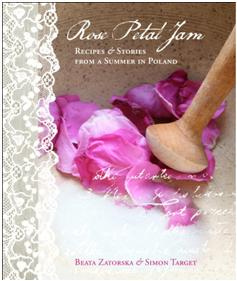 By Beata Zatorska and SimonTarget ~
Beata Zatorska learned to make rose petal jam, pierogi, and other Polish recipes in the kitchen of her grandmother's farmhouse in a remote village in the foothills of the Karkonosze Mountains where she grew up.  When she returned 20 years later her grandmother, a professional chef, was gone but she found her handwritten recipes for preparing traditional Polish dishes and preserves.  These recipes, along with Beata's memories and stories of growing up Poland in the 1960's and 70's are part of one of the most beautiful and unique books to come out this holiday season.  Rose Petal Jam (Tabula Books) is a delightful collection of recipes, memories, and locations that celebrates the best of Poland.
Accompanied by her English husband Simon, Beata spent a summer exploring her home country, travelling tiny roads lined with wild rose bushes, finding castles and palaces among meadows and forests.  This culinary journey became the basis for Rose Petal Jam, beautifully illustrated with hundreds of full color photographs of the recipes, the countryside, and the main cities of Poland including Warsaw, Gdan´sk and Kraków, as well as many family pictures.  This visually stunning book has other unique touches too, including favorite poems, and paintings from the nation's galleries, providing readers with a wonderful introduction to the food, culture, people and places of Poland.
Rose Petal Jam features over 50 recipes that reveal Polish cuisine to be both subtle and varied. Some of Beata's cherished recipes include:
– Beetroot-shoot soup,
– delicate Pierogi (Polish ravioli)
– traditional Herrings in Sour Cream
– Cabbage Rolls
– Pork with Caraway and onion
– Beef Goulash
– Hunter's Stew
– Strawberry Roulade
– Apple Pancakes
– Chocolate Waffles
– Carpathian Vanilla Torte
– and of course, Rose Petal Jam.
These enchanting recipes are interwoven with stories of Beata's childhood growing up in communist Poland. This holiday season take a delightful and delicious trip to Poland without leaving your kitchen and discover the culinary heritage of this unique country.
Apple pancakes  (Placuszki z Jabłkami)
Makes 8 pancakes
These are small, sweet pancakes served for breakfast or afternoon tea. My grandmother placed whole apple slices on the batter while it was sizzling in the pan.
2 eggs
12 fl oz milk
2 tablespoons superfine sugar
11 oz self-rising flour
4 small eating apples
2 oz unsalted butter for frying
powdered sugar for decoration
Whisk the eggs, milk, and sugar together, then fold in the flour. (These pancakes are like pikelets and need to be thick and fluffy so it is best not to use an electric mixer). Add a pinch of salt, cover and put aside for 30 minutes.
Peel the apples, cut into halves, de-core and slice thinly.
Melt a knob of butter in a hot frying pan and add a dollop of the batter mix to form a pancake. Lay one or two slices of apple on top of the batter then fry for a couple of minutes. Turn over and cook the other side. Sprinkle with icing (powdered) sugar and serve hot.
Pork and Cabbage "Hunter's Stew" (Bigos)
Serves 4-6
This is a Polish staple dish eaten in every region of the country and is made with pork, prunes, cabbage, and sausage. It is often enjoyed out of doors when camping or on hikes in summer. It can be frozen and warmed up in batches as you need it. We made bigos using jars of readymade sauerkraut, dried porcini mushrooms and smoked garlic sausages.
4-1/2 lb pickled cabbage (sauerkraut)
6 dried porcini mushrooms
1 lb 2 oz pork neck fillet
1 small onion
2 smoked sausages (roughly 1 lb)
6 pork spare ribs
1 lb soft, pitted prunes
Empty the sauerkraut into a saucepan and blanch with boiling water. Drain, then rinse the sauerkraut in a colander under the cold tap.
Put the dried mushrooms in a saucepan and cover with cold water. Leave to soak for an hour, then bring to the boil and simmer with a pinch of salt for 15 minutes.
Chop the pork into 1 in cubes and fry in a little olive oil until golden brown.
Chop the onion and fry with the pork for a few minutes until soft. Cut the sausages into 1/2 in thick slices and fry for a minute or two each side.
Combine the sausage, pork, and onion with the cabbage, add salt and pepper to season, and also the spare ribs and prunes.
Drain the mushrooms, slice finely, and add to the pot. Stir it all together, cover and cook on a low heat until the cabbage is quite soft.
Serve outdoors in summer (or round the fire in winter) with a hunk of fresh bread and a glass of beer or red wine.
Pierogi with Cheese and Potato ("Russian") Pierogi
Makes 120 Pierogi
This variant of pierogi with a traditional cheese and potato filling comes from the kresy in the east where my great grandparents Julia and Dimitri grew up. "Farm" cheese is a mild, white, dry-curd cottage cheese sold in blocks in supermarkets. You can eat pierogi with a little melted butter drizzled on top and sour cream on the side, or some chopped grilled bacon.
For the filling:
7 lb potatoes
3 large white onions, chopped
olive oil or butter for frying
2-1/2 lb oz "farm" cheese
1/2 teaspoon salt
Peel then boil the potatoes in salted water until tender; drain and mash.  Dice the onions and fry in some oil or butter until soft. Crumble the cheese and mix with the fried onion and the cooled mash. Hold back a little fried onion for garnishing. Add salt and pepper to taste.
Take the prepared circles of pastry dough and place a teaspoon of filling on each. Fold it in half and carefully close it, crimping the pastry together with your fingers so you end up with little semi-circles. (You can buy a simple hinged utensil to do this).
Put the pierogi into a big pot of boiling water with half a teaspoon of salt. The moment they float to the top (which will not take more than a minute) take them out carefully with a slotted spoon to allow them to drain and serve with the reserved fried onion or some melted butter and sour cream.
To make the pastry for 120 pierogi:
1 lb 3 oz all-purpose flour
4-1/2 oz unsalted butter
1 pint warm water
Soften the butter in the microwave or by leaving it out of the fridge for a while. Pile the flour onto a large wooden board, then slowly work in the butter with your fingers.
Mix in the warm water, little by little, to make an elastic, soft dough. Place it in a bowl and cover with a clean tea or dish towel so it doesn't dry out while you are preparing the filling. Roll out a lump of pastry dough on the wooden board – not too thick or thin – 1/8 in is good. Using an inverted tumbler, cut out circles about 3 ½ in in diameter and lay them on a floured wooden board, again covering with a tea or dish towel until you are ready to fill them.Excerpts from ROSE PETAL JAM:
Recipes & Stories from a Summer in Poland by Beata Zatorska and Simon Target  © 2011 Tabula Books. Reprinted with permission. All rights reserved.
About the Authors
Beata Zatorska was born in Jelenia Góra in southwest Poland and raised and taught to cook by her grandmother. She began her medical studies in Wroclaw, but left for Australia at the age of 19.  She finished her medical studies in Australia, graduating from the University of Sydney and now works as a family practice doctor in Sydney. Her fascination with medicine began during long mountain walks she took with her grandmother, who taught her the use of herbs and wildflowers in cooking and healing.  Like many Poles who live in other countries, she has kept Poland in her heart over the years.  When she finally returned, the first thing she did was leap into a wild rose bush to smell the petals – the scent of her Polish childhood.
Simon Target read English and Music at Cambridge University before studying at Britain's National Film School.  A well-known writer/director, he has directed television chefs and food writers such as Donna Hay, Curtis Stone, Kylie Kwong, and Rick Stein among many others.  The son of Australian landscape painter Pat Prentice, Simon lovingly photographed the country where Beata grew up.