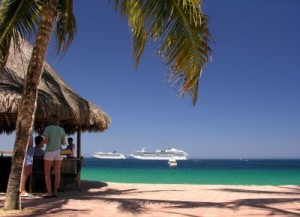 By Jacqueline Shaprow, J.D. ~
I just returned from a wonderful mother-daughter getaway in the Mexican Riviera. As the cruise was departing from port, five seals were playing together by the shore. While we were on a boat ride in Cabo San Lucas, a sea lion slowly passed alongside our boat. We even saw flying fish as we were cruising away from Puerto Vallarta. Our trip was on the Royal Caribbean's  "Mariner of the Seas," and if you might be considering this cruise, here is what you can expect.
Excursions in Mexico:
There are a number of excursions for you and your family to choose from in Cabo San Lucas, Mazatlan, and Puerto Vallarta; you can go on a sunset cruise, horseback riding, sailing, surfing, fishing, scuba diving, snorkeling, bass fishing, whale watching, mountain biking, or you can discover Mexico on a boat tour. You can also spend the day swimming with friendly dolphins, who will take you on a belly ride through the turquoise ocean water.
Experience the Ship:
The Cabin: The Mariner of the Seas is one of the largest Royal Caribbean cruise ships. The balcony in our suite was very spacious, it provided us with excellent views of the ocean, and it afforded us tons of privacy. There were a few lounge chairs on our private balcony so that we could soak up the sun without venturing out of our room to the public sundeck above. We opened our balcony door so that we could fall asleep to the sound of ocean waves. Our cruise cabin's bathroom was also larger than I expected, and was equipped with a large bathtub.
Recreational Activities on Board: Kids and adults can enjoy the full-size basketball court, in-line skating, and the rock-climbing wall.  Additionally, there is an ice-skating rink, where you can watch live ice-skating shows. For golf lovers, there are golf simulators and a 9-hole miniature golf course. There is also a fitness center which is equipped with some of the most modern and up-to-date exercise equipment. The ship offers an eclectic fitness schedule including Pilates, yoga, body cycling, body conditioning, and an intense abs and thighs workout.  You can attend seminars at the fitness center aimed at teaching you how to detox for health and weight-loss and increase your metabolism.
Indulge Your Senses: Get a hot stones massage or a seaweed body wrap at the day spa, or lounge and listen to island music at one of the ship's six whirlpools or two swimming pools.  There is an adult pool in case you want to get away from children for a bit and relax.
Entertainment: On board, there are 16 themed lounges and bars; among them are Boleros Latin Lounge (where you can dance to live music), Vintages Wine Bar, an Irish Pub, a Champagne bar, and a jazz bar.  At Casino Royale (a carnival-themed casino), you can play a game of black jack, or you can attend Broadway style productions and comedy shows in the main theatre.
Bites Onboard the Ship: There are seven restaurants to choose from on the ship. There is a Johnny Rockets Diner, where you can have a malt and burger while watching the servers dance to 50's music.  You can have a taste of Italy at the Portofino Italian restaurant, or devour a steak at Chops Grille Steakhouse. At Portofino I had shrimp risotto with minced garlic and cilantro for an appetizer, and for a main course I had a skewer with grilled lobster tail, scallops, shrimps, and salmon topped with lime juice, sea salt, and black pepper. There is also a Café that is open 24 hours with casual finger food; it serves small sandwiches, pizza, iced cold beverages, and a variety of desserts. If you have a sweet tooth (like me), you can visit the Ben & Jerry's Ice Cream shop as well. My favorite desserts on board were the peach cobbler topped with cinnamon and ice cream, the tiramisu, and chocolate soufflé.
Tots: If you have younger children, a cruise is a great getaway.  There are a variety of activities planned for children throughout the day at the Adventure Ocean Youth Facilities, and teenagers will feel right at home at the 'teen parties' which are held in the disco and on the pool deck. There are several indoor and outdoor 'teen-only' areas on board for your teens to enjoy; among them is an arcade with several games to play.
Jacqueline Shaprow, J.D., earned a degree in Psychology from Yale University and has published articles in the Los Angeles Daily Journal, The California Family Law Monthly, Music Publications, Movie Publications, The Savvy Gal, and The Journal of Health Psychology (where her article ranked among the "50 Most Frequently Read Articles" in 2008 and 2009). Jacqueline has interviewed a number of celebrities, including Grammy and Oscar Award-Winning Artists. Her writing has been featured in a book by Kaplan Publications about the diversity of experiences among female lawyers and legal scholars in America. Her Psychology Study on Weight Stigma and Discrimination was published in a number of different languages and presented at the North American Association for the Study of Obesity. Her findings on Exercise Motivation and Behavior have been housed in University Libraries around the world, including the Ritsumeikan University in Japan and the Universidad de Madrid in Spain.