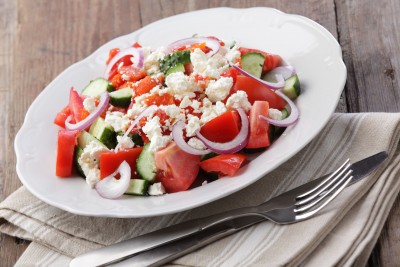 It has long been said that summer is more state of mind than date on the calendar, and that was certainly true on May 1
st
for the Festival of Flowers Holiday in Greece when Greeks take to the mountains and beaches to celebrate the beginning of their summer season. The island resorts start to come to life, the ferries expand their schedules and of course, traditional meze cuisine will be at the forefront of the celebration.
You don't have to travel to Greece to celebrate the Festival of Flowers. Celebrate this true Greek Meze tradition by bringing together friends and family for tasteful and healthy meals, whether in your own kitchen, backyard or a trip to the beach or mountains. In this spirit, Gaea Products S.A., a leader in the specialty food products category, and award-winning California Mediterranean cheese makers Karoun Dairies are the perfect companions for creating flavorful and healthy Mediterranean meals for family and friends throughout the summer months.
Watermelon and Feta Salad
¼ cup Gaea Extra Virgin Olive Oil
2 Tbsp. fresh mint leaves finely sliced
4 tsp. champagne vinegar
½ small chilled watermelon, preferably seedless (about 6 pounds)
¾ cup each red and green seedless grapes, halved
1 cup crumbled Karoun Mykonos Double Cream Feta Cheese (about 5 oz.)
¼ cup pine nuts, toasted
Mint Sprig, for garnish
Directions: In large bowl whisk together oil, mint leaves and vinegar; set aside.
With a sharp knife cut around edge of watermelon to within ½ inch of rind. Then cut a deep cross through the flesh. Scoop out each quadrant of watermelon and cut flesh into ¾" cubes.
Place in bowl with vinaigrette, watermelon flesh, grapes and feta; toss gently. Garnish with pine nuts and mint sprig. Serve immediately.
Chicken in Paper Baked with Peppers, Tomatoes, Herbs and Feta Cheese
2 boneless chicken breasts, skin removed
6 Tbsp. Gaea DOP Sitia, Crete extra virgin olive oil
1 celery stalk, trimmed and chopped
2 onions, peeled and coarsely chopped
1 red bell pepper, cut into rings or slices
1 green bell pepper, cut into rings or slices
4 garlic cloves, minced
2 tsp. dried oregano
Salt and pepper to taste
1/2 pound Karoun Feta Cheese, cut into 1/2-inch cubes
Directions: Cut the breasts into large cubes and toss with 1 tablespoon olive oil, salt and pepper. Heat a nonstick skillet and brown the chicken lightly.
Remove and set aside. Heat 2 tablespoons olive oil and sauté the onions, celery, peppers and garlic until softened but not mushy. Remove. Preheat the oven to 180°C/350°F. Divide the chicken and vegetables evenly into 4 portions.
Place the chicken first on a piece of parchment or wax paper, sprinkle with oregano and top with the vegetables. Place an equal amount of cheese in each parcel. Fold up edges like a parcel to close the packets.
Place on an oiled baking pan, sprinkle with a little water and bake for about 30 minutes, until the chicken is tender.
Remove, drizzle with a few drops of olive oil and serve.
5.30 oz. Karoun Feta Cheese
¾ cup powered sugar
2 ¼ Tbsp. honey
½ cup Gaea DOP Kalamata extra virgin olive oil
1 cup all purpose flour
3 ½ oz. ground almonds
1 tsp. baking powder
Gaea pitted Kalamata olives, cut in half
Brown sugar for garnishing
Directions: Preheat over to 347˚ F. Process the cheese with the sugar and honey in a mixer until smooth. Add olive oil. Combine flour with the ground almonds and baking powder and add to the bowl while mixing. Divide batter among 6 greased one-use individual cake molds and top each with half an olive. Sprinkle top of batter with brown sugar and bake for 25 minutes.
About Gaea Products S.A.
Established in the lush Agrinion growing region of Greece, Gaea Products S.A. is a promising leader in the Greek specialty food products category, manufacturing savory traditional and authentic olive oils, tapenades, cooking sauces, and olives. Cooking with Gaea products makes it effortless to create the finest Greek Mediterranean cuisine and to experience the "meze" cultural culinary fare. "Gaea" derives from the ancient Greek word meaning "mother earth" and is a symbol of fertility and earth, and is an important aspect of Greek mythology. Gaea is committed to preserving the land and environment from which Greek's most cherished culinary ingredients are harvested. In 2009, Gaea became Carbon Neutral with the launch of the green 'rev-oil-ution' whereby the impact of their production processes was offset with environmental initiatives. Gaea is sold at big box and specialty retailers nationwide. Gaea can be found on the web at www.gaea.gr.
About Karoun Dairies, Inc.: Founded in 1990, Karoun (which means "Spring" in Armenian) is rooted in its heritage as a family-run business started in search of fulfilling the American dream through their passion for the art and science of cheesemaking for over fifty years. All of Karoun Dairies' cheeses and dairy products are natural and handmade at their state-of-the-art California facility made strictly using only milk from cows that are free from growth hormones, BGH/rBST, and Real California Milk certified. All Karoun Cultured products are also OU Kosher certified. Karoun Dairies, Inc. has grown from humble beginnings to be a leader in natural Mediterranean cheeses with nationwide distribution. Please visit www.karouncheese.com.