Travel & Eats: Add New Tastes from the Middle East for a Fragrant Easter Meal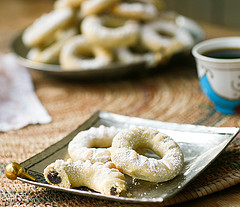 Golden Cookies, Earthy Cumin and Tart Sumac  Flavor Traditional Lebanese Family Recipes from "Taste of Beirut" chef Joumana Accad
With memories of her beloved "Teta"  (Grandmother in Lebanese) filling her senses as she bakes delicate cookies and stuffs chicken with a fragrant spice blend, food blogger and Lebanese chef, Joumana Accad, creates an Easter feast and family history lesson in the same meal.   A traditional Lebanese Easter meal includes:
Moghrabiyeh(Lebanese couscous with lamb shanks and chicken)
Kibbehpie (Meat and bulgur pie stuffed with minced meat, spices and pine nuts) served with a yogurt and cucumber sauce
Spiced rice with minced lamb and spices served with a roasted (free-range) chicken and garnished with toasted almonds, pine nuts and pistachios.
Stuffed greens with lamb chops(similar to stuffed grape leaves with minced meat and rice) served with a yogurt sauce
Lamb in yogurt sauceserved over rice and toasted vermicelli (ancient dish)
Baby eggplants stuffed with minced meat, onion and spices and served with a yogurt sauce and some rice
Kibbehin a citrus sauce (traditional dish from Beirut and all the major coastal cities), served over rice and toasted vermicelli
Joumana has a passion for her native dishes and the family memories they evoke. This Easter Joumana will once again be making and sharing Ma'mouls, a traditional Lebanese cookie for Easter.  These special cookies are made with semolina flour and flavored with rose water and orange blossom water and stuffed with dates, pistachios or almonds or walnuts. The cookies are round with a slight conical shape to represent both the crown that Christ wore on the cross and the sponge that was given to him when he asked for water.
"This cookie is my absolute favorite," says Joumana. "I learned to cook watching my grandmother in the kitchen. Today when I make these cookies I always feel she is beside me. When I serve them I like to share stories with my own children about growing up in Beirut." For Joumana, each dish reminds her of her family and brings back childhood memories of family celebrations.
Joumana brings this love of family cooking to home cooks across the U.S. through her website and blog, TasteofBeirut.com.   This Easter you can bring the savory and sweet flavors of Lebanon to your family table with this delicious dessert.
Semolina cookies with date (Ma'amoul)
We knew Easter was coming when my Teta (grandmother) was busy in the kitchen making these. Hers were unbelievably soft and crumbly and filled with the luscious and buttery date paste. She also made round ones with almonds and walnuts.   I would sneak in and grab some when no one was looking. …I yearned for those for years, never daring to make them. Then, a few years ago, my mother started making them for Easter and shipping us a tin from Beirut.  Now I feel it is my turn to carry on the tradition.
These are not hard to make and their preparation can be spread out over several days. One day to make the dough, the following day to shape the kaak. They keep for weeks in a tin and can be frozen. I was told that their shape is a representation of Jesus' crown  and the stones thrown at Him . My grandmother would delicately pinch each cookie  as a final touch, as this was to show the thorns on His crown. I have skipped this step however, mainly because I could not find the special implement to do it called malkat. Another way to make them is to use a special wooden mold called a taba', found in middle-eastern stores. This process is faster and simply requires oiling the mold a bit with a spray such as Baker's Joy every so often to ease unmolding of the dough.
INGREDIENTS:
1 lb. of semolina
1 lb. of farina or cream of wheat
4 sticks of unsalted butter
3/4 cup of granulated sugar
1/2 cup of milk
1/4 cup of rose water
1/4 cup of orange blossom water
1 teaspoon of mahlab, (optional)
1/2 teaspoon yeast
Stuffing:
1 large package of date paste (1lb)
8 Tablespoons of unsalted butter
Directions:
Mix the semolina and cream of wheat (farina) and sugar to obtain a homogenous mixture.  Add the melted butter and mix again very well. Add the milk, orange blossom water, rose water.
Mix well and leave to rest for a few hours or overnight. Some recipes call for adding 1/2 teaspoon of dried yeast to the mixture which can be dissolved in the milk. I have omitted yeast in mine. Also, one can add a teaspoon of mahlab if the taste is something one fancies in these pastries.
Knead the dough for a few minutes by hand or in a mixer with the paddle attachment until the dough feels smooth, shiny, and easy to shape into logs.
On a marble or granite counter place a large sheet of wax paper. Place a fistful of dough on it and put another piece of wax paper on top of it. With a rolling pin, flatten the dough and shape it into a long rectangle.
Take a piece of date paste and knead it to loosen it. You can add up to 8 tablespoons of butter to the date paste to make it more malleable using the food processor.  Form it into a 1/3 in.  rope and place the rope directly on the dough. Using the wax paper, roll the log enclosing the date paste. A marble or granite counter is helpful here.
Roll out the log on the marble counter and roll it with the bottom of your wrist back and forth until it thins out to your liking. Cut the rope into individual cookies, each about 4 inches long.
Place the cookies on a parchment-lined cookie sheet and bake in a preheated 325F oven till the cookies are light gold  and the dough feels dry. Cool the cookies and keep in a tin for 2 weeks or more. They can also be frozen for about one month. This recipe will yield at least 50 cookies.
NOTE:
You can use the wooden mold if you are pressed for time, because it is faster to shape them this way. Simply prepare small balls of dough on the counter.  Taking  one at a time, use your thumb to carve out a deep hole in each ball. Place a smaller piece of date paste in the hole and close the opening while rolling it on the counter to make sure it is nicely smoothed out. Place the stuffed cookie in the mold, press gently and unmold by tapping it on the cookie sheet. Bake for about 15-20 minutes in a 325F oven till golden and dry. Sprinkle with powdered sugar if you want.
To create Joumana's Lebanese Easter feast, the recipes are posted on her website, www.TasteofBeirut.com, through the following links:
About Joumana Accad
Joumana Accad was born in Beirut, Lebanon. She left the Middle East in 1975 and began an international journey. She moved to Paris in the mid-70s where she finished her formal education, returned briefly to Beirut before moving to the United States in 1979. Widowed at a young age, Joumana moved to Dallas, Texas in 1987, remarried and raised two children. She couldn't resist the call of cooking and she entered the Pastry Arts program at El Centro College in Dallas.  Upon graduation, Joumana became a pastry chef for a German restaurant, worked as a caterer, and sold her decorated cookies and cakes.  Whole Foods Markets asked her to teach classes on Lebanese cuisine at several of their local markets. Today she runs the popular food blog www.tasteofbeirut.comwhere she explores the cuisine of the Levant as well as the Middle East.