Travel & Eats: A European Visit With Perillo Tours
By Jacqueline Shaprow, J.D. ~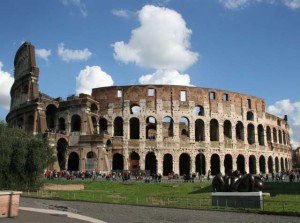 Seeing Florence, Rome, Paris, and London with Perillo Tours was a great vacation choice. Perillo provides a number of great meals, and assures that guests stay at quality hotels throughout Europe. The tour guide that led my tour of Europe had been hosting visitors for over twenty years – it was a very friendly group of people and a great experience.
Florence
See: Florence is a truly romantic city, and it has incredible Renaissance art! While there, be sure that you visit the Uffizi Gallery, Pisa, Siena, the Academy of Fine Arts, and a beautiful Tuscan winery. The Uffizi has an enormous picture collection and magnificent Botticelli paintings, and the Academy of Fine Arts houses Michelangelo's 'David.'  It was also incredible visiting some of the famous graves in Florence, such as Machiavelli's, Michelangelo's, and Galileo's grave.  For shoppers, there are a number of boutiques and markets in Florence, where one can find wine, leather goods, ceramics, and clothes.
Devour: I must have eaten at least two scoops of Peach Gelato a day while I was in Florence.  I also enjoyed thin crusted pizza, which was topped with olive oil, prosciutto, black pepper, and rosemary.
Rome
See: In Rome you will love the cobblestone streets.  Be sure to take a tour of the Vatican City, where you can see the famous Vatican Museums. Michelangelo's work of art – the Sistine Chapel – is certainly an awe inspiring site to see. You will visit St. Peter's Basilica, where you can experience the largest church in Christendom.  See the Colosseum, which is the largest Roman-era amphitheatre, and a place with so much history. There is shopping, and more shopping in Rome! I spent an entire day shopping, and I spotted incredible fashions to take home with me.
Devour: The pasta in Rome is delicious. I enjoyed spaghetti carbonara, which was topped with black pepper and pecorino romano cheese – a cheese used often in Rome.  I also had wonderful penne pasta, cooked with grilled onions, prosciutto, and a brilliant tomato sauce.
Paris
See: You will see the Eiffel Tower at night, which is breathtaking and the Bastille. My favorite part of the trip was visiting the Louvre Museum, where I marveled at Leonardo da Vinci's world famous work of art, the 'Mona Lisa.' Additionally, you will visit the Sorbonne, the Luxembourg Gardens, the Champs Elysees, and The Concorde Square, among many other sites. The Bastille, Notre Dame, the Latin Quarter, and the Musee d'Orsay, which has a very impressive Impressionist collection are definitely worth a visit.  You will also have plenty of time for shopping in Paris.
Devour: The pastries in Paris are to die for! They are soft and flaky, and they are baked with real (not artificial) butter. Have a chocolate filled croissant with your morning coffee.
London
See: Perillo Tours will take you to Buckingham Palace, Parliament Square, Trafalgar Square, the West End, St. Paul's Cathedral, and Piccadilly Circus. At Trafalgar Square, you can see the National Gallery and Nelson's Column. There are also tons of street performers to entertain you in London, especially outside of the National Theatre. You can take a shopping trip downtown and visit the historic theatre district.  At night, I watched a musical performance in the theatre district and the entire cast was very talented – it was much better than any performance I had ever seen on Broadway.
Devour:  The fish and chips in London should not be missed.
Jacqueline Shaprow, J.D., earned a degree in Psychology from Yale University and has published articles in the Los Angeles Daily Journal, The California Family Law Monthly, Music Publications, Movie Publications, The Savvy Gal, and The Journal of Health Psychology (where her article ranked among the "50 Most Frequently Read Articles" in 2008 and 2009). Jacqueline has interviewed a number of celebrities, including Grammy and Oscar Award-Winning Artists. Her writing has been featured in a book by Kaplan Publications about the diversity of experiences among female lawyers and legal scholars in America. Her Psychology Study on Weight Stigma and Discrimination was published in a number of different languages and presented at the North American Association for the Study of Obesity. Her findings on Exercise Motivation and Behavior have been housed in University Libraries around the world, including the Ritsumeikan University in Japan and the Universidad de Madrid in Spain.