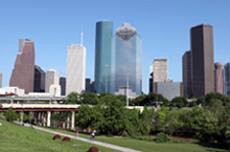 Think Houston is just a hick town full of cowboys who speak in a Texan twang? Then, baby, you don't know Houston. America's fourth-largest city is a hip, happening metropolis, ready to serve up international cuisine, give you ready access to world-class shopping and offer you an endless array of cultural activities.
Situated just inland from Texas' Gulf Coast, Houston is a savvy traveler's dream. Its international flavor extends through every square mile; if you want a fun city mini-break to make you feel like you've gone 'round the whole world without needing a passport, Houston is where you come.
Hot hotels and what they're close to:
Base yourself at the Alden Hotel downtown if you're looking for laid-back luxury. This boutique gem in the heart of Houston's downtown theater and club scene may be small, but it has some big advantages. First off, you can't beat the staff for great service. And you'll be hard pressed to find a better location anywhere in Houston. Not to mention, there's the a+ bar, where they do kicked up classics (think pomegranate martinis, for one) and 17 restaurant, where the artichoke risotto is to die for and the wine list is one of the best in the city.
Being downtown puts you along Houston's seven-mile light rail line, which will give you immediate access to the Bayou City's museum district. From the world-renowned Museum of Fine Arts, Houston, which boasts one of the largest permanent collections of paintings, sculpture and decorative arts anywhere on the planet to smaller venues such as the Center for Contemporary Craft and the Menil Collection (where you'll find works by Picasso, Magritte, 13th century artists, and more), the museum district is a culture vulture's dream. The light rail line also runs through Houston's famed Hermann Park, home to the Houston Museum of Natural Science, as well as the recently upgraded and renovated Houston Zoo.
If funky and fun is more your style, then you'll love Hotel Derek, located just blocks from Houston's main shopping mecca, The Galleria. Hotel Derek is a boutique hotel that doesn't take itself too seriously. Modern furnishings and airy rooms overlook Houston's cityspace, and its restaurant, Bistro Moderne offers classic French fare with a Texas twist.
Shop 'til you drop:
It's hard to imagine anyone needing more shopping than what is available at The Galleria, where you'll see Tiffany and Jimmy Choo rubbing elbows with Nordstrom and Ann Taylor; and with more than 400 stores, you can spend days indulging your inner fashion diva.
But, if you want a more unique experience, head about three miles east of The Galleria, on Houston's main drag, Westheimer, and look for a little shop called More Than You Can Imagine (713.668.8811). This is budget boutique at its very best. Owner Vicki Rizzo has created a resale haven to showcase killer designer duds at prices to fit every purse. Looking for a Vera Wang cocktail dress? Vicki's got it. Need a pair of Manolos to make you feel like a million bucks? Yep, she's got those, too. In fact, she's got so much, you can easily spend half the morning troving through her treasures (and you can pop across the street to Crescent City Beignets (713.520.8291) for a cup of coffee when you're finished.)
Further down on Westheimer, heading back toward the museum district and downtown, are a host of hip boutiques. Pixy and Ivy always has fun, flirty fashions. And a visit to Houston isn't complete without a stop at Vintage Oasis (713.529.2234), where the classics meet the contemporary in the form of clothes from the 40s through the 80s.
You also won't want to miss a stop at Rice Village, an outdoor shopping extravaganza where big brands sit side by side smaller boutiques.
Get cultured
Houston wins hands down when it comes to smart, savvy fun. The city's arts scene (including museum district mentioned above) also incorporates all the major art forms: ballet, symphony, theater and opera. The Houston Ballet is known for offering contemporary twists on classics (this year's Cinderella is guaranteed to put a whole new slant on this most familiar of tales), but if you want something else for your dance card, consider the Dominic Walsh Dance Theatre or DiverseWorks, which showcase more contemporary styles.
Houston's theater scene has everything from big-time Broadway shows in beautiful halls to cutting-edge works in intimate spaces. The Alley Theatre is one of the finest repertory companies in the country, and routinely mounts works by well-known playwrights, as well as world premieres. (The 2007-2008 season will see the premiere of The Gershwin's An American in Paris, a musical about the making of the classic film.) There's also The Ensemble Theatre, known as one of the best African-American theatres in the U.S., Main Street Theater and Stages Repertory Company.
The Houston Grand Opera has spent the last 50 plus years taking opera out of the realm of some stuffy, 400-year-old art form and making it accessible and fun. Catch The Daughter of the Regiment this fall, one of the funniest romantic comedies ever written, and don't miss next spring's Billy Budd, a tale of betrayal and adventure on the high seas.
And for music, you have your pick of the Houston Symphony and Da Camera of Houston for classical; Society for the Performing Arts for a diverse array of styles from around the world; the Verizon Wireless Theater for pop; Sambuca restaurant and Red Cat Jazz Cafe for Jazz; Scott Gertner's Sky Bar for Latin beats (check out the free salsa dancing); not to mention, nearly every cafe or bar in town offers some kind of live music somewhere, sometime.
Eat, drink and be merry
With more than 11,000 restaurants to choose from, you can eat your way across Houston and never have the same cuisine twice.
Make sure you stop for Happy Hour at one of The Tasting Room's three locations around town. Here's where you'll find great wines and gourmet appetizers in a hip atmosphere, just right for mixing and mingling. For wine with a little more edge, wander over to The Corkscrew on Washington Avenue near downtown, where you'll find a more casual experience with an equally impressive wine list. Both venues offer wines from smaller, boutique producers, while still paying homage to well known brands, so you're sure to find your old standbys, as well as some new favorites.
International cuisine? You better believe Houston has it. Molinas has some of the greatest casual Mexican in town (you can't eat here without ordering Jose's dip … queso with fantastic meat sauce … you'll love it), while Hugo's on Westheimer at the edge of downtown has Mexican and Latin cuisine in a luxury environment. Be sure to take a visit to Cafe Montrose, where you can experience authentic Belgian dining in a cozy, intimate dining room. For the same feeling with Italian food, it's worth finding Michelangelo's on what's called lower Westheimer, where the fare is fantastic, and a tree grows right in the middle of the dining room.
And, because you are in Texas, you should experience steak. All the chains are here: Smith and Wollensky's, McCormick and Schmick's. But for a true Texas experience, it's Pappas Bros. Steak House all the way. This is an old-school steakhouse, where the cuts are huge and of quality, the wine list goes on for days and the experience is like being in a classic supper club.
Easy access
Houston's two major airports, Hobby (HOU) and Bush Intercontinental (IAH) mean you can fly into Houston from virtually anywhere, likely nonstop, depending on your airline. Houston's home to Continental Airlines; Southwest has a tremendous presence here, too. But, the airports are served by all major U.S. carriers, as well as dozens of international airlines.
Houston is a driving city and its freeway system is straightforward and easy to navigate. In fact, having a car means you can take in the full scope of the city, from the beaches of Galveston to the South to outlet mall shopping in Katy to the west and the charm of Old Town Spring, a shopping and eating spot north of the city.
Simply irresistible
From its funky neighborhoods to its big-city feel, Houston is a place where going global takes on a whole new meaning. You'll feel like a true citizen of the world after you stay here and why shouldn't you? Houston offers the whole world — from its dining to its shopping to its hotels and arts — in one great city where there's always plenty of sunshine and everyone offers a tremendous Texas welcome.
Houston will make you change your mind about everything you thought you knew about Texas.