Savvy Spotlight: Top Ten "Green" Earth Day Products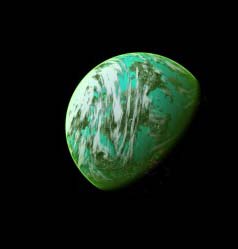 When U.S. Senator Gaylord Nelson declared April 22, 1970 the first official "Earth Day," he envisioned it as a means of inspiring awareness and appreciation for the earth's environment. What he couldn't foresee is how ardently that flicker of an idea would one day take flame. Now, as Earth Day prepares for its 40th anniversary, the holiday is positioning itself as "a turning point to advance climate policy, energy efficiency, renewable energy and green jobs." Its network of promoters is also endeavoring to galvanize "millions who make personal commitments to sustainability."
According to a recent research conducted by Green Seal Inc. and EnviroMedia Social Marketing, "82 percent of consumers (four out of five) say they are still buying green products and services today – which sometimes cost more – even in the midst of a U.S. recession." Unfortunately, they're not precisely sure what constitutes "green." In fact, "about one in three consumers say they don't know how to tell if green product claims are true."
In honor of Earth Day's 40th anniversary, the public relations firm Avalon Communications has unveiled a list of 10 products that fill the eco-friendly bill. By purchasing and using any – or all – of these items, consumers can rest assured that they'll not only be taking steps toward living a more sustainable lifestyle but they'll also be advancing the Earth Day agenda of going green.
b. happybags – This attractive yet durable line of reusable shopping/tote, wine, yoga and dry-cleaning bags are made in the US of domestic materials and help to eliminate the destructive overuse of disposable bags.  The manufacturer is a certified member of the Green Business Association. (

www.bhappybags.com

)
"Just Green It" the Ultimate Consumer Shopping Guide Book – Written by the husband/wife healthy home experts, Ron & Lisa Beres' little black book, green book is the ultimate consumer shopping guide to eco-friendly lifestyle choices.  It compares brand-name products side-by-side making it easy for consumers to make environmentally-friendly choices on everything from light bulbs to mattresses to baby food.  An essential guidebook for navigating the oversaturated green marketplace, Just Green It! Simple Swaps to Save the Planet and Your Health is a must have for any shopper concerned about living green while saving green in today's tough economy while laying out what is the better choice between "green" product brands, benefits and costs. (

www.JustGreenIt.net

)
Wild Dill Clothing, Toys, Bedding and Furniture for Babies and Toddlers ­­– The on-line store carries only natural, organic, fair trade, made in the USA/Europe or recycled products. (

www.wilddill.com

)
Solay Wellness Natural Salt Lamps ­– This line of crystal salt lamps offer a natural air-purifying solution. Because they increase the negative ion count, the lamps benefit asthma patients, people with chronic lung illnesses and allergy sufferers. Plus, the salt crystals used in the manufacturing process are mined in an ecologically responsible manner. (

www.natural-salt-lamps.com

)
Natural Clothing Company Apparel – This line of organic clothes for the whole family is good for people and the planet. The Green America–approved company's focus is on practicality, sustainability and the beauty of natural fibers.  Their products utilize earth friendly organic cotton, hemp, bamboo and more.  They also pulled together area businesses and farmers to promote environmentally friendly methods for Earth Day in their town Snohomish, WA.   (

www.naturalclothingcompany.com

)
Dream Designs Hemp Shower Curtain – Locally made, fair trade, ecological and sustainable – these are the hallmarks behind every eco-friendly product the Canadian company manufactures. Made from tightly woven natural hemp fabric, the shower curtain does not require a plastic or vinyl liner, thus eliminating the concerns for toxic off gasing.  When it's dirty, just throw it in the washing machine.  (

www.dreamdesigns.ca

)
World's Best Cat Litter – The only all-natural, whole-kernel corn litter that is biodegradable and renewable, flushable, septic safe and chemical free (no synthetic chemicals, clays or perfumes).  It clumps faster, has unsurpassed odor control and lasts longer than other litters on the market (

www.worldsbestcatlitter.com

).
Tree Beginnings ­Go Green Eco Favors and Gifts – This eco-friendly line of favors affords brides and grooms a unique and thoughtful way to commemorate their new beginning with a gift of "growing memories" that will last a lifetime. (

www.treebeginnings.com

)
Sparklehearts Green Goes Glamorous Natural Skin and, Hair Care for Girls – This environmentally friendly line of bath products are 99.6% natural, made with organic ingredients and encased in 100% post consumer recycled packaging. Natural is now fun with Sparkle hearts.(

www.sparklehearts.com

)
SwaddleKeeper Baby Sleep System manufactures Organic Cotton Newborn Swaddling Blankets. No fabric scraps end up in the landfill, they are used by SwaddleKeeper to make stuffed animals and snack bags that are donated to local charities.  All packaging and design is based on eco-friendly choices.