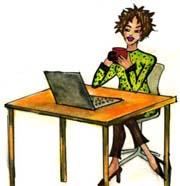 Take a look at the cute little symbols at the end of this article. You have likely seen them on a number of other Web pages, but have you ever wondered if they actually serve a purpose?
Not just useless graphics, these are links to serve a powerful function for Internet users and they have revolutionized the way people search the Web.
Services like Technorati, Del.icio.us, Digg and Stumble Upon are known as social bookmarking sites, designed to help users store ideas and information for easy reference from any computer. It's easy to create a free profile; and then you can post selected bookmarks on the Web, instead of just keeping them on a browser.
Social bookmarking has several advantages: first, users can access their chosen bookmarks from anywhere and on any computer with Internet access. Second, users can share bookmarks with friends, coworkers and other people to be accessed for either reference or just for fun. Third, people with similar interests can view each other's sites and add those links to their own collection.
Let's take a closer look at just a few of the multitude of social book-marking services available to you:
Stumble Upon
Once users sign up for an account and specify particular preferences, StumbleUpon delivers interesting pages matched to those specifications. Then, as browsers "stumble" through the pages they can give a thumbs-up to those they like, or a thumbs-down to those they don't, which helps to form collaborative opinions on Web site quality. When users stumble, they will only see pages that like-minded stumblers have recommended, which helps them discover interesting sites they may have never found simply using a search engine.
StumbleUpon members are taken directly to Web sites matching their personal interests and preferences. After signing up for an account, a StumbleUpon toolbar can be downloaded for use with any browser to enable one-click access to quality Web sites.
StumbleUpon offers nearly 500 topics from which to choose personal interests and preferences. From that selection each stumble produces only the most relevant content. StumbleUpon soon learns what the user has liked in the past and continues to present similar Web sites in the future. Also, as you find Web sites you like on your own, you can still give a "thumbs up" using you StumbleUpon toolbar to save the site into your personal index.
Del.icio.us
Web surfers can tag their favorite articles, blogs, videos, recipes, and more and share their favorites with others. Del.icio.us is full of bookmarks about technology, entertainment and a variety of other useful information.
Del.icio.us also allows users to keep track of all the source materials and commentary found online for such projects as writing articles, term papers or any research-based venture. It's a practical and easy to use tool to make shopping and even planning a trip easy. Users save links to hotels, activities, and transportation and use tags like "travel," "vacation," and "to-visit". Then you, also as a user, are able to see and share what others bookmark and learn about great resources you didn't even know existed!
Digg
Everything on Digg, from news to videos and podcasts, is submitted by the world wide Internet community; in other words, there are no editors, just general users like us. Much like Del.icio.us, Digg is a place for people to find and share content from anywhere on the Web. And those very users are the ones who determine the value of content, from the most popular sites to the most obscure blog.
Once something is submitted, other people see it and "Digg" what they like best. If a submission receives enough Diggs, it is promoted to the front page for millions of other Digg users to see.
This service also encourages discussion by passionate users who like or dislike what they find. When a Web searcher discovers an article, video, or blog online and submits it to Digg.com, the submission immediately appears in the "Upcoming Stories" listing, where other members can find it and, if they like it, Digg it. Visitors can peek at the "Upcoming" section to discover recently added content, or use "Spy" to watch the titles and descriptions as they roll down the page. RSS feeds on specific topics are also available for subscription to those interested in receiving them.
Technorati
Technorati is considered the authority on what's happening now on the World Live Web. The Live Web is the always-updating portion of the Internet; Technorati searches and organizes blogs and other forms of user-generated content (such as photos, videos, etc.) to make it easy for Web surfers to find what they need.
Blogs are powerful because they allow millions of people to easily publish and share their ideas, and millions more to read and respond. On the World Live Web, bloggers link to and comment on other blogs, creating an immediate connection much like one would have in a conversation. Technorati tracks these links and rapidly indexes tens of thousands of updates every hour.
The World Live Web is incredibly active, and according to Technorati data, there are more than 175,000 new blogs initiated daily. Bloggers update their blogs regularly to the tune of more than 1.6 million posts per day, or more than 18 updates a second. This service helps readers stay organized and apprized of recent updates.
And if you can't decide which service to use, try them all and see which system you prefer; there's no obligation or contract, so you can choose a primary service or use them all. And while you're at it, tag some of the articles you read on TheSavvyGal.com so your friends can enjoy them, too!