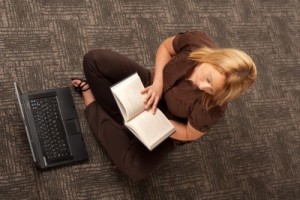 By Rita Warren ~
In this day and age, if you're not using the Internet to your advantage as you invest, you're missing out on one of the greatest assets around.  The Internet enables you to gather research material and information for free, thereby saving you tons of money and making the job easier than it ever has been before.  If you're willing to spend a few hours a week doing this kind of work, you can eliminate the need for expensive newsletters or financial advisors who, after all, are doing the very same thing you're doing … and then charging you exorbitant fees to do so.
I've said this before, but it bears repeating:  you are more interested in your money than anyone else.  I have a friend whose money I have managed for going on three decades now, ever since her first husband died and left her insurance money.  Since she had never even written a check during their marriage, and since the insurance check sat in her purse for two weeks because she didn't know what to do with it – didn't know how to get it from the purse to the bank and into her checking account – I felt at the time, given the fact that she had two teenaged boys that she was responsible for, that the prudent thing to do as her friend was to agree to help her.  My big concern then was that some unscrupulous crook was going to come along and convince her to turn over all of her money to him and then flee to Chile, leaving her and the boys penniless.  You and I know this happens all the time, and I was determined not to let this happen to my friend.
Cut to 24 years later: my friend has remarried, both of her boys are adults and out of her home, she has a successful career as a middle school teacher… and I am still managing her money.  Every time I try to talk to her about taking over her own finances, she says to me, "Don't die!"  Truly, if I were to die, it would throw both her and my husband into a tizzy, because they are both dependent on my financial acumen to keep them afloat.  For that reason, I keep a file on my computer desktop called "If I die," so that my sweet husband will know what to do and where everything – all of our brokerage accounts and real estate holdings, for example – are located.  He's pretty organized, so I'm not worried about him.  But my friend in Utah, getting ready to retire from her teaching profession, is another story.  Without me, she's going to be a bit lost, should I expire before her.  Her husband, while a sweet man and devoted to her, is no better with financial matters than she is.  In fact, he's a lot worse.  He's the one through the years of their marriage that I have had to curtail from buying lots in Texas or mobile homes in Arizona, because he has no idea what has value and what doesn't.
So I'm encouraging her, as her teaching career winds down, to do some exploration on the Internet.  Truly she hasn't had the time to do this while she has been working.  She is one of the best teachers I've ever known, an opinion shared by man, winning awards statewide and even nationwide for her prowess as a teacher, and I've considered it a ministry to be able to manage her money and grow it and allow her to be able to flourish in that teaching role.  But now, when she will have the time and ability to pay more attention to her own finances, it's the right thing for her to do, and my job is hopefully changing.  Now I see myself as a tutor of Internet sites, how to use websites and such to discover more and more about how to make your money work for you and grow — or at least not shrink.
So it's a new day for her and a new day for me, and it's coming very soon.  By this summer, she'll be retired, and I hope she'll be anticipating a new learning curve for herself.  Meanwhile, I'm compiling a whole list of Internet sites for her and a new world opening up for her.  If all goes well, retirement will be a new and exciting life for her and one that will prove profitable as well.