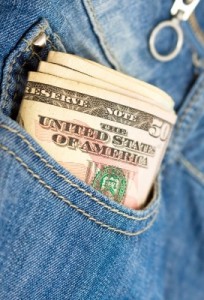 By: Nancy Phillips ~
I remember when my high school volleyball coach explained the word "response – ability." You can respond to a situation however you choose; this is where maturity, self-control and self-awareness come into play.
These wise words can relate to a lot of topics in life and they are definitely relevant when it comes to the topic of money and how to develop into a financially independent woman. The first big step is making the decision that you want to be financially independent. That mental commitment alone is a giant step towards your success for a number of reasons; you will look for opportunities to learn how to do this, you will take action to make more responsible financial decisions and most importantly, you won't leave it all up to somebody else and simply hope for the best.
Keep these things in mind as you travel your path to financial freedom:
1.      You don't need to be a math or investing genius to build wealth.
2.      Keep track of what you spend; this will significantly enhance your rate of success as you become more aware of where your money goes.
3.      Divide your earnings into Give, Invest, Save and Spend categories as you receive your money. Simply said, doing this will help you bring wealth into all areas of your life.
4.      Keep your own financial identity whether you are single or in a relationship. Establish a credit rating and keep a good score throughout your life, this is essential.
5.      Research shows true millionaires care more about financial freedom and the positive benefits it affords (such as spending more time with their families) than they do about living a glittery, high spending lifestyle. The vast majority of high net worth individuals are not hyper-consumers, as demonstrated by Dr. Stanley in his book The Millionaire Next Door.
6.      How much is enough? Every extra unnecessary item you purchase requires you to work that many more hours to pay for it. Enjoy life, but don't spend mindlessly. Excessive shopping and spending is only forcing you to work more hours.
7.      Remember to be grateful for what you have now; this positive attitude will bring more goodness into your life.
8.      You don't have to know all the answers. Continually ask and learn from people who are doing things you want to do or understand.
Remember what makes you happy. For most people, it doesn't come from material possessions. Relationships, favorite activities, pride in your accomplishments – these are some of the things that will enrich your life as you move toward financial freedom. Enjoy the trip!
Nancy Phillips is the author of the Zela Wela Kids book series which provide parents a fun, family oriented way of discuss the key concepts of money management with their children. Phillips' goal is to inspire children to learn responsible financial habits that will increase their quality of life and enable them to achieve their true potential. For more information about Phillips and the Zela Wela Kids series please visit: www.zelawelakids.com. Zela Wela Kids books can be purchased from www.amazon.com, TheSavvyGal.com Store and www.authorhouse.com.