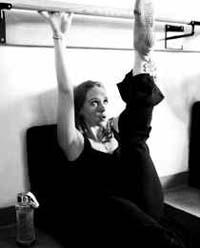 It is no secret that aerobic-style workouts offer huge benefits in the battle to stay lean and fit. We now know that in order to keep from gaining weight, we must follow the cause-and-effect rule by burning more calories than we ingest.
But many in the fight to stay fit neglect one of the most effective weapons that can help deliver fast results: strength training.
This key element in a workout regimen helps to produce fuel-burning muscle fibers, which in turn develops a desirable firm and sculpted body shape. The denser the muscle mass becomes, the more calories those muscles use up. But if you're one who tends to shy away from strength training because you think it's too hard or too boring, you might want to consider a new option in your workout routine.
The Bar Method, the rapidly spreading fitness craze around the country (from California to New Jersey, and states in between) is a challenging yet fun workout that promises to shape and elongate every major muscle group while burning away the fat around those muscles. Though that may sound too good to be true, Bar Method studio owner Jodi Conroy (located in Agoura Hills, California) notes that students who stick with the program can in fact see remarkable results, oftentimes faster than with traditional exercise programs.
"The Bar Method is tough, but it's doable," explained Conroy. "Athletes and 75-year-old grandmas alike can enjoy class because the system allows students to practice at their own pace."
Tough, energetic and armed with a wealth of information about physical conditioning, Conroy may mislead newcomers by her youthfulness. But this charming instructor is not only mature beyond her years, she is surprisingly personable and engaging. In addition to running the studio and teaching a number of sessions throughout the week, Conroy is also the Bar Method's most devoted advocate.
Conroy earned her master's degree and lived in San Francisco where she worked as a deaf and hard-of-hearing teacher. Having experienced some health challenges of her own, Conroy began taking the Bar Method sessions and was immediately hooked. "I started taking classes five times a week and began to notice that I was gaining more energy than ever and rapidly losing weight," she explained.
Conroy's fascination with the program led her to go through formal training in order to become a certified Bar Method instructor. When the time came to start thinking about opening her own studio, Conroy wanted to return to Agoura Hills, California, and offer the Bar Method to the community in which she was raised. So she, along with her former Agoura High School sweetheart and now husband, Quinn Conroy, left San Francisco to return to their childhood stomping ground, helping to spread the message about health and fitness in the Southern California region.
The Bar Method exercise system was launched by Burr Leonard, a former journalist who has been practicing and improving on the exercises since 1991. She, along with Carl Diehl, opened their first exercise studio in Greenwich, Connecticut that year. In 2000, they founded The Bar Method, Inc. and the next year opened their flagship studio in San Francisco. Since then they have developed and franchised a number of Bar Method studios around the country.
The Bar Method is a fun class performed to music that targets all major muscle groups by contracting and stretching them with controlled isolations. It alternates between exercises that require intense bursts of energy and deep stretches, producing high caloric burn and firm muscle mass. Research proves that exercise yields the best benefits when performed three-to-five times a week, which is the recommended concentration for optimum results from the Bar Method workout.
Class begins with a simple warm-up and moves into upper-body work with free weights, push-ups and stretches using the ballet bar. The exercises then move to target the lower body region, and most of them are performed at the bar. The Bar Method's workout finishes with floor exercises for the abdominals and gluteals, winding down with a relaxing series of back and leg stretches.
The Bar Method can be enjoyed by men as well as women ages 16 and older. For more information about the program and to find a location nearby, check out www.barmethod.com.
Check out the class schedule at www.barmethod.com/agourahills. You can also sign-up for her e-mail updates as well as a free newsletter. Details about the limited time offer on new memberships are available online and at the studio. The Bar Method Agoura Hills is located at 28878 Roadside Dr., Agoura Hills, CA 91301. Classes can be reserved online or by calling (818) 735-5415.