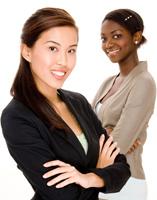 A Savvy Gal knows that time is her most important commodity. In this world of multitasking and telecommuting, a true entrepreneur knows how to make the most of her time by making dollars out of change. I had to learn this the hard way — and it all started with bad case of influenza.
I'm recovering from the flu. I'm not quite sure which kind it was, but I am sure that it was a terrible bout that I hope to never have to experience again. I was completely knocked out, unable to return phone calls, work or even eat for five days; yes, this was a bad illness that reminded me how fragile we all are and how important it is to have support around us.
Just before I got sick I remember carrying out my daily routine of back-to-back meetings with my Blackberry at my side (God forbid I miss responding to an e-mail within ten seconds of receiving it), writing my blogs, networking and, of course, consulting with my clients. I love what I do but I couldn't help feeling extra weary and even a bit overwhelmed.
It took the flu to knock me off my feet (literally) and knock some sense in my head that I was doing it ALL wrong.
My time management was out of proportion and it's no wonder I became run down and sick, I'm just surprised that it took me this long to fall apart; especially since I work with clients on creating realistic expectations on their work and goals.
So here is my pledge: to embrace the strategy of ADD! Hear me out first … ADD stands for: Automate, Delegate, Delete.
These are the three things that entrepreneurs should embrace in their business because carrying everything on your shoulders will eventually bring you down (take me, for example). So, while I get stronger every day, I can promise you I will be doing some summer cleaning to help me with my ADD; to give me more breathing room and add a little more quality time in my day.
Here are some ways you too can let ADD help you add time to your schedule.
Automate:
What are some simple tasks that you are spending time on that can be done for you on a reoccurring basis? I'm a big fan of auto-pay. Like you, I have bills due every month. Rather than write out the check every month, go to the bank, or call in my payment, I set up an auto payment plan that comes out of my bank account, rain or shine; whether I'm in or out of town, my bills are paid on time every time. It's not just bills, what about setting up direct deposit for your paycheck? How about a voicemail tree that offers options to your customers before you answer every call, every time.
The key is to let modern technology help you free up your time.
Delegate:
This can be the hardest task to let go of your white knuckle grip on EVERYTHING. It is essential to your business and your ability to make money. Give others tasks that can free up time for you to concentrate on more important things. If you are a business owner; doing administrative work will never get you to where you want your business to be. It is worth the money and freed up time to invest in a virtual assistant or assistant to run errands for you so you can continue to concentrate on marketing your business and building up your clientele. Maybe you need to hire a bookkeeper, a marketing assistant or even a business coach to help you streamline your goals, timeline and implementation. Doing everything yourself may seem like you're saving on costs, but in reality you're wasting precious time and energy that can be spent on getting new clients and customers.
Delete:
Cleaning out your closets, your computer files, and your inventory can actually boost your sales, invigorate you and lighten your load. If you have inventory that is not moving, offer your clients a blow out sale. Move the inventory off your shelves — physically or virtually. This allows you to know exactly what products your customer base is looking for, giving you the opportunity to re-connect with your clientele, know the market, and deliver a product you know will sell.
Implementing ADD in your daily routine whether in business or in your personal life will actually add hours to your day and energize you to get more done … finally, some good news about ADD.
Alisa Weinstein is a certified coach, business executive, and entrepreneur. As owner of Coaching Element, she supports other entrepreneurs to create businesses starting with focus, vision and action. She serves clients through individual and group coaching, seminars and public speaking. For more information, please visit www.CoachingElement.com.