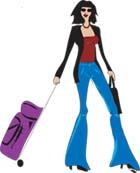 When one thinks of Upstate New York, it's easy to imagine snow, ice and college basketball. But the wonderful area of Finger Lakes is hidden away and hosts a plethora of activities throughout all seasons. Aside from the ski resort and blissful scenery, this patch of land with the distinctive lakes offers something for every woman.
Water Around
The lakes are certainly the most obvious characteristic, but each one has something different. Larger lakes like Seneca Lake and Cayuga Lake are vastly different from other lakes, such as Canandaigua Lake, Skaneateles Lake, and Keuka Lake, even though they all have a similar shape and are studded with wineries and unique restaurants.
Seneca Lake is the deepest one of all, and Keuka Lake has the most unique shape, separating into two prongs of water, looking like a peace sign in the middle of the Southern Tier of New York. Smaller lakes, such as Hemlock Lake and Conesus Lake are more private in usage and help to supply water to the surrounding cities. From the view of an airplane taking off from Rochester or Buffalo, each lake looks like a stick. To those who know the region well, looking at the lakes and guessing which is which is a fun game. For those who are visiting for the first time, finding an opportunity to see the lakes from up above is a must.
A Taste of Wine
The region is best known for its many wineries and the Finger Lakes Wine Trail, which caters to both novice tasters and master sommeliers. One popular winery is the Bully Hill Vineyards Bully Hill Vineyards in Hammondsport, NY, which is right off of the Northern shores of Keuka Lake. The on-site museum offers a peek into the past of the winery and a history of the various wines produced. Some of these popular wines include Chardonnay, Riesling, and various other reds and whites. Bully Hill is able to ship orders to various states, and orders can be placed on their Web site for a little taste test before you arrive or a "refill" after you get home: www.bullyhill.com.
Canandaigua is home to Arbor Mist, the college wine staple that is still familiar to women of all ages. The fruity wine comes in many red and white varieties, such as Pinot Grigio, Sangria, and Chardonnay. Even though this wine isn't as popular outside of the college set, it's still refreshing enough to enjoy on a hot summer day while sitting alongside one of Canandaigua Lake's public beaches. And yes, swimming is allowed in designated locations!
Take a Bite
For food and a great view, consider Ithaca and the many gorgeous gorges that surround the town, home to Ithaca College and Cornell University. Ithaca is where you will also find Moosewood Restaurant, which has been spreading vegetarian happiness for more than thirty years. The restaurant itself is a collective effort, owned by a large group of members who have put their hearts, souls, and cooking efforts into developing the restaurant into a prime dinner destination. The lunch and dinner menus change daily, but every offering is a representation of Moosewood's devotion to natural and healthful cuisine. Signature dishes include Jerk Tofu, Pecan-Crusted Fish, and their own take on Fried Green Tomatoes, just to name a few. The restaurant does not take reservations, so planning ahead is still necessary in order to make sure that everyone's needs are met. Moosewood also publishes cookbooks, including the original "Moosewood Cookbook." These can all be ordered online at www.moosewoodrestaurant.com.
Time to Relax
If a nice relaxing weekend is your idea of a good time, consider the Mirbeau Inn and Spa in Skaneateles, NY. The spa is within walking distance of the village of Skaneateles, which shares its name with a lake that decorates the scenery with amazing taste. Now, the spa is obviously relaxing, considering that the air is moist and soothing, it is so even in the dead of a Central New York winter. The architecture is reminiscent of a small European village, with all the amenities of the country. Popular treatments include facials, manicures and pedicures, massages, and the ever-enticing body wrap with Belgian rose oils. Who could resist? The facilities also boast a fitness center, amazing bathrooms, and a little hot water bottle for those cold nights when a full comforter just isn't enough. The main dining room is a treat, as is Rosalie's, an Italian restaurant just off the premises. Mirbeau is definitely an experience to remember, and is essential for any good trip to the Finger Lakes. For more information, visit www.mirbeau.com.
It might be easy to dismiss the Finger Lakes, but there's so much going on at any given time or season. After all, a region with distinctive wine, food, and herbal wraps is certainly a must-see. Even if the snow is falling outside, here the heat is rising, but not to worry, Seneca Lake won't be evaporating any time soon.