The Cool Communicator: Little White Whys ~ A Woman's Guide Through the Lies Men Tell and Why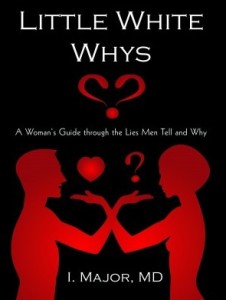 by: I. Major, M.D. ~
LADIES … BRACE YOURSELF FOR THE
NAKED TRUTH ABOUT MEN!
Here's an excerpt from a new book that exposes when to go, when to stay, and when to run, lady run!
"Guys know and firmly believe that you can and will decide within the first five minutes of meeting us whether or not we will ever get to see you naked. It's true. You know it, we know it, and everything we do from this point on will all be leading toward one of three directions: the naked zone, the friend zone, or the boyfriend developmental league," so says I. Major, M.D. in his new book Little White Whys: A Woman's Guide through the Lies Men Tell and Why.
Wow, whatever happened to love at first sight, flowers and champagne, and riding off into the sunset? In a brutally honest, witty, and ultimately an amazingly accurate portrayal of dating in the modern world, Major assures his readers that you can have happily ever after – if you understand the Little White Whys.
A board certified adult psychiatrist, Major graduated from medical school in 2000 and has been in private practice since 2005. He's treated thousands of patients and families. The majority of those patients come to him as a result of a significant relationship, past or present, that took a wrong turn. Little White Whys is the first step in preventative medicine for dating disasters.
Major warns the truth can be tough to hear because, to hear the truth about men, sometimes ladies have to hear the truth about themselves as well. Dating can be summed up with three simple truths:
1. Believe half of what men say and all of what they do.
2. Guys only want one thing – sex.
3. Everything you need to know about men they tell you during your first three conversations.
Little White Whys is a guide for ladies and men. It covers all the bases including:
•            Why men lie … the reasons probably aren't what you think
•            The Meeting, how to pick up on everything he's trying to do to pick you up
•            Dating, knowing how to read a man is essential
•            What Not to Say — taboo words and statements any man does not want to hear
•            Essential questions every woman should ask a man who is pursuing her
•            Happily Ever After — It really can be achieved
Each chapter sums up what to expect and gives a little 'pop quiz' at the end so you can see how well you understand the male mind.
"My intent is for ladies to use this book as a handy dandy guide to the clues and 'trues' in every relationship," stresses Major. "Clues to how the male mind works and the 'trues' that do work and can lead to Happily Ever After."
About the author:
I. Major attended graduate school and medical school at the University of South Carolina. He completed his psychiatric residency and child/adolescent fellowship with the Palmetto Health Alliance and is an attending psychiatrist at a private in-patient hospital facility in Greenville, SC. Visit his Website at  www.littlewhitewhys.com.
Little White Whys is available on www.amazon.com, www.barnesandnoble.com, www.iuniverse.com and TheSavvyGal.com Store.