The Career Connection: The "Grass Ceiling"— Gender Bias In Sports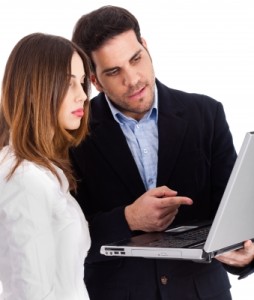 By Susan T. Spencer ~
What is the "Grass Ceiling"?  I define it as a pervasive gender bias against hiring women for top positions in sports management.
Athletic Directors are among the top paying jobs and claim the most prestigious status in collegiate sports management. The 33-year study (by Acosta and Carpenter, www.acostacarpenter.org) provides  a sobering statistic;  less than 10% of the Directors of Athletics at NCAA Division I  member colleges are women.
Why does the current system freeze women out? Because many of the colleges and universities exercise very little oversight over their athletic programs, do not seek out or ensure that talented women are nominated for available positions, and the selection process is not based on demonstrated merit.
Because of this lack of equality in selection, women are often hired for secondary positions (as a Senior Associate Athletic Director) and often end up assigned to minor sports—which invariably excludes them from recognition and involvement in important business negotiations. The result: women have little chance to gain the kind of experience and public exposure that will qualify them to move up and gain the top positions.
What about mentors within the system? Based on the current number of female athletic directors, it is obvious that only a few of our institutions of higher learning encourage male athletic directors to train and promote women. The best option for women, (who are shut out of top positions because of the "grass ceiling"), is to identify other decision makers who are willing to help them, mentor them and work within the system to create their own demand. They should reach out to other women leaders at their own universities; Presidents, Vice-Presidents, Deans, Chairs of Faculty Senates, and other administration officials who are in a position to observe their talents and promote individual efforts, and network by serving on several NCAA and conference committees whose members are administrators and faculty from other universities.  This is the best way for women to build relationships and get noticed.
Another way for women to really cut through the "grass ceiling" is to come fully loaded with impressive educational credentials. Advanced degrees in sports business, MBA's, and LLD's go a long way to authenticate women's ability to handle the "big business" deals of Division I college sports.
It's time that Division I colleges and universities recognize that there is a "grass ceiling" and establish standards that must be uniformly applied to all candidates, so that athletic departments will not be just another "good ole boys club." Until Division I schools wake-up, establish uniform standards, and stop paying lip service to women in college athletics departments, the "grass ceiling" will continue to prevent women from moving up and establishing themselves as Division I Athletic Directors.
Susan T Spencer is an entrepreneur, award-winning author of BriefcaseEssentials, lawyer, and former minority owner, GM and VP of the Philadelphia Eagles Football Franchise.  Spencer has spent the last 25 years owning and running her own companies in exclusively male dominated industries after turning her back on the "corporate world."  Her stories and examples are authentic, and her advice for women in business who own a company, or who are thinking about starting a business is direct, practical, pioneering, and barrier breaking. Spencer attended Boston University where she earned a BA. She later received her MA in Education/Economics from Hofstra University and received her law degree from Villanova University. Susan can be reached at SUSANTSPENCER1@aol.com.
This article could not have been written without the benefit of the information and counsel of Ms. Connee Zotos, Clinical Associate Professor of Sports Management at NY.