The Big Apple Bite-Sized: Making Sense of New York City Neighborhoods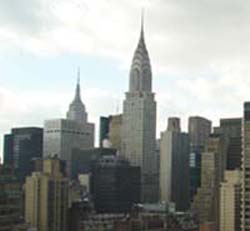 It's been touted as "the center of the world" and "the city that never sleeps," but to a first-time visitor, New York City often seems like the "town that confounds." Although the island of Manhattan is a mere 24-square mile area, its unique neighborhoods and distinctions between the "East" and "West" sides can be confusing. With about 6,400 miles of individual streets, more than 500 miles of sidewalks and 700 miles of subway tracks, the city appears overwhelming. But New York is actually simple to navigate once you understand its districts and divisions.
The true essence of New York City is found in its characteristic neighborhoods, where the tone and flavor of the town seems to change from one block to the next. Public transportation is abundant; with more than 12,000 taxis, a proficient subway system and a variety of buses, you can get where you need to go rather easily. But to avoid the city's infamous traffic congestion, traveling on foot is the recommended form of tourism. Not only is it great exercise, but walking allows for a more "up-close-and-personal" New York experience.
We begin our tour at Fifth Avenue, the dividing line between the east and west sides of the island, traveling northbound, where glamorous shops and designer boutiques line the meticulous sidewalks. This is where some of the most expensive real estate in the world can be found. On a typical day visitors from all around the world are spotted on this landmark boulevard amid clusters of business men and women, decked in fashionable attire, speed-walking to their destination. (This link provides a breakdown of the island to help "follow along" on the tour — http://www.nycvisit.com/content/index.cfm?pagePkey=429)
Fifth Avenue connects to the southeast corner of Central Park at 59th street. The park is considered to be a paradise in the center of a concrete jungle, and the "locals" are usually found jogging, bike riding and enjoying the lush green lawns and lovely floral gardens. The park's serene setting provides a retreat from the noisy, bustling city life.
On the east side of the park is the posh residential quarter known as The Upper East Side, considered home to a variety of lucky heirs of old money. Across the park is its more artsy, but equally prestigious Upper West Side. North of Manhattan is Harlem; once considered risky territory, this area has evolved into a desirable up-and-coming community with revamped apartments, great food and live music.
Moving south of Central Park is a region called Midtown, where Grand Central Station, The Rockefeller Center, Carnegie Hall, Times Square and the Theater District can be found. This area is primarily business-oriented with a spattering of high-rise apartments and condos throughout. Some of the best of Manhattan's 18,000 restaurants are located in Midtown, as well as several of the island's 400 art galleries.
After exploring Midtown's marvels, you'll want to visit the Lower West Side where Canal Street, famed for its notorious knock-offs, is lined with vendors wheeling and dealing their goods. The former World Trade Center, now memorialized as Ground Zero, is also on the Lower West Side. The Financial District, located in Downtown, is home to Wall Street and some of the world's most prominent financial corporations.
With less of a tourist scene, the popular Lower East Side is considered one of the more "hip" communities in which to live, and offers a clear impression of the contemporary Manhattan lifestyle. It's common to find local residents at the outdoor cafès and neighborhood eateries socializing in their casual New York style. SoHo, Chelsea and "The Village," are bustling with young adults and the creative set. The Meatpacking District, where trendy fashion designers have taken up run-down lofts and storefronts and restored them into exclusive showrooms, is another popular shopping spot. The district known as Little Italy offers an assortment of "mom-and-pop" style restaurants, as well as stores that sell unique accessories and mementos. Unique stores, art shows, flea markets and restaurants surround Gramercy Park, located in Union Square.
This quick outline of New York is meant to whet your appetite for a city that has so much more to offer. Even longtime residents admit that they have yet to conquer every area of this remarkable town. And as a tourist, exploring the multicultural districts that make up Manhattan can be one of the most enjoyable aspects of your visit to New York.
You'll soon realize that what is often said is true: You can distinguish a tourist from a local in New York because the tourists are always looking up. With an impressive skyline illustrated by grand skyscrapers and fascinating architecture, it's easy to understand how that would happen. But the soul of New York really exists within its classic neighborhoods, notwithstanding the glorious skyscraper patterns. Perusing the streets is how New York makes sense to its visiting guests. So, next time you head for the Big Apple, don't forget to bring along your walking shoes!