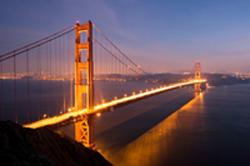 Though San Francisco measures just seven square miles, within its fairy tale dimensions the city is a world unto itself. Comprised of several small neighborhoods, each with a distinct personality, a walk across the city sometimes feels like a walk across the borders of several different countries.
When you've only got a weekend to enjoy the best San Francisco has to offer, you're better off confining yourself to two great neighborhoods, each with as much individuality as a whole city.
The Mission District
Named for San Francisco's oldest building, 18th century Mission Dolores, the Mission District is a thriving, established community where Mexican and Latino families live side-by-side with hipsters and indie rockers, drawn to the district for its low rent and high energy. Half a day spent in the Mission will give you a better feel for the real San Francisco than a full week spent shopping at the chain stores downtown — plus, the neighborhood has excellent restaurants, fascinating crowds, and some of the best bars in the city.
You can't come to San Francisco without tasting the Mexican food, and those who want the best know to go to Pancho Villa Taqueria. Featuring work by local artists on the walls and a mouth-watering list of tacos, burritos and enchiladas, Pancho Villa's is a local institution.
But the Mission offers more than Mexican food. When you want someplace a little more intimate than Pancho's, try Firecracker on Valencia Street. This gourmet Chinese joint serves Chinese cuisine that tastes the way it should: delicate, spicy and delicious, never glutinous or bland. Hanging fringed red scarves and lit in a low red light, the restaurant is perfect for snuggling into a table for two and sharing a dish of Mongolian beef.
When the sun starts to set, take the elevator to the top floor of Medjool, a Mediterranean tapas restaurant and wine bar. Their cocktails are pricey, but the elegant open-air roof bar has a view of the Mission being gilded by the setting sun — well worth seeing. Or you might wait until after dinner and wander to Foreign Cinema, Medjool's next-door neighbor, to sample one of their excellent desserts on their outdoor patio, as a classic movie is projected on the garden wall.
For less formal snacks and desserts, try La Copa Loca. Mauro, the Italian-American who owns the place, makes all his own gelato — make sure to try the blood orange and chocolate combination. Or, head over to Bi-Rite Creamery, just next to Dolores Park, for ice cream offerings from the Mission's favorite independent grocery store. For quick snacks, visit any of the sidewalk vendors parading Mission Street with carts full of fresh corn on the cob or churros.
When you're not eating in the Mission, you can always shop. Wander the streets past buildings covered in vivid, evocative murals — make sure you take a detour past the Women's Building, a three-story mural so astounding it will bring tears to your eyes — and check out the variety of shops in this neighborhood. On Valencia Street, you'll find vintage clothing boutiques, and odder stores like Paxton Gate, which sells taxidermy animals of all kinds, pinned butterflies, and jars filled with miscellaneous teeth (not for everyone). Next door to Paxton is 826 Valencia. Owned by local author Dave Eggers and filled with eye patches and wanted posters, this entertaining little shop sells everything the modern pirate needs; it also hosts reading programs in the back for students and English teachers.
Not in the mood to shop? Wander over to Mission Dolores next to the park and pick up one of their forty minute audio tours of the Mission. This church is an important slice of San Francisco history. Or, if you prefer to remain in the open air, spread your blanket on the grass of Dolores Park for people watching, or grab one of the available tennis courts for a quick game.
After a full day of activities, you're probably ready for a drink. The Mission changes personalities at night, as the families and street vendors retire and the hipsters come out to prowl. The largest cache of the city's dive bars is centered right here, and all of them wake up after the sun sets. You might start out at the Beauty Bar, where you can get a manicure with your mai tai. Or, if you're starting with happy hour, Revolution Cafe has sidewalk tables and Chimay on tap. For late night dancing, check out the deejays at 26 Mix, spinning eighties music and IDM; when the dance floor gets cold, you can head to the back room for a quick game of pool or Pac-Man.
The Castro District
The Castro is internationally known as the world's most outrageous gay district but welcomes all to enjoy its charm and good food. Cheerful rainbow flags wave from street corners, storefronts and apartment windows, their hues echoed in the flowery sidewalk landscaping and the pink and purple Victorian-style houses. Through it all run the famous San Francisco street cars, adopted from the retired streetcars of cities all over the world. Clean, vibrant and fun, the Castro is one of San Francisco's liveliest districts, and one of the most rewarding neighborhoods for visitors who love to live well.
The Castro boasts some excellent restaurants and cafes. Sushi lovers should be sure not to miss Sushi Zone, a low-priced religious experience for your taste buds — but be warned: this hole-in-the-wall fills up fast and doesn't take reservations, so come at opening time, or, be prepared to wait for seats. Luckily, the baked mango sea bass alone is worth the wait.
If you're looking for some faster food, Marcello's Pizza serves up excellent slices or whole pies. Cafe Flore also provides great, quick meals; you can order at the counter, then wait at one of the sun-drenched sidewalk tables while they bring you your food. Or, if you want something truly artery clogging, centrally-located diner Orphan Andy's offers cheap, greasy, all-day breakfasts, complete with jukebox controls at each table to let you cycle from Judy Garland to Justin Timberlake.
But the Castro's favorite meal is Sunday brunch. Cupped in one of San Francisco's tiny valleys, which keep the ever-present fog at bay, the Castro spends most of the year bathed in sunshine. On Sunday mornings the sidewalk tables are thronged with residents and their dogs, all eyeing each other from behind designer sunglasses. Check out the Brazilian/Japanese brunch served with bottomless mimosas at Barracuda or crepes at Squat & Gobble.
In between meals, the Castro is a great place to shop and eyeball the locals. Local favorite Cliff's Variety is practically the neighborhood mascot — selling everything from screwdrivers to false eyelashes, Cliff's must be seen to be believed. If you're feeling the need of more substantial shopping, check out the indie Streetlight Records, or pop into Medium Rare Records to find that 1970s dance tune you can't get out of your head.
The Castro Theater is a gorgeous, 1920s-era movie palace, complete with gilded cherubs on the ceiling and a truly impressive pipe organ performance before every show. The theater fills its bill with old favorites and cult classics; there's rarely a bad film on the marquis, and it's always worth checking out. Afterwards, stop in at Metro Bar's second-floor patio overlooking Market Street and enjoy a cocktail while you watch the giggling throngs pass below you.
Because it's such a unique mix of active nightlife with quiet residential streets, combining all-hours happenings with a genuinely safe ambience, the Castro is also the perfect place to spend your nights. We recommend the Inn On Castro, one of Northern California's few genuinely cool bed and breakfasts. Funky decor, friendly staff and a perfect, central location make this an ideal choice.
After a few days spent touring the Castro and the Mission, you'll feel like a native San Franciscan. Just remember one vital thing, and you'll be a true local: never call it Frisco!
Resource Information:
26 Mix: 3024 Mission St., 415.826.7378
826 Valencia: 826 Valencia St., 415.642.5905
Barracuda: 2251 Market St., 415.558.8567
Beauty Bar: 2299 Mission St, 415.285.0323
Bi-Rite Creamery: 212 Castenada Ave., 415.626.5601
Cafe Flore: 2298 Market St., 415.621.8579
Castro Theater: 429 Castro St., 415.621.6120
Cliff's Variety: 479 Castro St., 415.431.5365
Firecracker: 1007 1/2 Valencia St., 415.642.3470
Foreign Cinema: 2534 Mission St., 415.648.7600
Inn On Castro: 321 Castro St., 415.861.0321
La Copa Loca: 3150 22nd St., 415.401.7424
Marcello's Pizza: 420 Castro St., 415.863.3900
Medium Rare Records: 2310 Market St., 415.255.7273
Medjool: 2522 Mission St.; 415.550.9055
Metro Bar & Restaurant: 3600 16th St., 415.703.9750
Mission Dolores: 3321 16th St.
Orphan Andy's: 2370 Market St., 415.864.9795
Pancho Villa Taqueria: 3071 16th St.; 415.864.8840
Paxton Gate: 824 Valencia St., 415.824.1872
Revolution Cafe: 3248 22nd St, 415642.0474
Squat & Gobble: 237 Fillmore St., 415.487.0551
Streetlight Records: 2350 Market St., 415.282.8000
Sushi Zone: 1815 Market St., 415.621.1114