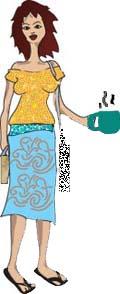 If you are thinking about going back to school, you are not alone. Millions of moms and other busy gals are exploring the same idea. Here are some tips to get you started. While it appears to be overwhelming, in bite-sized chunks, it is not only do-able, it is extremely rewarding.
Organize, organize, organize. The hardest part once back in school is keeping track of personal essays, application forms and transcripts. Start by thinking about your home from an outsider's viewpoint. There is a kid's territory, a family area and high traffic regions like the kitchen and a forsaken region as the drawing room. You can use this "closed off" room as a base camp; store documents and files away in a hutch. If you have a home office, first ruthlessly sort papers. Throw away the faded, dog-eared copies. De-clutter your personal areas: closet, pantry, garage. It is challenging to think logically surrounded by clutter.
Incorporate learning in your life. Vocabulary will enable intelligent discourse with professors and financial aid personnel. In the recesses of your memory will be words and phrases struggling to be set free. While on the road, cut back on telephone calls and back-seat chatter, and listen to audio books. If a humanities degree interests you, check out National Public Radio's program "Fresh Air." Local libraries have vocabulary building CDs, which you can listen to while Pledging the kitchen floor or washing the dishes. Dynamic Vocabulary is a good audio resource. Check out Merriam Webster's site m-w.com; they email you a word everyday. Tip: Buy used copies of New Yorker magazine from the library; underline the difficult words and guess their connotation. Write down synonyms in a list. Stick this list on the bathroom mirror, it makes for great transitory literature.
Prepare for the GREs. Define the following: legerdemain, reprobate and zephyr? Do you know if the fraction 7/19 is greater, less than or equal to 6/17? If you are stumbling, give six months for GRE prep. The Graduate Record Exam, the often required test graduate programs request as part of the application process, tests on math, English and two written essays. Check out your test smarts at www.testpreview.com/gre_practice.htm and at the Kaplan website www.kaptest.com. Kaplan is a great resource with free, monthly events in your area, mock GREs and personal statement workshops. Their math prep info is very good and helpful.
English prep is done better with Barron's CD-Rom that tests you with a timed computer adaptive test. The computer changes the test to suit the candidate's ability. Generally, students score higher in the math rather than the English section. Vocabulary building can take a long time, so start now.
The analytical writing section has two essays; one descriptive and the other critique. (Because you want to not only write well, you also want to write quickly, be sure to practice typing speed in MS word.) To write concisely, jot down a rough outline to avoid rewriting or inconsistent flow. Both essays need a brief, formal opening and closing paragraphs with support words such as "although," "subsequently" and "in conclusion" to add flow to the essay. Create your own, ready-to-use phrases, which you can apply to any critique essay as "Therefore, in conclusion the argument lacks cogency" or "the writer fails to elaborate evidence that …" Lastly scores received to indicate acceptance into a graduate program actually depends on the program itself. Engineering schools may disregard verbal scores and English programs may ignore Math scores.
A visit to campus. The graduate coordinator is the gatekeeper to the Pearly Gates of the school and sets the tone of the program. You will probably need to meet with this all-important person for an interview. If it is not required, you can still go ahead and make an appointment for questions and to introduce yourself to this person, and perhaps other staff, too. If the faculty members are evasive, then rethink your application. Could you survive in such a stressful environment?
Before the campus visit, you should read the bios and photographs of the professors (all usually on the institution's Web site). Practice pronouncing their names. Query on their research and publications. Remember there are many applicants, you must be noticeable. Tip: Write thank-you emails to everyone you meet, particularly the coordinator.
The Personal Statement: As part of the written application process, the personal essay indicates your goals for entering graduate school and the unique strengths you bring to the program. The essay will paint a vivid portrait for the faculty. Be honest, upfront and confident. You are selling yourself, and faculty will explore your possible contributions and diverse experiences. Universities look for atypical students to amplify campus diversity. Start off in a personal, catchy style "My application to the psychology masters program comes at a very exciting time …" or "The genre of childhood literature has fascinated me …" Do not bore them with your fifth grade reminisces or tired I-want-to-help-humanity lines. The readers are universities professors with doctorates. Explain deficiencies in your resume.
You must correlate your concentration with the strengths of the program. Let them know the realms of your academic interests. Mention any research or publications you have undertaken. Get to the point quickly. Sample essays can be viewed at www.essayedge.com, www.west.net/~stewart/pss3.htm, or www.indiana.edu/~wts/pamphlets/personal_statements.html.
The Money Trail. Mature students have to juggle mortgage payments, childcare and vehicle loans apart from tuition. Fastweb.com is a very good resource that sorts out scholarships and job offers within close range. Mature students can borrow low interest Stafford loans if your term load is full time (usually six credits per term). Look at Gradloans.com or Fedmoney.org for more details. Beware of fake Web sites.
Many graduate schools will have department or university scholarships; apply early to be eligible. Some schools will give graduate assistantships allowing you to "work" for the university (usually assisting professors grading papers, working with undergraduates in speech labs or lecture halls, etc.) in exchange for your tuition being paid. There is always a way to find funds to realize the dream of education.
Do not expect grad school to be easy. Getting in is only half the fun! The rest is a roller coaster ride … but at the end, you're glad you took the adventure.