Swiss Idyll: The Jungfrau Region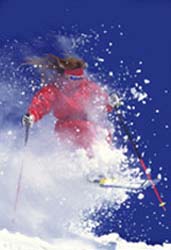 South of Interlaken, Switzerland you'll find the Jungfrau Region, which many say it the most beautiful accessible mountainous territory in the world. There are forests, rivers, lakes, waterfalls, glaciers and mountain peaks. The area is a wonderland for skiing, sledding and more.
It's in this region there sits the mighty bulk of three renowned mountains, each of which towers more than 12,000 feet. The Monch is named so after the round bald head of a friar; the Eiger for its great north face posing a deadly challenge to generations of climbers; and the Jungfrau is the tallest and most majestic queen of them all. Spread out under her gaze is a wonderland for the traveler searching for adventure and relaxation.
There is, of course, the skiing. The domain is spread out over four lower mountains, Kleine, Scheidegg, Mannlichen, and Schilthorn, which offer a range of skiing levels. Those with some experience may be drawn to the wide, sunny, intermediate slopes at the top of the First or Mannlichen.
For those who prefer riding their skis down gently sloping trails winding through pristine forest, there are easy pistes (marked snow trails) up to 20 kilometers long that lead all the way from the top of the Kleine Scheidegg back to the town of Grindelwald. And for the truly daring, you can follow in the trail of James Bond (in the famous scene from "On Her Majesty's Secret Service") on the difficult slopes of the Schilthorn. (You might also notice that the revolving restaurant on the top was the villain's lair in the movie!)
All of these are included in one lift ticket — which can be encoded on a special Swatch Skipass watch (which holds a microchip you fill with information), if you have one! There is a national ski school filled with English-speaking and expert instructors, and offers classes or individual instruction for anyone from four years old to seasoned skiers wishing to try carving, Nordic skiing, or sealskins. (The latter is for the truly crazy and fit, as it involves hiking up mountains on skis shrouded in sealskin, and then skiing down!) It was in these schools that my own children learned to ski as preschoolers. It was also where I learned to parallel ski from a 70-year-old instructor named Adolf, who taught a class of four in four different languages at the same time!
It is not surprising that English is so widely spoken in this region, as skiing for sport was developed here in the Victorian era by wealthy English aristocrats who would spend all day hiking up with their wooden skis on their shoulders, just to get one or two runs down. This heritage is reflected in the hotel names in the charming town of Wengen — Hotel Regina, Hotel Victoria — and in the fact that the area continues to be a draw for British visitors. One seventy-something British couple I met while there told me that their first visit to the area was for their honeymoon — 50 years before!
One caution for skiers is in order: because this is not one of the high-altitude resorts, valley runs may not be consistently open in low-snow years. Fortunately, skiing is not the only winter sport found here. There are also winter hiking trails throughout the area. Most towns have an ice skating rink; the one in Mürren has a spectacular view overlooking a cliff and over the whole area. Curling is also popular among the locals: a curious, quintessentially Swiss sport involving ice, a large smooth stone with a handle and a broom. (You can try it or just watch.) But our family favorite has always been the sledding.
The sled trail above Wengen follows the blue ski piste and is several kilometers long. The sledder rents a little wooden sled and takes the train up to Wengernalp to sled down — a wild ride with little walking and a lot of downhill. The sled trail on the other side of the mountain, from Kleine Scheidegg to Brandegg, is even more heart-stopping, but has the added advantage of ending up at a small chalet selling mouth-watering apple dumplings doused in vanilla sauce.
Choosing where to stay is difficult as there are so many enticing options. Grindelwald is the largest town, offering indoor sports facilities and a wide range of tourist shopping. Lauterbrunnen is in a deep valley, with hiking and cross-country skiing as well as downhill. Wengen and MÅrren are both car-free villages perched on either side of the Lauterbrunnen valley — one accessible by cog train, the other by funicular. Both are spectacular and have the added attraction of being right at the end of ski runs. It is a good way to check out the activities and accessibilities of each village before choosing a hotel.
Jungfrau region is also a wonderful place to come in the summer for fans of the outdoors. Hiking trails are numerous and are particularly spectacular in early summer when the alpine flowers bloom. Paragliding and hang gliding (done in tandem with an instructor, for beginners) are also popular. The area also boasts Europe's highest railway station, the Jungfraujoch, at 3,454 meters in altitude (13,333 ft.) with unforgettable views.
Access: fly to Bern, Switzerland, and travel from there by train (especially if staying in one of the car-free towns).
For more information: www.jungfrauregion.com; www.switzerland.isyours.com/e/guide/berner_oberland/jungfrau.html