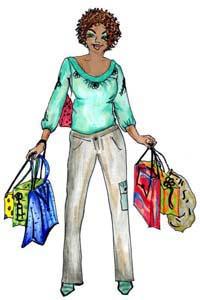 Looking for a few cool items this season? Look no further; we found them for you.
Japonesque's Limited Edition Holiday Pearlized Artisan Tweezers come in three holiday-inspired colors: red, white and gold. With hand-filed precision tips designed for flawless extraction, these babies are sure to create jolly brows. www.japonesque.com
Tassi is a new, patented product that keeps your hair out of the way while you do your makeup or wash your face. This innovative piece is available in 12 fun colors and won't flatten or mess up your hair, unlike headbands, clips or ponytails. www.tassicompany.com/shop
WarmMe Warm Mouse is the coolest thing! Okay, hot, actually. This ergonomic, infrared heated computer mouse emits radiating heat to your hand and fingers. It is said to improve circulation, keep your hands warm and comfortable, safely prevent joint stiffness and increase the elasticity of hand muscles, tendons and ligaments. It even prevents and eases the pain of arthritis, tendonitis, carpal tunnel and other conditions. A must-have for anyone who uses a computer on a regular basis. www.warmmouse.com
The I-Love-Me collection has all sorts of fun gifts with messages of inspiration and self-love, from rings to fashion tees, mugs, note cards, mini totes, caps and more, each adorned with the "I love me" butterfly logo. www.store.ilovemecollection.com
Another fun gift is Serah's Cupcake Soap, great for children and cupcake-loving adults alike. Each soap is handcrafted with extra lather glycerin and shea butter, and scented with delectable fragrances like creamsicle. www.serahsonline.com
Jillian Dempsey's Beauty Essentials Palette from Avon is the perfect stocking stuffer. It's a truly portable accessory palette containing two lip colors, two cream eyeshadows, one cheek color, a dual ended applicator and mirror. www.avon.com
Shadow Shields are a must-have tool of the trade, and the only product of its kind to truly eliminate messy "raccoon eyes." These half moon-shaped adhesives are placed under the eye before applying eye makeup. Excess product that falls is caught by the shields, leaving you with a clean under eye area. www.shadowshields.com
Eye Slices are innovative eye treatment pads that combine the natural essence of nature with bio-innovation to bring about an all-in-one solution to reduce the appearance of tired, red eyes, dark circles, wrinkles and puffiness within five minutes. These dermal delivery, anti-aging eye masks lock in moisture, provide an instant cooling sensation. www.eyeslices.com
Duri's nail polishes are the ideal stocking stuffer with festive colors like #300 Night Before Christmas, #316 Sitting by the Fire, #383 A Song of Joy, and #439 White Nights. Check out the colors here
Pouchee is an awesome little organizer for your purse. With a place for a cellphone, credit cards, keys, lipstick, sunglasses and every other item you stick in your purse, switching handbags is a walk in the park. Check it out here
Gifts for the Savvy Beauties and Fashionistas:
Pamper your girls with the adorable Principessa Beauty Bellezza "Beauty" Box. Filled with mini versions of luxe Principessa products, including Bacio Me, Bagno Bliss, Cattiva Diva, Dolce Dream, Fresh Fiore and a pink Principessa Pouf, the adorable tin doubles as a purse or make-up bag. See it here
The Tree-mendously Ginger Gift Set from Origins is the ultimate collection of ginger goodies and something every woman will love. It includes Ginger Souffle Whipped body cream, a Ginger Essence Intensified Fragrance Rollerball, Incredible Spreadable Scrub Ginger body smoother, Ginger Float Cream bubble bath and Ginger Burst Savory body wash. www.origins.com
3LAB's Perfect Mask is the platinum of all face masks. For the woman who strives for flawless skin, Perfect Mask contains Nano Claire GY, the first ever bioengineered growth hormone that works as a "hormone replacement therapy," firming the skin and giving it a radiant, youthful glow. Ideal for the stressful holiday season. www.barneys.com
Abrione Chakra Masques are innovative, all-natural masks based on the chakra system of holistic healing. The directions say to identify the chakra that is out of balance by choosing the color of mask that speaks to you. I tried them all and have to say, they definitely energize more than just your skin. The packaging is very appealing (it comes in a tube that works great as a stocking stuffer), as is the concept. www.abrione.com
The Miss Oops Holiday Survival Kit is a handy set of fashion fix-it tools that any stylista will love. This kit includes purse-friendly size lint rollers for pesky sweaters and wool pants, mishap tape to secure fallen hems or loose bra straps, and the Allure magazine Award-winning rescue sponge to remove deodorant and makeup stains from clothing. A gift every fashionista needs for the holidays — and all year round! www.missoops.com
For the Savvy Hostess:
The perfect non-alcoholic hostess gift is Hood Nog. Previously a regional holiday tradition reserved for lucky New Englanders, Hood Nog is now available throughout the country. Their premium flavors include Sugar Cookie (my fave), Gingerbread, Pumpkin and Cinnamon. These unique twists on Egg Nog are delicious and sure to emanate the holiday spirit. www.hphood.com
Nuvo Sparkling Liqueur is festive pink liqueur perfect for holiday entertaining and recommended by esteemed party planners. Super chic, feminine and delicious! www.sparklingnuvo.com
Le Pain Quotidien Chocolate Spreads are decadent and unbelievable. These Belgian gourmet delicacies are made with organic ingredients in unbelievable flavors like Blondie (white chocolate), Noir (dark chocolate) and Noisella (chocolate and hazelnut). www.lepainquotidien.com
Coco-Zen's Truffles-To-Give includes dessert size, organic chocolate truffles packaged in a stainless steel tiffin (a traditional Indian lunchbox). This truly unique packaging makes for a thoughtful gift that can be displayed on coffee table. www.Coco-Zen.com
Hostesses always love candles, so here are a few amazing ones: Gold Canyon's award-winning Orange Blossom candle has a scent that truly fills the room, lingers deliciously and is very relaxing. www.GoldCanyon.com . The Giant Candle Company produces beautifully smelling large-sized candles that last for what seems an eternity. www.GiantCandleCo.com. You can never go wrong with Origins' truly relaxing Peace of Mind Candle. The hypnotic effects of its aromatic basil, peppermint and eucalyptus can relax the most stressed out woman you know. www.origins.com. Principessa Beauty's Bella Candela is a dainty, 100% VegeSoy wax candle filled with scents of blooming jasmine, ylang ylang and sandalwood. www.principessabeauty.com. Ola Hawai'i's Kukui Candles uses natural ingredients and warm scents to create aromatherapy bliss and a much-needed "escape" to the tropics. www.hawiianbodyproducts.com. Honeycat Cosmetics has an amazing Cat on a Hot Tin coconut milk/mango soy candle that is sure to inspire an amazing mood. www.honeycatcosmetics.com
Savvy Treats for the Feet:
Slip on The Happy Company's Soothing Cozy Slippers and within minutes you will be transported to a spa. Heat them up in the microwave for soothing comfort and relaxation. Featuring flax seed inserts and removable scent sachets with lavender, clove and chamomile, these are the perfect way to pamper your loved ones. www.thehappycompany.com
TestAnother treat for the feet is the Margarita Beach Spa Pedicure Collection, a tropical spa pedicure set that revives and rejuvenates even the most tired feet. The set includes Margarita Foot Soak, Margarita Pedicure Scrub, Margarita Foot and Leg Mask, Margarita Massage Lotion, and Margarita Body Butter! www.wildwoozle.com/margarita_pedicure.php#index
Fashioned after Kate Hudson's boho chic style, Muk Luks are part shoe, part accessory and add flair to any outfit. The Toggle Boots are the most popular style, feature a suede sidewall, fleece lining and fashion knit outer. Wear them pulled-up, scrunched down or folded over. Check 'em out
Savvy Indulgences for the Body:
After spending a night under the Mistletoe, fashionistas will find welcome relief with Arcona's Mistletoe Body Wash. This holly leaf-colored body wash uses shea butter and karite extracts for ultimate moisture and relaxes with a refreshing spruce and pine scent. www.arcona.com
Eclipse Spa's Wildcrafted Shea Sugar Scrub nourishes the skin like nothing else. Enriched with hand-harvested African Shea Butter, this body treatment leaves your skin as soft as silk. I love that Eclipse Spa purchases their shea butter directly from a groups of tribeswomen in Ghana, Africa who have formed a cooperative in their village. www.eclipse-spa.com
Dionis' Exfoliating Sugar Scrub in Ginger Mint smooths and softens rough, dry skin with natural glycerine and gentle exfoliating sugar crystals. The intoxicating mix of warm, sunny citrus with honeysuckle, lotus flower, white tea and cedarwood makes it the perfect pampering indulgence for your special loved one. Each "Inspire by Dionis" product contains a beautiful motivational message to lift your spirits and inspire your well-being. www.dionissoap.com
Creative Nail Design's Scentsations Winterberry Body Scrub and Lotion is an awesome treat for the season (and only available during the holidays, so scoop some up asap). The delicious smelling lotion restores moisture after the scrub mildly exfoliates to leave skin baby soft. www.creativenaildesign.com
Hothouse Botanicals Body Butter and Whipped Sugar Scrub is yet another way to indulge the savvy gals in your life. The scrub is chock full of organic shea butter, organic coconut oil, extra virgin olive oil, and natural vitamin E, and the body butter contains rich, organic emollients including shea butter, cocoa butter, coconut oil, and rose hip oil to help dry skin become radiant and healthy. www.hothousebotanicals.com
Chaton Anderson is a Writer and the Publicity Director for TheSavvyGal.com. A product and pop culture addict, she is always looking for the coolest, hippest things on the market, as well as the newest health and fitness trends to hit the scene. Email her at Chaton@TheSavvyGal.com with questions or leads on products and services on the cutting edge.