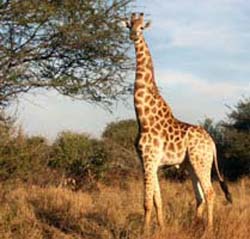 An African safari (which means "long journey") is an unforgettable experience. The air is cool and scented by grassland. You're snug in your graciously outfitted tent of heavy canvas, set on a wooden platform with private bathroom en suite or a luxury hotel (safari doesn't necessarily mean "roughing it"). Perhaps the only sounds are the rush of the water in the river nearby and the increasing volume of birdsong. Footsteps now fall quietly on the deck outside and a friendly voice lets you know that your morning tea has arrived. As the darkness begins to fade up toward dawn, it is time to head out for an early morning game drive.
During an experience like this, the last thing anyone wants is distraction through illness, accident or incident. Here are a few tried and true tips to help keep you healthy and safe as you experience the wonders of Africa.
Dress correctly
Africa is not hot all the time. Generally, cold months are July and August while hot times come in December and January. A rule of thumb is to pack one good sweatshirt and/or light jacket, as well as a pair of jeans. In the shoe department, the key word is sensible. Sandals, (like those from Teva or Chaco) that handle dirt, dust and water well, are a must. Comfortable sneakers or walking shoes are the only other footwear needed.
Protect yourself
Mosquitoes carry malaria and many hotels will provide a can of something similar to RAID. Spray your room or tent lightly before leaving for your evening meal. After that, move in and out of your room or tent quickly and don't leave it open. In addition, a mosquito repellant on ankles and other exposed areas helps. Make sure to check in with a travel clinic several months ahead of the trip so there's time to get any needed meds or immunizations into your system.
Wash your hands
This is a simple one that every mother knows, but washing your hands does a tremendous work against the spread of disease. When you have been handling things in shops, shaking hands or just touching the world around you, wash when you get back to your room, even if you are not about to eat. Carry a small bottle of antibacterial gel and use it before that granola bar you brought from home. Many public toilets will not have soap at the sinks. Carrying a motel-sized bar in your handbag (and a supply of tissue since toilet paper is often missing as well) is a good plan. Nice hotels supply these, but don't count on them in public places like shopping malls, local restaurants and gas stations.
Don't drink the water
Drinking the water from the tap is a big no-no. Bottled water is cheap and available. Since water can no longer be carried onto a plane, ask your tour company driver or those who collect you at the airport to make the first stop for bottled water. Many people rinse their toothbrushes in the local water without suffering consequences, but using bottled water for this can't hurt. If your hotel provides a flask of water in the room, ask how it was treated. Often it is boiled and safe for tooth brushing. To actually quench your thirst, stick to bottled water. Many people ask for soft drinks without ice.
Eat smart
The tropical fruit in Africa is wonderful! Feel free to enjoy it in good hotels and up-scale restaurants. In the more local restaurants it's best to avoid fruit and raw vegetables. Anything you buy at local stalls that is covered by its skin (bananas, mangos, etc.) is safe to eat if you can peel it. It's wise to rinse the skin of a mango and use a clean knife when opening it up. Even in fine tourist places lettuce is difficult to clean well and should be avoided if you are nervous. Other vegetables like carrots and tomatoes are a better choice.
Your gear
Keep track of the tried and true safety precautions. Don't walk around town with your camera hanging out. Don't keep a flashy watch on your wrist. Don't leave cash on your nightstand in your hotel room. Do lock the doors and keep your passport and wallet with you. When seated in a restaurant in town, keep your purse or camera bag strap clipped securely to yourself or your chair so that it can't be slipped out from beneath you.
Do be smart. Don't be afraid. Do enjoy! A trip to Africa is well worth the extra care it takes to navigate it well.