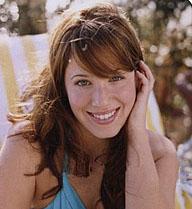 Everyone loves a good wedding story. This one is unique because it parallels the star's true-life wedding preparations, which indisputably spotlight the character's corresponding zeal. Marla Sokoloff stars as Laurel Haverford, a florist who has had a string of bad luck with men in the upcoming Hallmark Channel Original Movie, "Flower Girl," which premieres November 14th on the Hallmark Channel. As the story evolves, Laurel faces the challenge of choosing between two very dissimilar men.
Sokoloff, is best known for her sweet and bouncy roles in such films as "Dude, Where's My Car", "Sugar and Spice" and "Whatever it Takes," and made for TV movies like "Big Day", "Modern Men" and "Christmas in Boston." She starred on the television series, "The Practice," playing sassy receptionist, Lucy Hatcher, and guest starred on a variety of shows including "Desperate Housewives", "Friends" and "7th Heaven." But what she appears to be most noted for is her repeated depiction of the blushing bride in her wide array of leading roles.
Planning her own wedding simultaneously to working on the film, Sokoloff remarks about her frequent roles as the proverbial bride: "I don't know what it is about me that makes people think I ought to be in a wedding dress all the time," she says. But with an attractive and fresh face, it's no wonder she is continually cast as the stereotypic beautiful bride. She, however, says it's just coincidental. "With each script I opened up to find myself cast as a bride, it just becomes more and more comical." Sokoloff actually got engaged about a week prior to landing the role of Laurel Haverford, which was delightful for the actress.
"I loved being in the wedding world at work as well as after work, it was an exciting time for me," she says. Plus, Sokoloff discovered there are privileges to having been a "pretend" bride so many times. "I've had so many dress fittings that were not necessarily for my real wedding, so I developed a sense of which styles were not so flattering and which I really liked."
The Hallmark Channel's, "Flower Girl" also stars five-time Emmy and Golden Globe Award nominee Marion Ross, best known for her work as the all-American mom on the hit series, "Happy Days."
For Sokoloff, one of the most thrilling aspects of working on this film was the opportunity to work with Ross. "She's such a talented actress, wickedly funny and is so fun to work with, that when I learned that she was involved, I just knew I had to do this."
Ross, Sokoloff's on-screen grandma, Rose Durham, is the stereotypic meddling grandmother, worried that life is rapidly passing by her cherished granddaughter, possibly leaving her ultimately lonesome and loveless.
"Personally, I never felt the pressure to tie the knot from either my mom or my grandmother as I did in the movie," she says. "They were both always supportive and encouraged me not to rush into relationships."
Sokoloff hopes that the message viewers will gain from "Flower Girl," is to not simply settle but learn to follow their heart. "My character in the movie is really level headed and sticks by her convictions, which a lot of people don't do."
Three weeks out from Sokoloff's actual wedding at the time of this interview, she reflects on her unique experience: "I don't know what it is about us girls that attracts us to the guys who don't always treat us so nice," she says, "but when I finally met my soon-to-be husband I finally realized, wow – I guess this is the way I'm supposed to be treated!"
This fun, romantic comedy begs for a tranquil snuggle on the sofa with a bucket of hot popcorn. "Flower Girl" premieres on Saturday, November 14th at 9:00 pm (8:00 CT), encoring at 11:00 pm (10:00 CT). It airs again on Sunday, November 15th at 1:00 am (12:00 CT) and 9:00 pm (8:00 CT) on the Hallmark Channel.