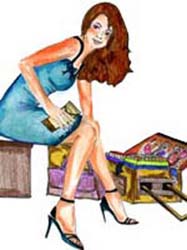 All over the world American tourists are recognized by their large, unwieldy luggage. I call it the "Super-Sized Suitcase Syndrome." With international flights now enforcing a checked luggage rule of one bag at 50 lbs, it is more important than ever to pack light and smart. Here are five rules for packing well.
Rule 1: Start early. Rushed packers don't pack intelligently. Experienced travelers often begin two and three weeks early. Leave an open suitcase out and toss in important items as they come to mind. You can delete things during the final pack, but you can't add the things you've forgotten once on board! Also, enough time allows you to determine whether or not you really need that item, or if it was merely an impulse pack.
Rule 2: Use a checklist. Unplanned packing causes you to carry too much. Indecisiveness makes you include more than you need because you "don't know" if you want "this sweater or that sweater" — so you take both. Laying out your wardrobe for the trip allows you to mix and match, colorize and determine which sweater really is the right one to pack. Plus, coordinating colors gives multiple outfits.
Starting early with a checklist allows you to plan well, research weather forecasts and imagine what you will be doing during daytime and evening hours. Also, begin the list with the purpose of your trip in mind. Obviously, a business trip requires an entirely different wardrobe than a personal trip.
If outdoor adventures or sports will be a major part of the trip, consider what combinations you can make. At home you may prefer a different set of shoes for running, another pair for walking and hiking, and a third pair for tennis. When space and weight are issues, you'll need one good pair of cross-training shoes that will accommodate all your sport activities.
Rule 3: Be realistic. We tend to think we can do more than we really can in the time away. Seriously, will you really read that many books? Will you really have time to finally get back to that knitting? Take fewer books and buy one if you do actually finish the ones you're carrying. Then, you can also consider leaving a finished book behind with someone you meet.
Rule 4: Use travel friendly fabrics. The new synthetic materials are a traveler's dream. REI and many other outfitters carry warm but light layers of Polartec and micro-fleece for cool climates, and thin cotton-like layers for tropical places. This avoids ironing, (who wants the hassle and added weight of a travel iron?) and allows you to pack compactly.
Invest in quick-drying, moisture-wicking, breathable travel socks and undergarments. They last well, you carry fewer of them, and they dry quickly after being washed by hand in hotel rooms.
Rule 5: You probably need less than you think! So, just take less! Shoes are often the greatest consumers of space and weight. Think about shoes that can "dress up" or "dress down." (That's where the laying out of the wardrobe also is practical.)
In warm climates you'll want one pair of sandals and one pair of closed-toe shoes. You can find attractive-enough and supportive footwear that go the miles in multiple settings. (And, you don't need to impress the locals with your many foot fashions — you only need to impress your own feet.)
In colder climates, forget the sandal and choose two pairs of shoes that look good, feel good and handle the weather. Let one pair be dressier than the other. Low-heeled black boots work well. They look good day or night and they walk well too. Finally, when you think you're all done packing, look at it and ask yourself again what you can take out.
Additional quick tips:
Pack socks inside your shoes.
Feel around the inside edges of your packed bag to find pockets of space you didn't know were there. Fill these with underwear and rolled up t-shirts.
Carry your coat on the plane. It doesn't count as a carry-on!
Limit and simplify your cosmetics; i.e., you probably don't need to bring every shade of lipstick you own.
Rolling clothes really is one of the best ways to fit things in tightly together.
Carry a change of underwear, a toothbrush and small toothpaste in your hand luggage in case of delayed bags.
Make sure you personally can carry everything you plan to take.
Have safe trips and worry less about hauling the luggage, and more about having a great time!