Shopping in Germany for Christmas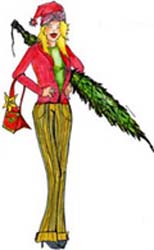 Each year from the beginning of Advent, major cities and many towns throughout Germany host Christmas markets. The oldest one is Dresden, and dates from the fifteenth century when the duke allowed a meat market on Christmas Eve. Gradually, artisans and people selling home handicrafts also joined the market, and then in 1471, the city began the practice of distributing stolen (Christmas bread) to poor people.
The practice spread to other cities and surrounding countries, and there are now more than 40 large Christmas markets in Germany alone, with others in cities such as Vienna, Strasbourg, and Zurich. One of the most famous and popular is the Christkindlsmarkt in Nuremberg — where some 2 million people are expected from Dec. 1-23. Rothenberg has a year-round Christmas market. Other popular markets are Leipzig, Augsburg and Stuttgart.
You can find old-fashioned tin mechanical toys, Christmas nutcrackers, a swooping wooden dragon, a collage poster, a carved Santa Claus that blew smoke rings when the incense cone inside him is lit. These are just a few of the treasures found during my first trip to the Christmas market in Freiburg, Germany.
As we wandered among log stalls that held everything from hand-carved nativity sets made from Palestinian olive wood to designer jewelry, all kind of delicious smells floated on the chilled air: gingerbread, glüwein (hot mulled wine), crèpes, myriad types of sausages. The local specialty is a fresh, light dumpling drowned in vanilla sauce and hot cherries — a taste of which I still sometimes dream. Carillons, barrel organs and street musicians filled the air with the sound of Christmas carols. I was hooked — there is nothing better than a Christmas market to put you in a festive mood.
Stalls selling handicrafts and food are the main attraction of a Christmas market. Marionettes, hand-blown glass ornaments, pottery, woven scarves, lambskin slippers — all can be found while you are nibbling at hot chestnuts and drinking hot chocolate.
But there is also something of a carnival atmosphere, with fairground rides and other attractions. In Brussels, where I live, the Christmas market features a large Ferris wheel, an ice skating rink and crazy bikes, which are ridden on a special course. Other towns feature horse-drawn carriages or carousels. In addition, there are often parades or special events, such as the angel performance at the Augsburg market: 24 musicians dressed as angels perform on the façade of the old city hall, turning it into a giant Advent calendar.
You don't need lots of time at a Christmas market to enjoy it — a couple of days are enough. If you want to get away just for a few days in the middle of a busy season, this is a seriously fun way to do it. It is especially enjoyable to stay at a specialty hotel rather than a typical chain. Be aware that hotels are very busy at this time of year, though, especially on weekends.
If you rent a car, you can extend your visit to some smaller villages (though, once again, traffic can be bad on weekends). One possible itinerary would be to arrive in Cologne for their market, and then drive to Monschau, a lovely little river town on the Belgian border that has a small but charming weekend Christmas market in a more rural setting. >From there, travel to the market in Aachen and back to Cologne. Total round trip driving time: about three hours.
Or if you don't want to go all the way to Europe, there is a German-style market in Chicago! Wherever you go, you will come back with dreams of sugarplums dancing through your head.
Visit the German Christmas market via the Internet:
Nürnberg Christkindlsmarkt: www.christkindlesmarkt.de
Augsburg Christmas market: www.augsburger-christkindlesmarkt.com
Dresden Christmas market: www.dresden.de
Leipzig Christmas market: www.leipzig.de
Stuttgart Christmas market: www.stuttgart-tourist.de
Rothenberg Christmas market (year-round): www.wohlfahrt.de
Rothenberg Christmas museum (year-round): www.weihnachtsmuseum.de
Vienna Christmas market: www.christkindlmarkt.at/
Christmas markets in Alsace, France: www.tourisme-alsace.com
Cologne Christmas market: www.stadt-koeln.de/en/koelntourismus/christmas/index.html
Aachen Christmas market: www.aachen.de/EN/ts/90_festivals_events/90_30/index.html
Monschau Christmas market: www.monschau.de/tourist-information/ver_weihnachtsmarkt.php
Specialty hotels in Europe: www.romantikhotels.com (click on "GB" for English)
For markets in the U.S.
Chicago Christkindlmarket: www.christkindlmarket.com