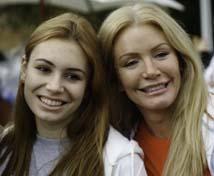 If you think most mother-daughter relationships involve strife and conflict, here's a case to prove otherwise. For Canadian-born Shannon Tweed and her daughter, 16-year-old Sophie Tweed Simmons, the "mom-bond" is nothing short of a blessing.
Their personal connection is loving and solid, shattering stereotypical presumptions. And by their joint charitable work they're fused with a single-minded effort to promote breast cancer awareness.
Shannon and Sophie return for the second year as Honorary Hosts of Cure in the Canyons Luxury-Fest for Breast Cancer Research, helping to raise funds for innovative medical and clinical research in the fight against breast cancer, which is held in the Los Angeles area.
Shannon was once a regular on CBS's "Falcon Crest," NBC's "Days of Our Lives," HBO's "First and Ten," WB's "Tom Arnold Show" and "My Guide to Becoming a Rock Star" with Oliver Hudson. She has also guest starred on numerous shows including "Fantasy Island," "Frasier," "Married with Children" and "Wings."
"I'm a pretty small-town girl who was thrown into the L.A. scene and it took me a long time and a lot of paddling to get out of the deep water. I didn't have guidance or agents and managers, so I sort of winged it," she noted.
Shannon and her life partner of 25 years, rock legend Gene Simmons, have two kids, Nick 19 and Sophie 16. The colorful family has been recently featured on their own hit reality show, Gene Simmons "Family Jewels."
In addition to acting, Shannon has authored an autobiography titled "Kiss and Tell," is actively involved with her kids' athletic and academic schedules and she is currently PTA President.
But even with a jam-packed schedule, Shannon considers her work with Cure in the Canyons a high priority. "Being involved with breast cancer awareness, although it's a selfless activity, there's a selfish element in it for me," she said. "I want my daughter to be informed and conscious about the disease and its prevention and treatment."
Partnering with Sophie in charitable work is critical to Shannon. "I want her to have a bigger vision of the world than her little teenage village," she said. It's not that you can't be competitive in life or in school, she believes, but Shannon hopes Sophie realizes that for as much as people receive, they should learn to give back.
"When you start looking at the world as your neighborhood, then you become a little more philanthropic when you're older, and you have a bigger view of the greater good," she explained.
"Sophie is a really good 'giver and helper' and I love that about her," Shannon said. Evidently, Sophie is destined to follow in her mother's footsteps, which underscores the impact a mother and daughter team can have when they serve side by side.
If you have a passion for luxury, celebrities and entertainment, you'll want to make your way to Westlake Village, California on Sunday, October 5th to kick off Breast Cancer Awareness month by participating in the Cure in The Canyons II, a fundraising event designed to raise funds for ongoing research at the Four Seasons Hotel from 11:00 am until 4:00 pm. For more information and registration, visit www.cureinthecanyons.com.
As a part of the Cure in the Canyons festivities, Shannon and Sophie along with Lorraine Toussaint, currently starring in TNT's hit "Saving Grace," will host a Tea Party for Breast Cancer survivors from 12:30 – 1:00p.