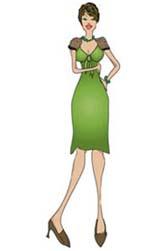 Pop quiz! True or False: In order to have a chic wardrobe you need to spend big bucks. Pencils down. Answer: false!
It can be easy to think it is necessary to spend a million dollars to have a stylish look. But with some time, creativity and a little savvy thinking you can have fashionable wardrobe without breaking your budget.
Off-Price
Off-price retailers sell current fashions that happen to be either be first-quality stock overruns or clothes with slight irregularities (like sizing, etc.); but they still completely wearable and yield big savings. With a little patience, a good search through the racks can unearth great casual or investment pieces to add pizzazz. Things turn over quickly, so check back often. Keep an eye out for seasonal sales if you're in need of certain items like bathing suits, for example.
Department and Specialty Stores
Shopping at department and specialty stores doesn't mean you have to pay their prices. Keep track of their seasonal, clearance and promotional sales and shop around these. Scope them out and come early to get the best selection.
Check newspapers and their Web sites for money-saving coupons to use at these sales. Sign up for their credit card (even if you don't use credit), because you'll get on their mailing list and be sent additional coupons and information about special deals not available to everyone.
Online Shopping and E-bay
Online shopping is swift and easy. Many stores have special online-only sales, too. Do pay attention to the sizing, description and measurements to understand the fit. And do be aware of the return policy. Sites like bluefly.com and overstock.com offer beautiful, designer pieces at great discounted prices; they are an online bargain-hunter's dream. Ebay can get crazy, but is great if you're tracking down a certain item.
Consignment and Resale
Resale shops are a Frugal Fashionista's secret — but it does take some sleuthing. The donation-based inventory can be hit-or-miss. And consignment shops can be a best-kept secret for finding designer wear, evening gowns, even wedding dresses. Consignment shops tend to be the choosier sister of resale shops and only accept pieces on consignment (thus the name). When an item is sold, the seller gets back a portion of the sale-price. Some consignment shops take gently used clothing, others take designer only. This is a smart way to add better quality pieces to your wardrobe for a fraction of their original price. Sometimes, especially in upscale neighborhoods, it's not uncommon to find new pieces with the tags on! These clothes all come "as-is," so investigate your finds to make sure there aren't any flaws. To make some cash, consider consigning your own unwanted clothes. Just ask the store for a copy of their policy.
Vintage
Dressing in vintage can recall the glamour of days gone by while still being stylish and affordable. Vintage goods are often made better, and add a unique sparkle to any wardrobe. If you wish to wear real fur, save a mink and buy a vintage fur coat. Shop for what you love and it will last for years if you treat and wash it with care. Look in antiques shops, estate sales or online. Two online sellers with affordable, great selection include Dandelion Vintage and Vintage Vixen.
Sample Sales
Uber-fashionistas know sample sales are the way to go for finding genuine designer items on big discount. Designers hold sample sales to sell off "samples" from their lines at a discounted price, and are often held in large cities. It can get competitive sometimes, so watch out for "snatchy" shoppers! Fitting rooms aren't often provided so wear fitted camis and leggings under your clothes to try things on. Also, bring cash.
Not living in a big city? Sign up for updates from DailyCandy.com. DailyCandy sends out "DailyCandyDeals" and can inform you of sample sales happening near you. Not to mention you get an inside look at what's fresh and hot.
Sewing and Tailors:
Sewing can work if you're handy with a needle or hard-to-fit. There are many attractive patterns and fabrics available.
Sure, there's the cost of fabric and labor, but there's the benefit of a customized fit. There are many great books available to help you get started. Tailors and seamstresses in dry-cleaners can do nearly anything from fixing zippers to hemming to remaking that (awful) bridesmaid dress into something you can wear again.
Cheap vs. Investment
Be aware — buying cheap is not always frugal. Consider "cost-per-wear" — don't bother spending big money on really trendy wear; by the time it's worn out, the trend will be over. But if you live in jeans, it is worth it to buy a few good pairs higher priced than buying several "cheapies" that hit the skids after a season. What's "cheaper?" A $100 pair of shoes worn twenty times, or a $30 pair worn only once?
Poorly-made cheap pieces soon fall apart. Quality-made "investment" pieces fit and feel better. The heart of being a frugal fashionista is about buying the best quality you can find and getting the most for your dollar. It's only right for a "Savvy Gal" to look like a million bucks — but only she knows she didn't have to spend that much. Ssshh! The secret's safe with me.