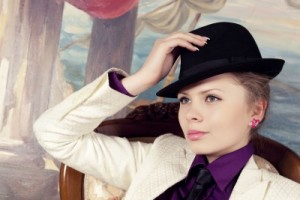 By Chaton Anderson  ~
Fall is here and it's the perfect time to get back to your studies—of all the best new must-haves. There's summer damage to undo, new stressors to combat and preparations for the holidays coming up quick. This month, we've got some great new tools to keep you looking and feeling your best through the end of the year.
Must Have
The Clarisonic Opal Sonic Infusion System
If you haven't tried Clarisonic's skin care system, you've at least heard of it by now. The amazing results were enough to motivate me try their newest antiaging tool, the Clarisonic Opal. If that's not enough for you, maybe Demi Moore's rave reviews will get you amped enough to try it—and she's not a paid spokesperson. Any product she deems antiaging is something I'll try. At first, I was a little intimidated by the tiny device, but it's easy to master and takes only one minute to use. The Opal uses sonic technology to deliver Clarisonic's Anti-Aging Sea Serum to the eye area, immediately improving its appearance. It micro-massages your skin to hydrate, smooth and brighten while targeting puffiness, dark circles and fine lines. Skin feels firmer and more elastic, and best of all, the results are cumulative. Crow's feet, watch out!
Must Read
YOU: Being Beautiful. Understand the connection between eating a healthy diet and beauty, by Dr. Oz and Dr. Roizen.
Written by Oprah's medical gurus, this book is a cool guide that offers a holistic approach to beauty, health and confidence. It's packed with the latest information and research on what it means and takes to feel, look and be more beautiful. The book is not just about how to better care for your hair, skin, nails and teeth—it goes deeper by giving you tools to truly assess your aesthetic image of yourself and inspires you to take control of your life so that you can tap into your inner beauty and project it externally.
Must Do
It's Breast Cancer Awareness Month—the perfect time to treat yourself to a thermographic breast screening with Pink Image. This painless, non-invasive, cutting-edge technique uses the highest resolution, infrared camera available to detect potentially cancerous tissue six to ten years earlier than mammograms. This enables the detection of cancerous tissue at such an early stage that it can be treated with alternative, less harmful methods than those with full-blown diagnoses. Pink Image is radiation-free and safe for pregnant women, nursing mothers, women with implants, fibroids and dense breasts, and is the only breast screening available for women ages 25-39. Best of all, the cost is extremely affordable—most clinics charge less than $200.
This service is literally revolutionizing the fight against breast cancer.  Visit www.MyPinkImage.com or call 619.723.8769 for more information and to find a screening location near you.
Must Go
If you live in Los Angeles county, another must for Breast Cancer Awareness Month is the Spreading Pink Fundraiser taking place on Wednesday, October 27 from 8 to 11 pm at Café Boogaloo in Hermosa Beach. Sponsored by Three Olives Vodka, Lure Events, South Bay Events and Café Boogaloo, the event will feature the up-and-coming band, Chewbatcha, a vodka tasting, auction and more! Don't miss the opportunity to spread awareness of Spreading Pink, which provides breast screenings through Pink Image to those who are unemployed or living in a low-income household. Café Boogaloo is an awesome New Orleans-themed bar located at 1238 Hermosa Avenue, Hermosa Beach, CA 90254. www.SpreadingPink.org.
Must Eat
Young lifestyle brand House of Balsamic has an amazing product that lets you take your salad to the next level—in taste and in nutritional value. Saporolio (http://www.houseofbalsamic.com/store/oil/saporolio) is an alternative to your old school dressing—a unique blend of extra virgin olive oil and Saporoso balsamic vinegar, with a touch of Sicilian salt, makes for a palate-pleasing condiment that is perfect for raw vegetables and salads. Drizzle it on your caprese salad for a to-die-for flavor twist and a sophisticated touch. www.houseofbalsamic.com.

Must Indulge
Organic Fiji Pineapple Coconut Nourishing Lotion For Face & Body
This scrumptious, nourishing lotion with Certified Organic Virgin Coconut Oil blends plant extracts and essential oils to soothe and moisturize your skin. It absorbs beautifully and has a delicious, tropical aroma of Pineapple and Coconut that will make you wax nostalgic for island vacations. While on vacation in Fiji, company founder Bob Rogers discovered the island's essential ingredient at an organic coconut plantation that burns the coconut husks to provide a clean, sustainable, and environmentally friendly source of energy for its surrounding communities. After witnessing the amazing properties of coconut oil and social responsibility of the plantation, Bob knew he had to share this Fijian Island secret with the rest of the world. We're so glad that he did!  www.OrganicFiji.com.
Chaton Anderson is a Writer and the Publicity Director for TheSavvyGal.com. A product and pop culture addict, she is always looking for the coolest, hippest things on the market, as well as the newest health and fitness trends to hit the scene. E-mail her at Chaton@thesavvygal.com with questions or leads on products and services on the cutting edge.