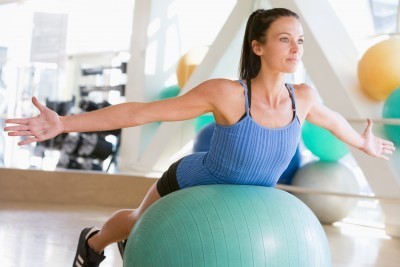 By: Kaia Korbell
For the exercise activist and the occasional exercise participant alike, going to the gym, like all female endeavors, requires a great outfit. If fashion were irrelevant in the fitness world, tennis shoes would not come in the variety of colors and styles that they do. When we feel good in the clothes we wear, regardless of the occasion, we walk a little taller due to the confidence radiating from within. And who among us doesn't want that extra push when working out? On this note we reflect on the top 10 reasons to look your best at the gym.
1. Motivation and confidence
Exercise clothing are no exception when it comes to wearing nice clothes and feeling great in them. Feeling good about yourself from head to toe is one of the many perks of a great outfit. When you mix it with exercise and advancing your physical health, imagine the body confidence your going to have! Having so much extra motivation about how you're going to look even better in your new fitness pants will keep you going for that extra set of reps! Achieve your goals by rewarding yourself with a new workout outfit.
2. Function
Fashion aside for a moment, today's activewear brands offer so many new perks. Companies use fabrics that wick away sweat from your body and keep you dry throughout your workout. Activewear fabrics breath wonderfully and move with the body, allowing you to feel cool and your clothing to move effortlessly as you do. Also, fabrics are often colorfast, so wash after wash the colors stay vibrant!
3. Flattering
We all have areas on our bodies where we wish we had a tad extra "concealing." Activewear can be quite flattering. Most high end brands are made from a tight stretch material that actually makes you look slimmer. When paired with darker colors it will immediately create longer, leaner, flattering lines.
4. You never know….
You never know when fate is going to play a hand, so always be prepared. You could meet the man of your dreams coming off the elliptical. The gym is a great place to meet someone who shares similar interests.
5. Compliments
The gym or yoga studio is a very social place where chit-chat normally occurs. Looking your best is a sure fire way to draw in those compliments to no end! (Who among us doesn't love getting a compliment?!)
6. Motivate fellow gym goers
By looking good you are motivating others to work a little bit harder.
7. Competition
Lets be honest here ladies; we are all competitive in one form or another. Who can run the fastest, who can do that yoga pose a little bit deeper and who can climb the most stairs. No matter the venue, the best dressed is always a top contender. 
8. Save time
Looking good at the gym means you look good on your way to the gym and immediately after the gym. Whether you are running an errand before or meeting the girls for a drink after, a well placed fitness outfit can save the wardrobe changes without sacrificing the fashion!
9. Consider the alternative
Now working out is not like going to the Oscars; we do not spend three hours on our hair and makeup prior, but some effort is still needed. How do you get that extra self assured boost when you are wearing a stained sweatshirt and dripping with sweat stains?
10. You deserve it!
You play hard and you work even harder! Its ok, and even necessary to spoil yourself every once in awhile. It will do you a world of good to allow yourself to indulge in something that not only makes you feel fantastic but helps your health as well.
Looking good when you exercise is about achieving you highest self greatness. When we look and feel our best we preform our best. Performance is altered by our emotional and mental state. Amazingly enough, something as simple as an activewear top and matching pants will have huge impacts for the better. Always be the best you can be
, inside and out.


About the Author:

Kaia Korbell, Dance, Yoga and Fitness Enthusiast. Kaia is a Featured Writer at ActivewearUSA.com, an on-line store specializing in yoga and fitness wear. Visit http://www.ActivewearUSA.com/.