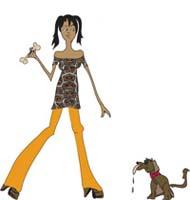 Each week in our newsletter, we offer Savvy Tips not found on the site. Here are just a few:
Amazing Amazon
These tips appeared on Lifehacker.com — and we love them!
Did you know Amazon can email you suggestions from Mom's wish list two weeks before her birthday? Automatically ship you a new case of toilet paper every two months? Refund the difference on the price of an item you purchased that went on sale? Several advanced Amazon features and third party apps and add-ons can help you get the best deals and the stuff you want delivered to your door right on time.
1. Never be empty-handed on special occasions again with the Amazon's Gift Organizer: Hit "Add to Wish List," choose someone's name, and you're much less stressed when it's one week before a birthday. When you add your loved ones' names, birth dates, genders, and special occasions to the Gift Organizer, you'll get email reminders a week ahead of gift-worthy occasions with spot — on purchase recommendations inside.
2. Browse the deep discount bin at JungleCrazy: JungleCrazy only shows items at Amazon that are at least 70 percent discounted (from original retail price), making it a great place to browse (and search). There is even an RSS feed to dish up the popular hits.
3. Find hidden discounts with DealLocker: If JungleCrazy shows you Amazon's deep discount bin, DealLocker's "Secret Amazon Discounts" re-arranges the whole store for you by discount amounts, rather than coupon/sale deals. Great for competitively-priced items like electronics and clothing.
4. Get money back on price drops with RefundPlease: Amazon's policy is to pay you if an item you buy drops in price within 30 days of purchase, but only if you're eagle-eyed enough to catch it. RefundPlease has a simple form to enter an item number, purchase date, and your email, and it notifies you if that item takes a dip within that month's time.
5. Cut down household shopping needs with Subscribe & Save: Get paper towels, dry food goods, baby needs, or a healthy selection of other items delivered on a recurring schedule, at a discount, with free shipping, and, most importantly, without having to worry or think about it with Subscribe & Save.
Grab a Beer — But Not to Drink
According to gomestic.com, beer can be used for many unexpected things!
1. Marinate meat in it — Use beer instead of wine to marinate your meat. Not only does it taste better, but it also makes the meat more tender.
2. Grow your Lawn — Pour beer on those irritating brown spots in your grass; it absorbs the nutrients, sugar and energy it needs to be able to grow.
3. Polish gold — Wet a piece of cloth with some beer and start rubbing your gold (no stones) to get the shine back. Use a second cloth to dry it.
4. Polish wood furniture — Let some beer sit until it goes flat. Then, dampen a washcloth with it and rub your wooden furniture. This will polish it and give it a more shiny and healthy look.
5. Cook with it — When boiling shrimp, try using beer for the cooking liquid. Season as you wish, but don't overcook.
Play with the Kids
You can make non-toxic play dough at home. You'll need 1-cup flour, 1-cup water, 1_2 cup salt, 1-tablespoon vegetable oil, and 2 teaspoons cream of tartar.
Mix flour, salt and oil, and slowly add the water. Cook over medium heat, stirring until dough becomes stiff. Turn out onto wax paper and let cool. Knead the dough with your hands until you reach proper consistency. Use as is, or divide into balls and add a few drops of the vegetable or fruit juices to make green, pink, and orange. Let it cool completely. Store in an airtight container. Refrigerate for up to 2 weeks.
As found on healthychild.org
Taking Care of Fido
The magazine, "Dog's Life," in their winter 2007 issue addressed doggie anxiety. Here are a few useful tips it shared with readers:
What Not To Do
When your dog is suffering, never use negative measures to alleviate such as:
Crating: A crate may intensify the problem.
Bark Collars: They may only temporarily mask the problem.
Another pet: Getting them a pal usually doesn't relieve their anxiety.
Punishment: It can increase negative behavior, rather than eliminate it.
Short Term Solutions
Daycare: Allow for some socialization with other doggies.
Walker: Have someone stop by to break up their day.
Work environment: If at all possible, see if you can bring your dog to work.
Reward quiet times: Reward calm behavior.
You want to have patience; your goal is to enhance your doggie's quality of life. Be sure to consult a professional trainer.
When to Buy a Ticket
According to Wired magazine:
"Never buy tickets between Friday and Monday morning. Why? Airlines file fare increases on Thursday evenings and watch over the weekend to see if all of their competitors match the price bumps. If they don't, the carriers roll back prices by Monday afternoon. But you won't get a refund if you purchased a higher-priced ticket over the weekend."
Be Safe!
Identity theft is on the rise, and thieves will steal your identity any way possible. This video, from the Broward County FL Sheriff's Office, is circulating and is quite riveting. It is well worth the 3-1/2 minutes to watch it … there is footage of the actual crime being committed.
Stay safe! http://video.sheriff.org/psa_cartheft.shtml
Want more tips like these delivered to your mailbox weekly? Be savvy and sign up for our FREE newsletter! Click here.