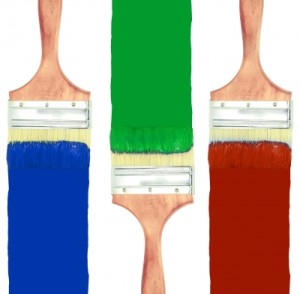 Interior Designer, Kristi Witt, gives her five expert tips for choosing the perfect paint  ~

Selecting paint colors for a room can be a very daunting task, not to mention trying to figure out the perfect color for every room in your house!  According to Kristi Witt, interior designer and owner of Kristi Witt Design, paint is the easiest design change to make for a space and the least expensive. Kristi offers her insight below.
Kristi says, "The best way to begin the process is to give yourself plenty of time to discover what you truly like, how you want to see color brought into your home and the ambiance or mood you wish to create for each room."
Allowing time for plans, notes and thoughts to incubate is a key ingredient to picking the right color. "Don't hurry and don't worry"… If a color isn't what you thought it would be – from paint chip to sample swatch on the wall – it is perfectly ok to rethink your plan or select a new color that suits you and your room better. Paint stores have small sample jars for the express purpose of narrowing down the right color without having to commit to a gallon.
1. Collect your thoughts:Pour through your favorite home decor catalogs, magazines, online sites and design books, look for inspiration and make a "wish book" for yourself. Once you have several ideas, dog-eared pages or photos of rooms saved which you are really drawn to, hone in on the key elements of these spaces and ask yourself what is the common thread with each one that appeals to you and what are your reasons for liking them.
For example: Do soft creamy neutral tones found in your favorite furniture catalogs resonate with you more or do you appreciate edgy industrial spaces that pay homage to raw building materials and texture? Are you drawn to boho chic with a flair for colors and prints or would you prefer a single bold statement-maker for a room in the form of an accent wall to offset artwork?
2. Inspiration: Take a look in your closet for further inspiration. Do the items you wear have anything in common with the spaces you like? If you'd rather throw out everything in your closet and make a fresh start, why that's ok, too… just think of a wardrobe you would rather be wearing and imagine how this can relate to the vision you have for your home. Designer fashions in the latest trend, timeless classic pieces, accessories with punchy color, natural textures and shades, tone on tone… all can work for you.
3. Think about Space: When selecting paint for your space, think of what the space is used for. If it is a quiet bedroom or sitting room, your plan may be to afford a feeling of calm and serenity through peaceful tranquil colors such as pale blue, cream, light beige, taupe or soft grey. Bold, vibrant color creates energy, interest and excitement… a wonderful way to go with a focal wall as you enter a room to set a tone. Deep rich colors such as dark red or espresso introduce drama and can feel very much at home whether in the dining room or a powder room. Again, it is all about how you or your guests want to feel in a particular room and what you wish to say about your space, and yourself, through color.
4. Linking: Color plays a role in linking one room to the next and can be used to introduce adjoining spaces in a variety of ways. Consider where your eye will travel as you enter rooms with access and visibility to adjoining spaces: perhaps you'd love to see a sneak peek of bold color in the living room as you enter a front hallway, painted a crisp "art-gallery white"… a delightful way to be playful and dramatic at the same time. A continuation of the same hue throughout may be more your style to keep things harmonious and connected.
5. Another option: When using the same color throughout, tint or shade the color just a bit for a subtle variation. Nuance in color will distinguish each room while still maintaining a sense of order. The function and purpose of a room can also be emphasized with the color selected… much like you might play up your best features by wearing a certain color. If the room opens up to the back garden you might try to highlight the blue sky or green grass using the fairest hints of a similar color on the wall – at night, you will be reminded of your exterior space even when you can't see it!
Picking colors for your home is a lot like picking your favorite restaurant or comfort food… you might have a hard time deciding! But even if you think you have way too many choices, you are very likely to be able to settle on one (or perhaps half a dozen) if you sat down and tried.
When considering color, ask yourself plenty of questions about what you find interesting, soothing or expressive and realize there are truly no wrong answers.  It often boils down to what "feels right." What are waiting for? There's a paint bucket out there with your own name on it!
About Kristi Witt
San Francisco interior designer, Kristi Witt, brings insight, energy and optimism to each project and believes understanding how her clients relate to their space is a main ingredient to good design. She listens carefully and offers options on how to achieve goals, creating comfortable, beautiful spaces that work for them, inspire them and reflect their individual personalities.
Educated in fine art and graphic design, Kristi has always been able to merge her creative talent with a love for helping others. She started out running her own catering and event-planning business in Memphis for 15 years, satisfying clients with beautifully executed parties and delicious menus. In addition to catering, she is also a published singer and songwriter, has operated her own home staging business since 2005 and has experience as a realtor. It is this varied experience that allows her to give clients a unique combination of creativity, practicality and perspective. For more information on Kristi Witt, visit www.kristiwittdesign.com.