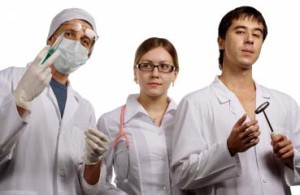 By Linda Garvin, RN, MSN, Patient Advocate ~
As a Register Nurse with 30 year's plus experience, I still witness numerous patients arriving at their physician's office totally unprepared for their medical visits. With limited time available to spend with your physician, it is important that you are as prepared and organized as possible prior to your medical appointment. Here are some tips from a nurse health advocate and educator on preparing for your next medical appointment:
§  Prior to Your Next Appointment: Write down and prioritize your questions, with your most important questions at the top of your list. This will be a lot easier than memorizing your questions and will help prevent you from forgetting something significant you want to discuss with your physician.  You will find it helpful to bring along the following items with your list of questions: A pen and paper to write notes, your insurance card, cash or a credit card for co-payments, address and telephone number of physician's office and glasses if needed.
§  Medical History:  Bring along any significant health information pertaining to the following:  family history, known allergies, major illnesses, surgeries, hospitalizations or any abnormal test results.
§  Recent Diagnosis: If you have recently been diagnosed with an acute or chronic health problem educate yourself about the health condition. Your research may assist you in not only understanding what information may be provided to you by your physician, but will help in coming up with specific questions to ask your doctor.
§  Symtomology: If you are experiencing any unusual symptoms or feel different after taking a medication or treatment, document this information. Your documentation should include when your symptoms began, the frequency and what improves or worsens your symptoms.
§  Medications: Bring a list of all medications you are currently taking including prescription, over-the-counter, vitamins and herbal supplements. Your medication information should include the dosage, frequency and reason you are taking each medication.  To decrease to costs of your medications, ask your physician if you can safely substitute less expensive generic medications for brand name medicines that you are taking.  If your doctor prescribes new medications, ask him/her if they can give you samples.
§  Bring Someone Along: Consider bringing a close friend or relative that can accompany you while your physician is speaking with you during the entire exam. This person could take notes for you while you are communicating with your physician, avoiding the possibility of you becoming distracted.
§  Resources: If you need additional information and resources about your health condition, request this information from your physician or someone from the office staff. Ask about community resources [support groups, lectures], medical equipment and specialists. If your condition is chronic, you may want to go on the web to see who has written articles on your medical condition.
§  Timeliness: If it is your first visit to this physician's office, give yourself enough time to find the office and for parking. This will help you to be on time and more relaxed for the appointment.
§  Be Honest: Probably the most important piece of information I can give is to be honest with your physician. If you have been having unusual symptoms, like blood in you urine or stool, do not hide this information from your physician. Your symptoms may be early signs of a disease process that can be treated and managed before it becomes life threatening.
Linda Winkler Garvin, R.N., M.S.N., of Alameda, California, is a Health Advocate, Consultant & Educator in the Bay Area and Director of Health Management Associates.   As nurse educator & former insurance consultant, Linda can help you identify critical health questions & assist with decision making-PLUS -advocate on your behalf, so you can control and manage your health needs and costs.  Linda also has expertise in chronic pain management & in elder care planning.  She is the author of several articles on Pain Management, Healthy Lifestyles, & Nutrition. Learn more at www.healthmanagerbayarea.com or e-mail at garvin_linda@yahoo.com.