Savvy Smarts: Back-to-School Means Mom Finds Time to Read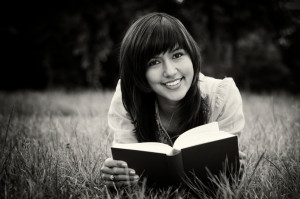 By: Hannah Shaner ~
Hey, Mom, now that the kids are back in school all day, why not make a fall/winter reading list for yourself or a new book club? Here are some reader favorites:
1.      Stan's Leap by Tom Duerig
The makers of TV's Lost should have read Stan's Leap and filmed the show on Henderson Island, a real place in the South Pacific that's 5,000 km from anything else. If stranded there, one might never be rescued. Tom Duerig's story explores what happens when people must learn to live together without modern tools and amenities, and with little hope of ever seeing friends and family again. Clashes arise between faith and science, older and younger generations, unfamiliar cultures and levels of selfishness. But did the world really forget them for 20 years?
2.      The Drawing Lesson by Mary E. Martin
How far will a desperate artist go to push a rival genius into a creative abyss from which he may never return? Through this battle of opposing wills and philosophies, Mary E. Martin shares one man's personal struggle with the unintended consequences of his past, the dark side of his psyche and his future. Reviewer Simon Barrett says, "The art world may seem a strange choice as a setting, but The Drawing Lesson works in a wonderful way."
3.      Reunion in Carmel by Tim Comstock
Unbridled terror visits an idyllic vacation town in Reunion in Carmel, the new mystery novel from Tim Comstock. Police officer Will Kempton moves his family to a California tourist town after 14 years as a hardened New Jersey detective. But when a string of gruesome murders rattles the quiet town and comes too near his own children, Kempton must draw on skills he thought he'd left behind to track down the killer. As he unravels clues and battles rigid local politics, Kempton wonders if his past may have come back to haunt him. ac
4.      Ashes by Audrey Peyton
The radio suddenly arrests Kit's attention: The world is slowly being reduced to ashes. In the next 100 days, almost all human, plant and animal life disappears from Earth. Who could commit such evil? And how? Answers come too soon for three survivors when greed and brutality disrupt the fragile peace they've established for themselves. Inspired by her childhood during the London bombings of World War II, Audrey Peyton's Ashes will grip you until the stunning end.
5.      Insignificant Moments by Jeremy Asher
For 27-year old Jaye Logan, life has been full of neglected opportunities and missed chances: unadventurous career, only one serious girlfriend. On the day he decides to climb a mountain and seek something better in life, something better finds him—in the form of a beautiful young woman he rescues. In typical Jaye fashion, he lets this girl of his dreams slip through his fingers. Reeling from disappointment, he sends a simple yet heartfelt e-mail about the key to life winging into the ether.
Author Jeremy Asher's inspirational novel Insignificant Moments follows Jaye and his e-mail as they begin affecting the world. The book speaks to the profound impact a single moment can have on our lives and in our hearts.
6.      Cooking with Healthy Girl by Mandy Potter
What goes better with reading than a snack, or a shared dish at book club? Mandy Potter got started on her quest to find healthier ways to cook the food she loves when she struggled to lose weight following the birth of twins. Dieting didn't work, and she couldn't find many of the ingredients so-called "healthy" cookbooks called for. She researched ways to make the dishes she'd grown up with taste the same, yet have fewer calories, and less fat, sugar and cholesterol. Cooking with Healthy Girl contains 239 pages of recipes, everyday staples, and a complete four-week menu.
All these books are available at Amazon.com and BarnesandNoble.com and The Savvy Gal Store
Happy reading!
Stan's Leap
By Tom Duerig
Published by iUniverse
ISBN 9780595508488
Softcover 6×9
Retail price $21.95
http://www.stansleap.com
The Drawing Lesson
By Mary E. Martin
Published by iUniverse
ISBN 9781450229364
Softcover, 6×9
Retail price $19.95
http://www.thedrawinglesson.wordpress.com
Reunion in Carmel
By Tim Comstock
Published by AuthorHouse
ISBN 9781452014104
Softcover 6 x 9
Retail price $18
http://www.reunionincarmel.com
Ashes
By Audrey Peyton
Published by AuthorHouse
Published by iUniverse
ISBN 9781450014397
Softcover, 6 x 9
Retail price $19.99
http://www.audreypeyton.com
Insignificant Moments
By Jeremy Asher
Published by iUniverse
ISBN 9781450231787
Softcover, 6 x 9 $18.95
Available at www.amazon.com and www.barnesandnoble.com

Cooking with Healthy Girl: Everyday Recipes Made Healthy
By Mandy Potter
Published by AuthorHouse
ISBN: 9781449073428
Photos by Miesner Photography
Softcover, 8.5 x 8.5
Retail price $29.99
http://www.cookingwithhealthygirl.com