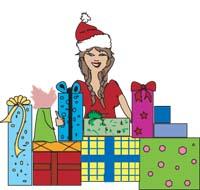 Searching for a gift for the healthy women in your life? We've put together a list of books and DVDs that promise to educate, engage and inspire healthy lifestyles.
Full Body Blast DVD by Beth Shaw, founder and president of YogaFit: This heart-pumping, sweat-producing, endorphin-releasing workout will blast your body into perfect shape with no expensive equipment needed. Strengthen and tone, shape and lift, stretch and relax with more than 90 minutes of yoga workouts in segments for the lower body, upper body and core, plus bonus segments on safe yoga, breathing and mind techniques for peace and calm. www.yogafit.com
Dance Off the Inches: Tummy Tone Party Zone!: by Marie Forleo has a premise we love: getting fit doesn't have to feel like work. This fun, dynamic DVD shows us how to dance off the inches in a sizzling routine of just 10 easy moves that anyone, no matter what age or fitness level, can do. It's so much fun, you almost forget you're working out! Dance leader Marie Forleo and her friends take you through two different dance sequences specifically designed to cinch that midsection and flatten your belly. Awarded Top Workout in November by Shape magazine, Marie teaches us a dual-approach to abs work – fat burning cardio dance paired with targeted toning – for the fastest way to trim your waistline. See it here
Studies show that wearing cute workout clothes inspires you to work out longer and more effectively. Perfect reason to get yourself or your loved one a pair of YogaFit's Bamboo Fitted Flare Pants. These stylish, thermal regulating, drawstring pants are part of YogaFit's new environmentally (green) conscious clothing line. The pant is made of breathable, quick drying, anti-bacterial (odor free) and anti-bromic (deodorized) material. I've always been a sucker for LuLu Lemon, but these pants are buttery soft and flattering to the bum – I'm an official addict. www.yogafit.com
Gracie's Gear sets itself apart with its innovative Power Pouch Sports Bra, designed to offer comfort and convenience for the active woman. A stealth pouch carries everything from keys to iPods and wallets, eliminating the need for a trip to the locker room. It's the ideal gift for anyone with a New Year's resolution to get in shape. www.graciesgearandtraining.com
"The Healthy Woman" is the first comprehensive women's health guide from the United States Department of Health and Human Services Office on Women's Health, the nation's leading experts in women's health. The book covers a wide range of topics, from heart disease, stroke, cancer and diabetes, to healthy aging, pregnancy, respiratory health and nutrition. It also includes personal stories, tips for communicating with your doctor, a how-to-guide for reading medication labels and a screening chart. www.womenshealth.gov/the-healthy-woman
"Quick & Healthy Recipes and Ideas For People Who Say They Don't Have Time to Cook Healthy Meals" by registered dietitian and award-winning author Brenda J. Ponichtera is an ideal gift for the woman who is strapped for time. Packed with practical information to improve your health, the book offers 20 weeks of easy dinner menus, complete with a grocery list for each. With more than 200 low-fat recipes designed for busy families, this book also includes time-saving ideas, recommended foods, tips to reduce fat, cholesterol and sodium; quick meals that don't require a recipe; and food exchanges for weight loss and diabetes. Perfect for anyone who wants to eat healthier but doesn't have time, as well as for those trying to control their weight or who are suffering from heart disease or diabetes. See it here
"Stop Aging, Start Training: Look and Feel Twenty Years Younger" by Salvatore Fichera is an incredible guide for anyone interested in living a longer, stronger, and happier life (or who has begun to notice that her body is aging). While directed at both genders, women in particular will benefit from this book as they are more susceptible to osteoporosis and are typically more concerned about fat accumulation (in addition to being more prone to it). This book will inspire readers to move from a sedentary lifestyle to a more active and youthful one. The book is broken down into two sections: the first is conceptual and theoretical, laying the groundwork for success in attaining health and fitness goals. The second section is practical, providing a full menu of exercises for each major muscle group, accompanied by detailed instructions and photographs. "Stop Aging, Start Training" boasts more exercises than other similar books, complete with detailed exercise descriptions and photos, so that readers can easily master the techniques. See it here
Carole Lieberman, M.D. aka Shrink on Board, has created the most unique gift for mental health: The Art of Relaxation: A Spa For Your Mind! For fearful fliers, there is nothing like it! Dr. Carole's DVD and audio CDs takes you on a journey that soothes your spirit from everything from the fear of flying to everyday stress. Dr. Carole is the creator of America's first in-flight entertainment relaxation channel (audio and video) narrated by a psychiatrist. In the days following 9/11, she conceived and founded Shrink on Board to provide in-flight relaxation for airline passengers suffering from fear of flying, weary from travel hassles, or simply burdened by the heightened stress of their daily lives. Shrink on Board incorporates delightful images from around the world, with soothing music and Dr. Carole's therapeutic narration. www.drcarole.com/shrink.htm
Chaton Anderson is a Writer and the Publicity Director for TheSavvyGal.com. A product and pop culture addict, she is always looking for the coolest, hippest things on the market, as well as the newest health and fitness trends to hit the scene. Email her at Chaton@TheSavvyGal.com with questions or leads on products and services on the cutting edge.