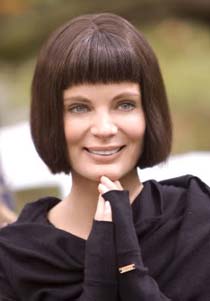 Usually, Actress Gabrielle Anwar admits, she just breezes through her birthday without a second thought. But that wasn't happening this time as she approached a milestone known euphemistically as "The Big 4-0" on Feb. 4.
"I'm not sure if it was a psychological reaction I was having or what," Anwar said, "but for the first time in my life I thought maybe it was time I hang up my bikini. I mean, there's something to be said for acknowledging one's age. It has a calming effect. And especially because of what I do for a living, I don't want to be one of those women who doesn't enjoy the aging process. I want to relish what I'm becoming and not be disgraced by it."
Well, forget about any disgrace. That won't be happening to this spectacularly beautiful 40-year-old who still looks 25. No need for Botox or knives to achieve the "natural" look, thanks very much.
Not only does Anwar find herself riding a career wave as she cracks an age that too often spells death for actresses in Hollywood; she's also in a great place personally, with her priorities in impeccable order.
"I'm a mother first, then a bunch of other things, and then an actress," Anwar, a mother of three, declared. "It's important for me to stay real."
Keeping it real certainly hasn't prevented Anwar from hitting a professional stride at 40 that would be the envy of actresses 10 years her junior. She's a fixture on a hit series — the third-year cable drama "Burn Notice" — on which she co-stars with Jeffrey Donovan, Bruce Campbell and Sharon Gless. And she landed a plum star turn in the Hallmark Channel in HD Original Movie "Lies Between Friends" that premieres in July.
In the "Big Chill"-like "Lies Between Friends," Anwar portrays an art authenticator named Joss Jenner who joins six college girlfriends at a bed and breakfast inn for a bridal shower weekend. All well and good. But after being confronted by her freshman year roommate Cait (Thea Gill) about an alleged cheating incident with her college boyfriend, Cait suddenly is found dead, having apparently been pushed from a roof.
"I loved the dynamic of the film, about women gathered for a reunion," Anwar stressed. "That part of the shoot was a great deal of fun."
And what part wasn't fun?
"I'll tell you what: it was BLOODY COLD!" she replied. "We were filming on Vancouver island, in Victoria, Canada. I'm living these days in Miami while we're shooting 'Burn Notice,' and so I'm a total lightweight when it comes to cold. The shoot was only 15 days, but it felt like my mouth was going to freeze shut.
"Actually, on second thought, I wish it had frozen shut. Because the catering was so exquisite I gained a huge amount of weight. I gained more, I think, than I had in the entire nine months of my last pregnancy. I've had to double-up on my yoga to get the weight off."
Successfully working in frigid temperatures wasn't Anwar's only impressive feat during the "Lies Between Friends" production. She also was able to work alongside former "One Tree Hill" star Craig Sheffer, who portrays an investigating sheriff in the film.
Why is this a big deal? Because Anwar and Sheffer were longtime lovers, maintaining a relationship for years and together creating Anwar's 16-year-old daughter, Willow. The two have actually worked together in close to a dozen films, many of those since they split up. (Anwar has since married and divorced actor John Verea.)
So much for the concept of hating one's ex.
"Craig and I work together as often as possible," Anwar offered. "It's like taking the family on vacation and having someone else pay for it. The truth is, there's simply no place for animosity when you have a child together. It's not an option.
"I love having Craig there when I'm working. I enjoy his company and the professional aspect of it as well. My two youngest kids were there with me on the shoot, and he's their godfather. During quite a few nights, I was able to just dump them in his hotel room" and go eat more food."
Somehow, Anwar wears it exceedingly well. Born in Laleham, Middlesex, England to an Indian-born British film producer-editor and an English actress mother, she clearly comes by her exotic good looks naturally.
Anwar was chosen as one of People magazine's 50 most beautiful people in the world in 1993, the year after she made a breakthrough career splash in the feature "Scent of a Woman" for her singularly memorable tango with Al Pacino's blind character.
But rather than capitalize on the momentum that film supplied, Anwar almost immediately became pregnant with Willow. "My career wasn't really a priority at the time," she recalled. "I was extremely grateful to be pregnant. My agents weren't quite so happy. Timing-wise, it couldn't have come at a worse moment, yet it was personally my saving grace."
Her career has been a self-described "bumpy road" ever since, marked by an assortment of made-for-TV movies and small-scale theatricals. But the "Burn Notice" gig has sent her acting life back onto the fast track, earning Anwar rave critical notices and genuine satisfaction.
"I've fortunately been given a terrific gift in playing a woman who is almost as outspoken as I am," she said. "I've always been labeled as a rebel, and now I get to play one."
Indeed, Anwar is quick to acknowledge that her well-earned reputation for being candid and outspoken has perhaps held her career back some. "I always manage to stick my foot in my mouth," she believes. "I've never been much good at self-censoring, to my detriment. I've struggled so hard to figure out who the hell I am, and I refuse to tame my words to keep from offending someone."
This is perhaps one reason why Anwar is determined to embrace being 40 rather than hide from it. Simply copping to being that chronological age and discussing its ramifications has to be seen as an atypical act of courage in itself for someone working in age-obsessed Hollywood.
"I've earned my years, so I confidently state my age with tremendous pride," she maintained. "That's very difficult to do in this country in the industry I've chosen. But I am determined to really look at my gray hairs and my fine lines and appreciate what they've done for me."
By the same token, Anwar understands the Catch-22 of growing older as a professional actress.
"The scrutiny becomes quite debilitating," she noted. "If you decide to go au natural, you're ridiculed for not looking like you did 20 years ago. If you have surgery, then you're called out for not accepting the natural aging process with grace. I have to say, to each their own. I'm never one to want to discuss my personal life, what my sexual orientation might be, why my marriage failed or what I may have injected into my body.
"It's just such an odd phenomenon. Every breath that celebrities take is so scrutinized. But I mean, I didn't win the Nobel Peace Prize here, people! I'm just an actress. The weight that's cast on what we do, and the pedestal we're placed on, is so undeserving. So I think I'll just stop talking now if that's all right."