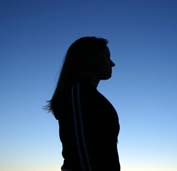 By Denise DeSimone ~
"You have cancer.  You have a very serious, fast moving cancer and you need to do something about this immediately." These were the first words I heard upon awakening after a "routine" biopsy to determine the pathology of the lump on the left side of my neck.
Given three months to live because of stage IV throat and neck cancer, to singing the National Anthem at Fenway Park, to riding my bicycle 87 miles for the Pan Mass Challenge in one day, raising over $11,000 for children's cancer research, all in less than two years, is proof that the unexpected can be achieved.
For several years prior to that time I had studied and achieved certification in many alternative healing modalities; Reflexology, Sound Healing, Polarity Therapy, and became a Reiki Master. I suggested to my doctors I would be seeking treatment through these modalities until they made it clear, these treatments had better contain a miracle.  According to them, without immediate treatment, I had approximately three months to live.
Chemo therapy along with rigorous radiation treatments were the protocol. Within two weeks a feeding tube was inserted into my stomach and all nutrition came by way of that tube for the better part of nine months.
I was determined to work with this cancer and approach it from a very different perspective. I didn't look at this as most people do, as a "battle." I think our culture makes a huge mistake in looking at "battling" cancer as opposed to embracing it.  My cancer came as a teacher and a sage.  Naming this cancer PIN- an acronym for Pain In the Neck, I gave it a pen and gave it permission to teach me. The lessons were rich and enlightening and taught me something deeply critical to healing…Self Love. When we love ourselves we don't want to battle anything.  When we love ourselves we allow our vibration to be in a place where we attract life at a higher frequency; a frequency that promotes healing on all levels, emotionally, mentally, physically, and spiritually. Self love is the all-time greatest healer.
Early on I had to make a decision to either let myself die, or go through the rigors of hell to stay alive.  During this discernment process I prayed often…"Should my life be spared, please let my life be used in a way that helps inspire others." There is no doubt that my prayers were answered because on July 14th, 2007, just 22 months after my diagnosis, I sang the National Anthem before 35,000 fans at a Boston Red Sox game at Fenway Park.  The exposure from just that one night touched thousands of people. And yes, God is using my life in a big way. I am constantly contacted to pray for and often counsel people who are struggling with cancer.
The trajectory of my life has shifted tremendously. I am an Interfaith Minister, an author, an inspirational/motivational speaker and I am blessed to be able to travel the country speaking and teaching workshops.  I live in the moment — continually open to what God has in store for me. Every day is a gift and each day I open this gift with a heart full of gratitude.
About the author
Denise DeSimone is an ordained interfaith minister, an inspirational and motivational speaker and a singer. She is certified in multiple alternative healing modalities and is a wellness coach to cancer patients. DeSimone also created Pray Peace, a multimedia offering of personal and global peace. Currently, she resides between Greensboro, N.C., and Newburyport, Mass. From Stage IV to Center Stage is her first book. For more information, visit www.denisedesimone.com.