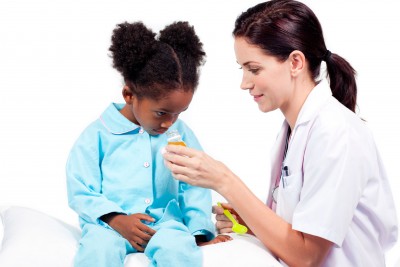 By Linda Garvin, RN, MSN, Patient Advocate  ~
Bringing a child to the Pediatrician's office can be a stressful experience.  Beside the annual scheduled examination, you will probably visit the physician's office with your child for other medical symtomology during the course of their first sixteen years.  Since some of these visits will be made in a hurried fashion and possibly under some duress, it is important to be as organized as possible and have certain pieces of information easily accessible.  Communicate positively with your child's Pediatrician, with the goal of developing a Healthy Relationship.
Medical Information:  Keeping a list of important medical information on your child will be invaluable during times of illness or unexpected medical problems.  This information will prove to be enormously helpful if someone other than a parent is bringing a child to the physician's office.  You may want to carry this information in your wallet so you will always have easy access.
Document the following medical information on your child:
Name:
Address:
Date of birth:
Telephone numbers:   Parent's [home & work], relative, friend and/or neighbor.
Emergency Contact:  Name, relationship and phone numbers: [Home, Work & Cell]
Blood Type:
Any allergies/negative reactions:  (i.e., foods, beverages, medication, skin)
Insurance Plan:  Policy number and contact information
Current Primary Care Physician:  Contact information & address
Specialists:  Contact information & address
Symtomology: If your child experiences any unusual symptoms or feels different after taking a medication or treatment, document this information. Your documentation should include when your symptoms began, the frequency and what improves or worsens your symptoms.
Medical Problems:  List all medical problems, chronic health care issues, as well as any surgeries and/or hospitalizations your child has experienced.   Most health professionals would prefer to review this information in chronological order, with the most recent medical problem listed first.  In addition include dates for any diagnoses or hospitalizations that occurred and treatments rendered.
Medications:
Make a list of all the medications your child is taking including prescription, non- prescription and vitamins.  Include information on approximate date medications were started, dosage and frequency.
One method for documenting your child's medication information would be to compile the following information for each medication:
Name of the medication
Dosage, frequency and color of medication
Reason child is taking medication
The date your child started on this medication
Prescribing physician's name and contact information
Any special instructions [should be taken before or after a meal; other drugs to avoid]
Family History:  Bring information with you on any known family history of health problems [diabetes, heart disease, cancers…].
Timeliness:   Do your best to be on time for your appointment.  If it is your first visit to the pediatrician's office, give yourself enough time to find the office and for parking. This will help you to be more relaxed and organized for the appointment.  You may want to call the Pediatrician's office approximately an hour before your child's scheduled appointment to see if the doctor is "running on time".
List of questions:  Don't wait till the very end of the medical appointment to ask your questions. If you write down your questions and have this list with you during the appointment, you can make notes as you communicate with your child's Pediatrician.
Preparation & Information:  Preparing your child for their physical examination is vitally important is making the appointment a positive experience.  Providing information appropriate for their age and utilizing positive words will help immensely.  Role playing can be very useful in some cases.  Make sure that your body language and the tone of your voice are not threatening.   Leave time for your child to ask questions or act out their concerns and/or fears.
TIPS:
Remember that decision making should be a collaborative effort. If you are dissatisfied with the manner in which you were treated or spoken to, you can request to change physicians.
Bring a few of your child's favorite toys & disinfectant wipes to the Pediatrician's office.
Keep more than one copy of your child's medical information in a safe and secure place.  Some suggestions would be home, work, a close friend, relative, spouse or partner.
If behavioral &/or emotional developmental issues need to be discussed, a parent should be present at the appointment.
Linda Winkler Garvin, R.N., M.S.N., of Alameda, California, is a Health Advocate & Educator in the Bay Area & Director of Health Management Associates.  She assists individuals & families in making informed choices by providing explanations of your health options, advocating on your behalf with hospital & medical staff, organizes your medical information,  assists in reviewing your health bills  & insurance payments, & offers wellness strategies to prevent chronic diseases.  She is the author of several articles on Healthy Lifestyles, Nutrition Pain Management & Travel. Learn more at www.healthmanagerbayarea.com or e-mail at garvin_linda@yahoo.com.