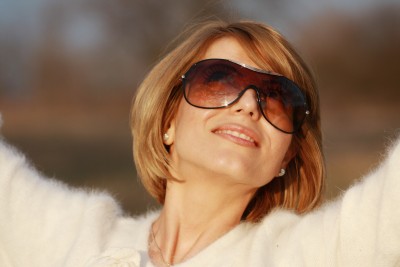 By Debra K ~
Are you sick and tired of being sick and tired? Whew! I am. Being in my mid 40's now with grown children, I recognize what I've been doing isn't good enough anymore. As I make the decision to get healthier, I've decided to invite the World to join me.
With my new series, the Journey into Wellbeing, which is being shown on PBS stations nationwide, I will be traveling to all 50 states to uncover and share the secrets to living an energetic, vibrant life. The pilot was shot entirely in Kentucky and demonstrates that every state has something to offer to get healthier. You can watch the show at www.journeyintowellbeing.com.
Women in particular will find this show inspiring. And we have the power to act on our inspirations. Author Faith Popcorn predicts a "She Change" movement of feminine influence: Women now control $12 trillion of the overall $18.4 trillion in global consumer spending. At the same time, many of us are suffering from a host of modern ailments – stress, anxiety, insomnia, weight gain, high cholesterol, chronic heartburn. The Journey's intention is to provide the inspiration and education for viewers to take the first steps to becoming healthier.
I can remember when I was busy climbing the corporate ladder and trying to make it in a man's world. I physically burnt out and ended up in the doctor's office. Instead of addressing lifestyle changes, my doctor whipped out his prescription pad and wanted to give me all kinds of medications… as if that was my only option.
I was offered sleeping pills, antacids, cholesterol medication and anti-depressants. I remember feeling shocked and a little angry. I politely said, "Thanks, but no thanks," and left without any of the prescriptions. What I did leave with was a burning desire to educate myself and provide education to others so they could make informed decisions about their health and wellbeing.
So, I left the corporate job (and steady salary) and launched a massage education and consulting company, imassage, Inc. and became the executive director of the Destination Spa Group, which is composed of the top spas dedicated to whole-body health. This put me in the right environment to access resources to fuel my real passion of educating and inspiring health changes.
Then another pivotal moment came… Oprah announced she was leaving her show to launch the OWN network and she put out a query for the next big reality star. I began to daydream about what type of show I would create if given the opportunity. How cool would it be if I were to travel the country as a natural health explorer and highlight great health initiatives in every state? From organic farmers to natural health practitioners, the show would provide a platform for positive, uplifting stories and real-world tips for viewers.
For me, this was the moment when I had to decide – will it just stay a great idea or will I begin to take action and bring this dream to life? Not only would there be financial risk, but personal as well because it was the first time I was truly going to bank on myself. I thought through the logistics, talked to friends and family, reached out to peers, started making phone calls, asked around about videographers and just kept gathering information. Every question, found an answer. The right people began to show up. I figured what the heck, let's plan a shoot day and see what happens.
And now, almost exactly two years after the idea formed, the pilot episode of The Journey into Wellbeing is airing on PBS in eight states. This is just the beginning. And while it took two years of hard work and commitment to get to that finished 58 minutes of the show, at every turn I found a connection, a voice of encouragement, a helping hand to ensure I stay focused and moving forward. It has been these outside influences of support that have helped me to believe I can make a difference, even when that internal voice of doubt crept in.
I hope my story inspires you to align to your sense of purpose, believe in yourself, take a chance and provides you a small spark that will ignite you on your own unique journey. I say to you, "Go ahead and leap, the net will find you!"
You can read more on Facebook at Journey into Wellbeing with Debra K, Twitter @DebrasJourney, online at www.journeyintowellbeing.com  and www.reciperedoblog.com, or e-mail dk.journeyintowellbeing@gmail.com.