Savvy Gal Spotlight: Raising Connected and Compassionate Children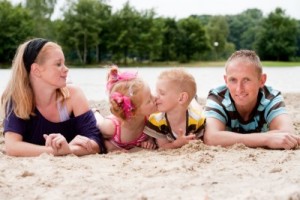 By: Barbara Nicholson and Lysa Parker ~
Parents' Call to Arms ~
A mother and father hold their newborn baby for the first time. As they gaze at his little face and body, they are in awe of the miracle of life they have created together. The birth of a baby symbolizes a new beginning, a renewed sense of hope, a sense of life's purpose, and a chance to leave a legacy for family and society. They wonder about the future that will unfold as both they and their baby grow. What kind of parents will they be? What kind of relationship will they have with their child? What kind of adult will their child turn out to be? How do they get there from here?
Unfortunately, parents today are challenged from all sides by the variety of childrearing advice that is available. Too often, the most popular parenting advice is based on someone's opinion rather than common sense and sound science, which undermines new parents' confidence in their own innate knowledge of their children. Even worse, in some cases popular advice is harmful to the child as well as to the parent-child relationship.
The Big Picture: How Parenting Affects Society
Many of us may still experience the effects of the way we were parented, so we know the impact of what goes on within the family is lasting and profound. Too many children suffer from the lack the love and nurturance they need to thrive. The Children's Defense Fund keeps national statistics on the welfare of children. They've found that every day in America:
Four children are killed by abuse or neglect
Five children or teens commit suicide
One hundred and ninety-two children are arrested for violent crimes
The big question is why? In the Hardwired to Connect report released by the Commission on Children at Risk in 2003, over thirty researchers, community leaders, and scholars found that this lack of connectedness was of two kinds, "close connections to people and deep connections to moral and spiritual meaning."
Hope for the Future
Attached at the Heart is not a typical parenting book. Rather than dictate advice, it calls each of us to look deeper into ourselves and how we raise our children. It asks you to rethink your perception of children and to see the world through their eyes. It sounds the alarm that our children are in trouble and that we, as parents and caregivers, are the only ones in a position to change this spiraling trend. Most of all, it is a book about hope. We can make lasting changes in the world by starting at home and strengthening our loving connections with our children, being more empathic with them and with ourselves.
Our purpose in writing Attached at the Heart is to inform, support, and empower parents. This book will teach you:
The importance of being aware of how our own childhood experiences influence the way we parent
How to become more attuned to your child
To feel confident that you know your child better than any expert
How research supports attachment parenting practices and the importance of sharing this information with pediatricians and other health care providers
The importance of making informed decisions about your children without fear of intimidation by others
How to actively improve your family relationships and communities
Why Attachment Parenting?
Attachment parenting is a style of parenting is designed to stimulate the optimal development of children. It calls for a new consciousness in childrearing and encourages parents to learn to trust their intuitive knowledge of their child to build a strong foundation of trust, allowing the child to develop his capacities for empathy and compassion for others. Attachment parenting will help you create a strong emotional connection or "attachment" with your baby, empowering you as a parent and strengthening your family.
The concept of attachment parenting holds tremendous power—in the process of raising our children, we raise ourselves. Gandhi once said, "Be the change you want to see in the world." This sentence can easily be paraphrased to say, "Become the kind of adult you want your child to be." Gandhi understood the power of example that we as parents must provide—the onus is laid squarely on the shoulders of each and every one of us. Children will model our behavior before they will heed our words.

This is an edited excerpt from "Attached at the Heart: Eight Proven Parenting Principles for Raising Connected and Compassionate Children," pp. 1-6, by Barbara Nicholson and Lysa Parker, (2009, iUniverse)
About the Authors
Barbara Nicholson, M Ed
Barbara Nicholson is co-founder and President of the Board of Directors of Attachment Parenting International. She has a Masters of Education degree specializing in learning disabilities and has been a breastfeeding and parent support group facilitator for over 27 years.
Barbara speaks to various groups and conferences and has given workshops about parenting as a prevention model for societal violence.  She is the mother of four grown sons and lives with her husband in Nashville, Tennessee.
Lysa Parker, MS, CFLE
Lysa Parker (Lisa) received her bachelor's in education and her master's degree in human development and family studies from the University of Alabama. She earned her designation of Certified Family Life Educator (CFLE) from the National Council on Family Relations in 2004.
As cofounder of Attachment Parenting International (API), she served as the executive director for thirteen years, focusing on program development, public relations, and fundraising.
Prior to her involvement with API, she worked as a special education teacher helping children with multiple handicaps and learning difficulties. She is the mother of two grown sons, a stepdaughter and is the grandmother of twin grandsons.
Currently Lysa is a writer, speaker and parenting consultant in private practice at www.parentslifeline.com.