Salem's Eats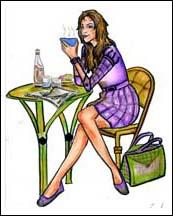 Salem, Oregon is often forgotten by the rest of the world, sandwiched between the mesmerizing Oregon coastline and the boisterous quirk of Portland. But Salem has its own quiet charm, and on vibrant spring days when the skies are clear, and blue instead of gray, Salemites are reminded why this state charms unwary travelers.
Spring and early summer are the best times to visit the Willamette (Will-am-et) Valley and no trip to Oregon is complete without a stay in the capital city. For no other reason than downtown Salem embodies Northwest kookiness — both in food and shopping. If you are looking to eat your way through Salem, there is a handful of must-try eateries locals love.
The first and best-kept secret is Busick Court. Located just a block from Salem's Waterfront Park (also a must see), Busick Court means breakfast. While they do serve lunch, it's their French toast beckoning locals to line up and wait. Thick slices of freshly made French bread are hand-dipped in a spicy-sweet egg mixture, rolled in cinnamon and sugar coated with corn flakes. Anything on the menu is worth the wait, but the French toast is definitely worth it.
During that wait, you can take a jaunt over to the Salem Riverfront Park, which overlooks the Willamette River. A small area, there are three main sites to see. There is the Willamette Queen, a fully renovated and operating paddle wheel riverboat. It offers dinner cruises and a variety of activities throughout the year. If you love old boats and history, it's worth a visit — and maybe even a ride.
You'll find a hand-carved carousel created by local volunteer artisans; it's a work of moving folk art. Each different horse tells a story through symbols and body position. Finally, at the far southern corner of the park you'll find the Eco Earth Ball (or acid ball), which is an art installation commissioned by the city when the park was renovated. It stands about two stories tall and was originally used by the Boise Cascade Plywood Mill to process wood pulp. It has been clad in mosaic tile to look like a globe and is dedicated to world peace and cross-cultural understanding.
After breakfast you can hop in your car and head over to Court and High Streets in downtown Salem. There is free two hour parking and Court Street is the best place to start a walking tour of downtown shops. There are also some must-try restaurants within this four-block radius. But, since you're probably not quite ready for lunch yet, I'll walk you through a few of my favorite shops. (Hey, you've got to burn off that French toast!)
On the corner of High and Court is a fabulous deli and wine room, Grand Vines. Offering wine by the glass, bottle and case, this is a great place to sample Oregon's famous Pinot Noirs. They also carry a variety of international wines and if you call ahead you can schedule a special fondue meal (503.399.wine).
For lunch try one of their Muffeletta sandwiches. Made on fresh ciabatta bread and grilled to perfection, this is a Salem original created just for Grand Vines by head chef, Larry Baughman.
Also on Court Street is the Salem branch of Ten Thousand Villages, specializing in free trade art and crafts from around the world. Everything is sold on consignment and the money goes directly back to the respective artisan (it's staffed by volunteers). Across the street is Governor's Cup Coffee House; you'll find great coffee and the best Chai latte in Oregon! (As a native Oregonian, I take my coffee very seriously.) Further up Court Street is Casey's Cafe. If you are in the mood for hand cut fries, old school handmade burgers or ballpark hotdogs, this is your place. This joint (and it is a joint in every way possible) was opened in 1978 and has been a Salem hideaway ever since. Great food, great prices, and, for you waist watchers, salads — but everyone knows calories don't count when you're sight seeing.
It's time to see the Reed Opera House. In my not so humble view of things, this is the greatest place in Salem. Here's why: formerly an actual opera house, the Reed was converted into storefront shopping in the late 1980s as part of the downtown renovation. Since then, it has housed some of the most offbeat restaurants and shops in town. You'll see Florabundance to your left, which sells garden art and whimsy at affordable prices. To your right is Amish Work Bench Furniture. If you are a fan of Amish style furniture or quilts this shop has a ton of charming knickknacks. However, my favorite Reed stores are downstairs. Follow your nose to S.L.A.B, an artisan soap shop with all natural, hypoallergenic and incredible smelling bars.
Around the corner from S.L.A.B. is Soup Cellar. If you love hearty, homemade soup with fresh made bread on the side this is your place. Across the hall is the best dessert bakery in Salem: The Little Cannoli Bakery. (You will become obsessed. Consider yourself warned.) It also sells eclairs, various cookies and gourmet coffee.
Other eating options to try in the downtown core are Wild Pear (on State and Commercial, one block south of Reed Opera house). This is one of Salem's most famous restaurants and their key lime pie is almost as unforgettable as The Little Cannoli's cannolis. Across from Wild Pear is Soba Asian Bistro serving fast, inexpensive and delicious Thai food. For high-end dining there is j. james, a Cajun style restaurant and Bentley's Grill. Both are located downtown in the same four square blocks as the Reed Opera house.
If you are a micro brew fan, no visit to Oregon is complete without a trip to one of McMenamins brew pubs — there are two in Salem, Boon's Treasury and Thompson's. If you are feeling adventurous, ask the waitress for the drink Oregonians have come to know as the Rubinator. Try it; it's quite good.
Round off your stay in Salem with live music at Lefty's pizzeria on State Street. You'll find live music and great pizza — one of the best places for nightlife. This one of my top recommendations.
Salem … it's little. It's cockeyed. It's busy. It's Oregon.
Side note on lodging: If you're looking for a place to stay in Salem there are two wonderful bed and breakfasts in the Downtown area. A Creekside Garden Inn, owned and operated by the delightful Rickie Hart, is a Mt. Vernon Colonial style house built in 1937. If you stay with Hart expect huge gourmet breakfasts and peaceful views. The other place to stay is Bookmark Bed & Breakfast, located two blocks from the capital building in the heart of Salem's old neighborhood. The Bookmark is owned by Evelyn Hopkins and has a tremendous charm. Not to mention a king sized feather bed.