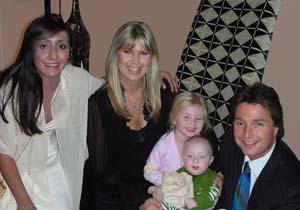 Several years ago, in 2001, nine-year-old Zubaida Hasan was lighting the stove in her family's kitchen in Afghanistan when something went awry with the kerosene being used, and there was an explosion. She was burned so severely that her face just melted. Without proper medical care, scar tissue formed and the damage of the untreated burns became even more severe.
The doctors who treated the young girl told her father that there was little hope for Zubaida's survival. But the man wouldn't give up and took his young daughter to the U.S. Army bases to get help. Only the military was told not to get involved in individual cases. But there was an officer who did get involved and he got word to the State Department about the tragedy of this young girl's disfigurement.
Fast-forward to today and Zubaida is a "typical" teenager who has undergone several surgeries and is making a full recovery. Now living back in Afghanistan with her family of eight brothers and sisters, she still visits the U.S. to stay with Rebecca and Dr. Peter Grossman — the family that helped save her.
"I have an older brother, Michael, based out of the central command post in Florida who got word of a young girl horrifically disfigured from a burn injury in Afghanistan," Rebecca Grossman explained. "The pictures ended up coming to my husband [a plastic and reconstructive surgeon at The Grossman Burn Center in Sherman Oaks, California] and we started calling the Children's Burn Foundation to set up funding."
The Children's Burn Foundation is a Southern California-based charitable organization that lends financial and social assistance to burn-injured children. Visas were arranged, funding started to come through, and Zubaida and her father were off to the United States for treatment. Her father was given a two-week visa; Zubaida came for more than one year. Staying with another Afghan family, Peter Grossman did the first couple of surgeries. But it was a lot of work to take care of Zubaida as a patient, and the Afghan family decided they didn't want to house and provide care to the young girl any longer. In stepped Rebecca and Peter again. With no children of their own at the time, they arranged for Zubaida to live with them while she received medical care.
The catch? The Afghan family told Zubaida, who did not speak any English at the time, so it couldn't be refuted, that the Grossmans were making her leave the only home she knew in the U.S., rather than explaining it was more work than they had bargained for. "We already had an angry little girl in a lot of pain," Rebecca said, "now she was really [mad].
"But I'm from Texas …" Rebecca said with a laugh, implying she could take it. "Even though I'm strict, I knew I would never abandon her." The Grossmans won her trust; they hired a live-in nanny who spoke Farsi to aid with the communication, put her in school and continued to proceed with the surgeries.
Due to time constraints (with Zubaida away from her family), several years of surgery were condensed into one: she had 13 in one year. She handled it like a trooper and the transformation was remarkable. Rebecca, creator of the business Stop The Clock, knew the soaking emollients, oils, masks, etc. to help the skin heal and replenish.
"When we put her in school, she really started to blossom," Rebecca said. "I was worried about the children being cruel, but they really embraced her. She is a natural born leader. She had scars, didn't speak English and she just flourished."
Zubaida eventually left the Grossmans and went back to her family in the Middle East. Now a teenager, she is back staying with the Grossmans for the summer and Rebecca has a teenager on her hands. "I just sent her back upstairs to take off the makeup and high heels," Rebecca said. "She could be a teenager anywhere in the world."
This extension by Rebecca and her husband has created ripples throughout the world. Last year an army sergeant came across a six-year-old boy in Afghanistan with "such a personality." His father took him to the U.S. base for help and the sergeant didn't know how to help. So, one day he is lying in his barracks and comes across a two-year-old Reader's Digest, May 2005, and starts reading a nine-page spread about Zubaida and the Grossmans. (Her story was on Oprah, Good Morning America, and more.) "I don't believe in coincidences," Rebecca said. The army officer wrote to the Grossmans, they went to the State Dept. and did the same fundraising for this little boy.
Now, Zubaida is back to help this boy, too. She proudly works to aid others that find themselves in the same situation she once found herself. There is a young woman in Kenya they are also trying to raise funding to help, as well. "Zubaida has a purpose to give back," Rebecca said. "She is just such a smart little girl; I see her as having the potential to be the first female president of her country."
While this story focuses a lot of Zubaida, it is often the people behind the scenes that make the dreams come true. People like Rebecca and her husband, who sought to find a way to help this girl, as well as many others. Rebecca now has two children of her own, and continues to welcome back Zubaida into their home and tries to teach her the culture here, without spoiling her, to give her the knowledge to take back to her own country.
Rebecca also raises money for children with autism, animal care and the The Grossman Burn Center. The foundation works to provide healthcare and education on a global scale for burn victims. They work to raise funds for adults especially, since it is "easier" to raise money for children. The American Heart Association is honoring Rebecca on May 17 for her nonprofit work in aiding others.
Rebecca has a goal of never more than two hours away from her children … and still manages to get it all done. "I'm very solution oriented," she said. "'No' is not in my vocabulary. Don't tell me 'no,' just tell me how else to get it done."
She said her biggest motto is that everyone should join forces and, in a phrase she took from another doctor, "cross pollinate." The success happens, she said, when everyone comes together. "Everyone competes. I find it frustrating. We should all pull together for one common goal," Rebecca said. "Who cares who does it; let's just get it done."
Additional links:
Read more about Zubaida at zubaidatinydancer.com; The Grossman Burn Center at grossmanburncenter.com. A book was written about Zubaida's journey: "Tiny Dancer", available at The Savvy Gal Store.