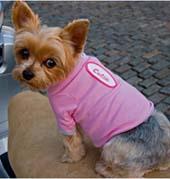 In search of the perfectly unique gift for a loved one, I came upon one of the coolest product lines ever: BlumeGirl. This delicious Web site inspired me to do all of my gift shopping for the rest of the year in one sitting, with some goodies for myself tossed in, of course.
And now, Savvy readers will receive a 10% discount when you type in "SAVVY" at checkout. Visit www.BlumeGirl.com to start shopping now.
Owned by entrepreneur Stacey Blume, the site offers lingerie, tanks, thermals, hats and many other items, each boasting a custom-made name patch. The line originated with personalized panties (prepare for an overwhelming response when your other half finds his or her name on your personal items). These customized undergarments created such a frenzy among celebs and tastemakers that owner Stacey Blume expanded the line to include every member of the family. "It was a natural evolution," Stacey said. "As the saying goes: first comes love, then comes marriage, then comes Blume baby stylin' in the carriage."
Now, with the men's and children's lines, and even tees for your dog, the site has become the ultimate one-stop shop. For women, BlumeGirl offers tees, tanks, lingerie, thong panties and low-rider briefs. In addition to the personalized line, there are super cute collections, my favorite being "Eye Candy," which features adorable items such as butterflies, rainbows, daisies, lips, dragonfly, anchors and cherries, adorned on camis, thongs and low rider briefs.
The BlumeMen product line offers parkas, bomber jackets, shirts, boxers and briefs. Blume's new baby line has a plethora of comfy goodies that the kids are sure to love, such as thermals, tees, and baseball caps for toddlers, as well as onesies, burp cloths and bibs for the newborn darling in your life. There's even a to-die-for little hat that looks like a baby beanie.
Stacey was inspired to create this innovative line when she and her father, who was visiting her while on a business trip for his uniform company, paid a visit to Urban Outfitters to see one of her friend's designs. "My dad noticed some industrial-styled clothing like Dickies, and was surprised that it was so similar to the stuff that he carried. That's when the wheels started turning," she said. "The next time I was home, I went to the uniform company warehouse and pulled a bunch of patches to make up some fashion ready samples. That's how it all began." The personalized name patch is a cool, kitschy twist on the authenticity of workmen's uniforms, using the same type of nametags.
The underwear and baby onesies are Blume's most popular items — probably because they make for such unique gifts. Celebs like Jennifer Lopez, Paris Hilton, Sarah Michelle Geller and Britney Spears have all scooped up customized panties, and those who purchased personalized baby gear include style maven Gwen Stefani, Julia Roberts, Kelly Ripa and Angelina Jolie (I guess she has to have something to help her keep track).
Keep an eye out, because Stacey plans to expand the line in the future, and with her unlimited creativity, we can only imagine what fun items she will come up with!
And remember, Savvy readers will receive a 10% discount when you type in "SAVVY" at checkout. Visit BlumeGirl to start shopping now!
Chaton Anderson is a Writer and the Publicity Director for TheSavvyGal.com. A product and pop culture addict, she is always looking for the coolest, hippest things on the market. Email her at chaton@thesavvygal.com with questions or leads on products and services on the cutting edge.